Join Us From ANYWHERE For Our Amazing Video Painting Tutorials!
Check out this AWESOME Virtual Girls' Night In — And think about how YOU can use our services for a fun and creative paint night at home!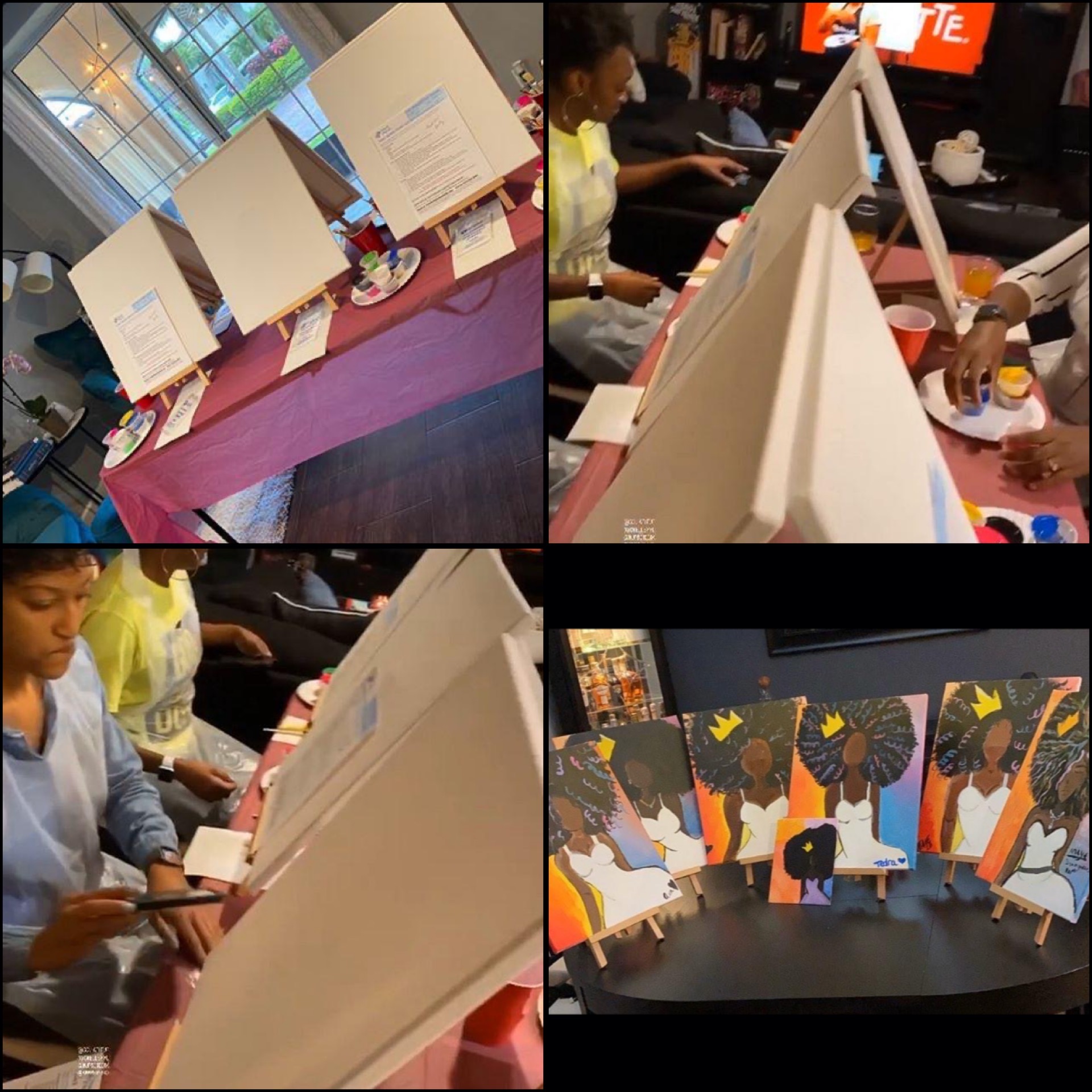 While you may have seen our Live Virtual Classes on the calendar (and they are a lot of fun), you might not be thinking of all the fun ways you can utilize them!
Why not plan a get-together at home with friends?! Set up the class on a big screen TV, pass out supplies, then have a paint party from the comfort of your own home!
The sky's the limit when it comes to painting parties! Anything you may want to celebrate is possible with our classes and we're here to help make your event as special as it can be!
** Featured Fun Night: Girls' Night Out At Sheryllyn's House! **
Our fabulous customer, Sheryllyn, hosted a girls' night in at her home for her friends. She sat up the supplies, logged in to our virtual class and hosted the best girls' night ever! You can see all of the photos from her event, above, as well as the ladies with their finished products on the first blog page.
We're so impressed with how she presented this event. She set up the tables neatly, making sure everyone could see the TV and converse with one another, AND there were drinks and snacks to enjoy as they painted. Each of them left the event with their handmade masterpiece, ready to take them home and show them off! What more could you want from a girls' night?!
You, too, can host a girls' night in, a birthday party, club meeting, a fundraiser, corporate/teambuilding event, and SO MUCH MORE! The possibilities are endless and everyone will enjoy this creative activity, making it the perfect plan for any event.
There are so many great ways to utilize our parties, and now, more than ever! From bonding over a shared experiences to getting your stress level down, doing something creative, and enjoying some drinks, Pinot's Palette makes a fun place to expand your life right now!
To view our gallery of over 100 Video Tutorials, including Colorful Curls, Sheryllyn's painting for her Girls Night Out:
https://pino.../brandon/shop
-Celebrations-
It's likely difficult to get everyone together to celebrate a birthday, graduation, retirement, engagement, or any other celebration.
Our private parties can be done in-studio OR virtually!
Book:
https://www....ivate-parties
-Corporate/Team-Building-
Gather the whole office together (in-person or virtually) for a new kind of team-building! No awkward ice-breakers here, just fun, art, and maybe even some wine!
There are many styles of team-building events we offer, designed to get co-workers working together in a new way, thinking outside the box, and bonding over a creative experience!
((*Keep us in mind for your holiday party this year, too!))
Book:
https://www....porate-events
-Kids-
If you're looking for a fun way to celebrate a child's bday, or a unique activity for a club, group, or team's celebration, keep our classes in mind! Whether you're looking for an in-studio event or a virtual party, a painting class is a wonderful thing for the little ones to do.
Young, growing minds are always eager to do something creative and fun and will make something to always treasure.
Book:
https://www....ainting-party
Keep in mind that we're still offering (limited seating) in-studio classes, as well as our public LIVE virtual classes, so in addition to our large private events, you can paint when you want to, how you want to!
Throughout the past few months we've been navigating life with the virus but have remained committed to our customers and their need to make some art. It's so important to remember to take care of yourself during these stressful times, and we're huge believers in art and other creative activities as stress-relievers; It's actually been scientifically proven that painting helps with relaxation!
So join us for a class, book a virtual event, or plan your private party with Pinot's Palette where you'll paint, drink, and HAVE FUN!