Declutter And Organize Your Home The Right Way
There's nothing like a fresh, clean home to live in, but let's be real… sometime's we have too much stuff!
This time of year, after the holidays, when we unload our brand new goodies and see just home many things we've acquired in the past year or so. it's especially apparent.
It's time to dig into those pile and declutter, then organize your living space!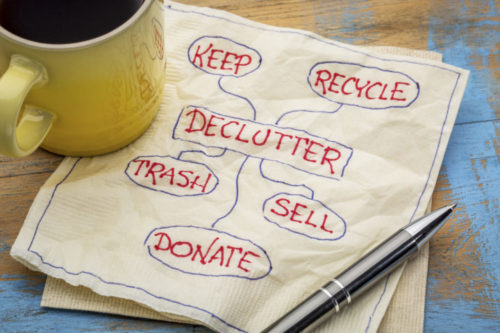 We have some helpful tips for you about how to declutter your home, little by little, no matter what your schedule is like!
We suggest taking it slow and moving from section to section of your home as you're able, until your whole house is cleared.
Donate anything you can and be sure to look out for the Red Cross Donation Drop Boxes around town.
Knowing your un-needed clothing, jackets, and shoes are going to those that truly need them most will make it even easier to declutter your closets and dressers.
**Check out a few of the best ideas we've found for decluttering and organizing and get started, today!
- Step 1: Set Goals
Before you get started, make a plan. No matter how many rooms or how much clutter you have to get through, starting with specific goals will help you create a plan that will reduce any frustration as you go. Here are a few things to keep in mind as you get started decluttering your home:
Write down or make a map of all the rooms and 'clutter hot spots' you want to tackle.
Give each space a grade based on the severity of the clutter. For example, on a scale of 1 – 3 (3 being the most cluttered), a particularly messy room or closet would get a 3. This will help you prioritize your time.
Do one room or one space at a time.
Set completion dates for each phase of your cleanup. Be sure to pick dates that are attainable so you don't get frustrated. If you make it into a declutter challenge for yourself, it may feel a bit more like a game.
In addition to completion dates, you should plan time to work on specific areas when you expect decluttering those spaces to take longer than a few hours, such as a basement or a garage.
- Step 2: Create a Sorting System
As you go through the rooms and spaces in your house, you will need a system for sorting the items you find. You can create your own method, or use one of the most popular organizational tips: the "Three-Box Method." This method forces you to make a decision item by item, so you don't end up with a bigger mess than the one you started with. Gather three boxes or storage bins, label them as follows and then use the organizing tips below:
** Keep - Items you keep should go in their newly-designated home. Optimally, these things should be neatly stored in a container or drawer (label if desired).
** Toss - Store any items you want to give away or sell, outside your home, like the vehicle you Platte to transport them in, or store them temporarily in a large or attic.
** Store - As you fill your containers, label them or drop an inventory sheet on top and neatly put them in your storage area.
- Step 3: Get Rid of the Clutter
You have a few options for disposing of items that make their way into the "Get Rid of It" box.
** Recycle: Recyclable glass, plastics and paper can go straight into your recycling bin if you have curbside pickup. Otherwise put your recyclables in bags so you can transport the waste to the nearest recycling drop off location.
Many electronics can and should be recycled. With over 1,890 kiosks in 42 states, EcoATMrecycling kiosks can turn your old electronics into cash. Check prices for your old devices and use the ecoATM locator to see if there is one near you.
** Donate or Freecycle: You can rest easy knowing that something you no longer need is going to a good home. Clothes, shoes and other household items in good condition can be donated to a number of local charities. Or try posting to freecycle.org: You post what you want to get rid of and people come get it. Your trash can be another man's, or woman's, treasure - but if you're donating, check out the charity's donation guidelines before dropping off your items.
** Have a Garage Sale: If you're up to the task, you may be able to make a little money off your clutter by having a garage sale. Check to see if your neighborhood or homeowner's association has a designated garage sale date. Just make sure you begin your declutter process early enough so you can participate – you'll get more foot traffic that way.
** Rent a Dumpster: This is an affordable, stress-free option, especially if you have a lot to get rid of or larger household items you're throwing away. We happen to be able to help with this one – we'll deliver the dumpster to your house, you fill it up and we haul it away. It's that simple.
As for organizing your things, once you've decluttered some, check out these tips for living your best life in a clean and clear space:
*Living Room *
Put the family back into your family room with these simple tips for organizing your main gathering space.
https://www....d-living-room
*Kitchen*
Organize your kitchen without even trying with these eight simple ideas for kitchen organization.
https://www....ooms/kitchens
*Bathrooms*
Make the most of your bathroom, regardless of its size, with our seven solutions for bathroom organization, including the medicine cabinet.
https://www....ing-bathrooms
*Bedroom*
Check out these seven organizing tips that will lead to better rest in the bedroom — guaranteed!
https://www....zing-bedrooms
*Home Office*
Create an organized office no matter what room it's in, and get our professional organizer's tips for concealing cord clutter.
https://www....-organization
_______________________________________________________________________
BONUS:
***For all of you Pinot's Palette returning customers who've found real love in learning to paint and come in regularly to create, we have a few ideas for you about what to do with all of those paintings, piling up.
—— Hang Them (and change them out)
The obvious choice is to hang them up everywhere! Place your artwork all around your home, and even group paintings of similar colors, subjects, and styles together for a dramatic look.
You can store some and swap them out from time to time, as especially around the holidays if you have several festive ones!
—— Organize them
We recommend stacking your canvases flat and storing them in a protective box like this one:
https://www....fsclp_pl_dp_2
Take them out to change around or fit with your seasonal decor, anytime, and know they're always protected; **Stacking the canvases, laying flat, is the best for keeping the wooden frame from warping over time (especially if they're stored somewhere with extreme temps like an attic)
—— Give them as gifts
There's nothing like a handmade gift for the heart for someone you care about. Make some artwork and keep it on hand for when the holidays are here (and birthdays, anniversaries, baby showers, etc). The time and effort that goes into a hand-painted work of art, won't go unnoticed and will be treasured forever by the recipient.