Pinot's Palette Makes A Great Place To Hold Your Holiday Party!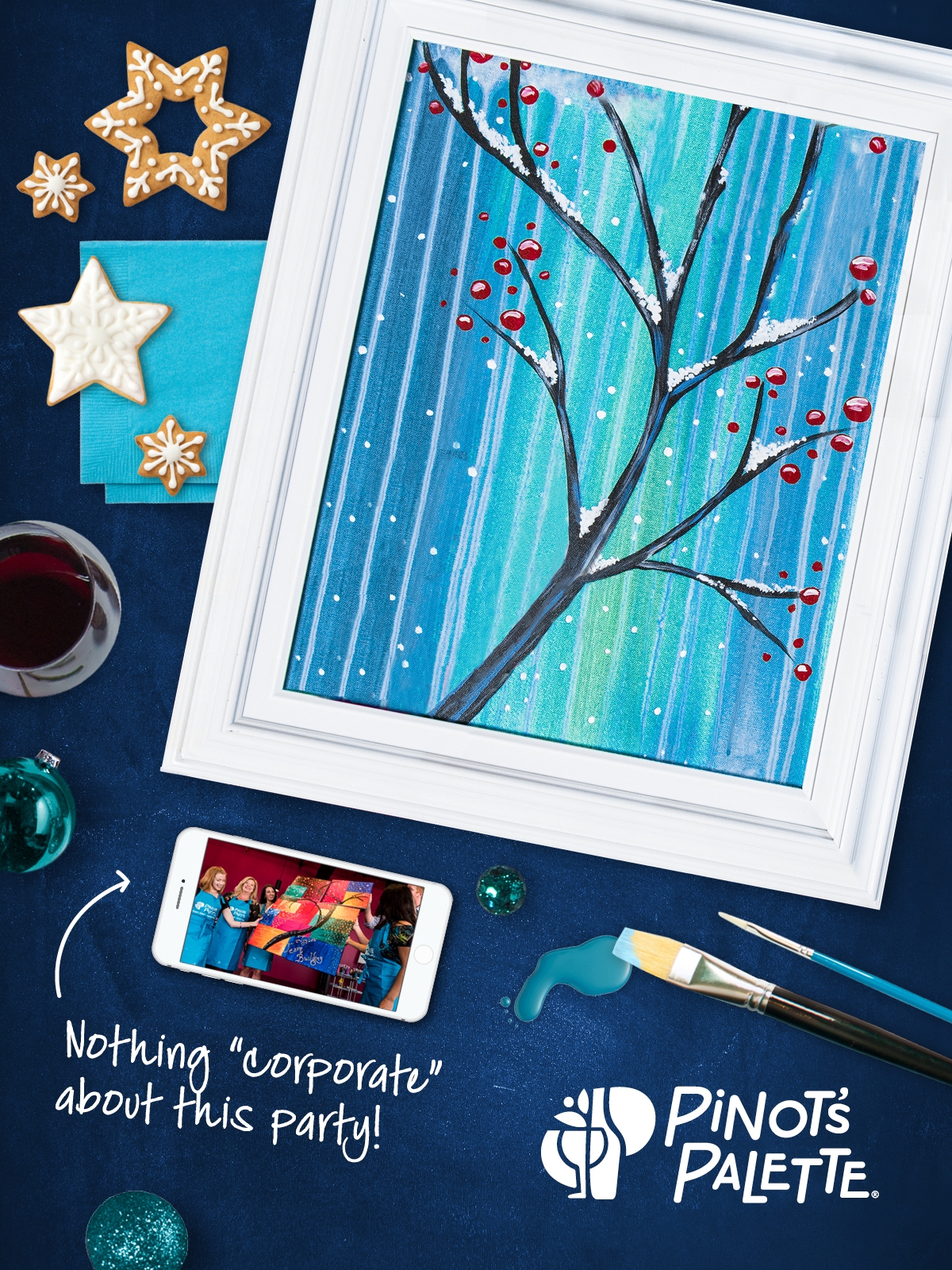 It's time to start planning your holiday party!
It's already mid-October, which means that once Halloween hits, all of the Christmas decorations will be out on the shelves. Just weeks remain until Thanksgiving Day, and Black Friday, following right behind (and we all know, THAT is when things start to really ramp up!).
Between the busy stores, buying and wrapping gifts, baking, decorating, and other holiday traditions, things just seem to fly by this time of year!
Don't wait to plan and book your holiday party! Get started on it now, ensuring you'll get the time, date, and place that you want the most.
This year, let that special place be Pinot's Palette, a painting and wine studio that everyone on the guest list will love!
If you've been to one of our public classes, you know just how much fun they are! Whether you have experience with painting, or none at all, you'll have a blast making your own artwork in one of our 2-3 hour classes. One of our talented artists will walk you through the painting for the evening, step-by-step, encouraging and helping you the whole way!
Imagine all the fun of our regular classes, with the added bonus of selecting the painting you want to make, and enjoying a celebration where only your friends, family, or co-workers are in attendance!
The most common private parties that we book this time year are 'Office Holiday Parties'. These are great because it gives you and your employees a change to get to know one another and work together in a unique and creative space. For the corporate events, we offer team-building styles of classes where everyone works together to create the artwork. Think of how beautiful and meaningful a large, multi-canvas, collaborative painting would look in the lobby of your building or on one of the walls in the office!
((More about our team-building events)):
https://www....ngeventwithus
*Book your corporate party:
https://www....porate-events
Office holiday parties aren't the only thing we offer... If you and your friends/family get together for an annual party, Pinot's Palette is a great place to hold your event this year.
In addition to our regular private events, you can book your child's next party with us, or choose for us to come to your at the location of your choice with one of our mobile parties!
*** Here's what you need to know to get started with setting up your party:
1. Visit Our Online Party Page To Get The Ball Rolling.
Depending on the style of class (and who you're hosting the party for), we have several different places you can start—
*Celebrations:
https://www....ivate-parties
*Corporate Events:
https://www....porate-events
*Kids' Parties:
https://www....ainting-party
*Mobile Events:
https://www....ainting-party
2. Choose The Date & Time For Your Party.
As long as we have the date and time available for you to hold your event, we're here to make it happen! This is super-convenient, as sometimes our classes are too late or on the days of the week you and your friends aren't able to attend. With our private events, finding the time and date that works best for you and your guests is easier!
3. Select The Painting You Want For Your Party.
We have 2 and 3 hour paintings in our library and you're free to choose the one you like best for your party!
When selecting which artwork you want, you'll be basing it on a few variables.
Remember we do offer special team-building styles of paintings for corporate parties; Also keep in mind that the time you rent the studio for will encompass the time it takes you to make the painting, as well extra time you might want.
The most common choice is a 2 hour painting, and booking our studio for a 3 hour event; This way, you can have an extra hour of time, built in for eating and drinking, mingling, and whatever else you want to do.
View our painting library:
https://www....nting-library
4. Invite Your Guests!
As far as reasons for celebrating goes, we've seen it all! From office parties and corporate team-building events, to family/friends parties, wedding events, retirement parties, or reunions, and more, Pinot's Palette is the place to be! It's great to be in a room with some of the closest people in your life, as you all create something together. Take some time to walk around to see what everyone else's artwork looks like and how it differs from yours; It's one of the best parts of the whole concept... watching others express themselves on a canvas. The photo of everyone with their painting at the end of the class will be something to always treasure.
5. Music, Food, Drinks, Games, Decor, and MORE!
As far as the rest of your party goes, it's really up to you! Often, people bring in food or have it catered (ask us for some recommendations for local spots that cater, if you'd like!).
Party games, gift exchanges, decorations, playlists, drinks, and any other details you want to include in your party can be arranged with us as you're planning the event.
We hope you and your group will consider an exciting, unique, creative, and memorable activity like Pinot's Palette this season! Painting is a great stress reliever, a great way to spend time, and will lend itself to some excellent conversations about who in the office (or family) is a fabulous artist, that you never knew!
If you're still unsure if our studio and classes will be the right fit for your private party, come in and check it out, ask us questions, or better yet -- come in for a public class one day to experience it all, first-hand! We've got a calendar stocked with some excellent artwork, coming up!
Make some memories and masterpieces this holiday season, or any time of year, with Pinot's Palette, Brandon!
Cheers!
Share View our full (public) calendar | Buy a Gift Certificate