Your 2017 Holiday Gift List
'Tis the season to get shopping!!!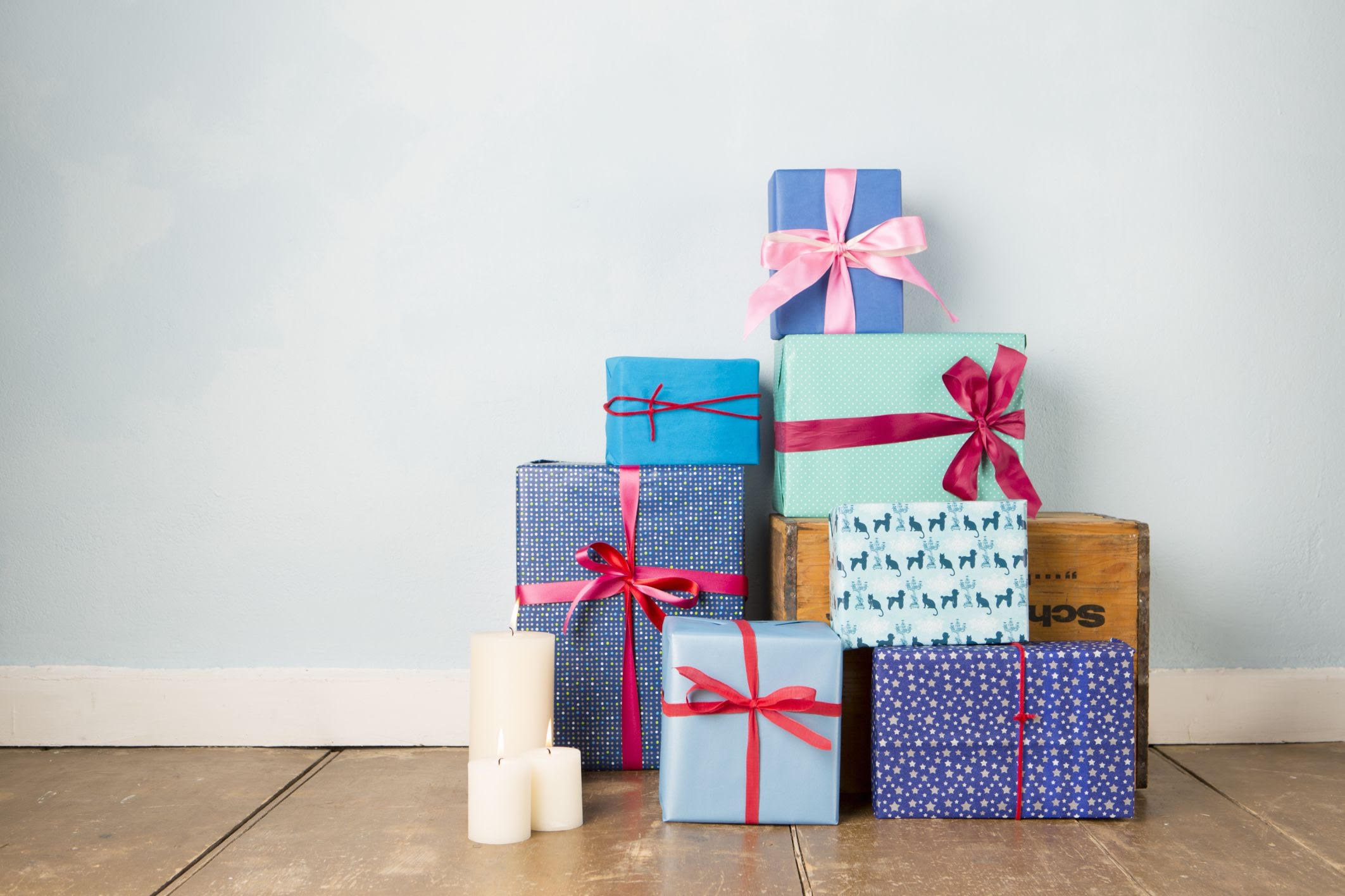 Whether you're looking to check those last few names off your long list, or you haven't even begun to start shopping, we've got a few ideas for you! We've compiled a list of various types of gifts, divided into categories for EVERY type of person on your list! It's so much easier to go into a store with a list of exactly what you need. You'll avoid wandering and spend less time in those crowded stores when you have a list and stick to it!
With the biggest shopping weekend of the year, here, and the stores starting to get more and more crowded, each day closer to Christmas, it's time to finish your shopping so you can spend the season, enjoying time with loved ones! You'll be able to relax and happily participate in all that the holidays have to offer, when you get the shopping and wrapping out of the way!
Please keep Pinot's Palette in mind for all of your seasonal needs this year! If you live in or around the Tampa area, our studio is where you'll want to be! You can unwind from the long days of shopping and baking, while you sip some wine, hang out with friends, and get creative! Enjoy one of our 2-3 hour public paint and wine classes OR gather your friends and family together for your annual Christmas party with a private event at our studio! We also make an super fun and unique idea for you office holiday party, too!!)
*(Read more about our private parties, below, and be sure to book it ASAP, as our spaces fill up fast this time of year!):
https://www....ithusthisyear
While you're enjoying one of our classes (or if you're simply just in the area...), Be sure to purchase some of our gift certificates! These make an easy to buy, fun to receive gift for anyone on your list! With over 170 Pinot's Palette locations, across the US, we can assist your friends and family, near and far, with having an amazing night out! Giving the gift of an experience is always a thoughtful, practical, and appreciated idea, so stop in and get some or, simply, but them online!
*Purchase a Pinot's Palette gift certificate:
https://www....-certificates
We hope to see you a lot this holiday season and into the new year!!! Stop by the studio to get more information and to sign up for a class!!! If you're living in or around the area, we're a great, local event for you and your pals to visit! Come in for a fun girls' night out or an exciting date night! Bring all of your friends and family in to join in the fun of painting with you!
**Be sure to check out our calendar, as we have SOME AMAZING (and very popular) painting coming up!!!
Now, for the list.....
*****CHRISTMAS GIFT LIST 2017*****
GIFTS FOR HER:
1-Fitbit Flex Bangle
*The newest member of the Fitbit Fam is here and totally worth the splurge! Aside from the traditional, practical functions, it comes, available with a gold or silver band, allowing your girl to stay on track, even at formal events.
https://www....Fitbit+Flex+2
2-Chanel, Coco Mademoiselle
*This is the top-selling perfume, right now. It's a classic, that's been around for a while, and makes a great gift for the woman in your life who is looking for her new, signature scent.
https://www....oCPVMQAvD_BwE
3-'Ugg' brand, slip ons, flats, and slippers.
*The comfortable brand that's been pampering millions of feet since 2000, has a wide variety of styles, these days! These smaller, but just as comfy, shoes, come in at a smaller price tag, and are super stylish!
http://www.u...asuals-flats/
*Cosmo's list of gifts for "literally, every woman in your life":
https://www....ts-for-women/
___________________________________________________________________________________________________________________________________
GIFTS FOR HIM:
1- The (new) 'Echo Show'
Last year, the big ticket item was the echo dot and the echo, if your guy is a tech junkie, then he'll be ready for the next, newest thing... the Echo Show. If you didn't jump on the bandwagon last year, and want to invest in something from the 'Echo' line, this is a good one to go for! The virtual assistant, "Alexa" has a 'face' for the first time.
https://www....-show-review/
2-Igloo Trailermate Journey cooler
*This rugged cooler is a great gift for any guy who loves camping, tailgating, or beach BBQs. It's durable, with a 70 quart capacity, and top of the line insulation that keeps ice cold for up to 4 days!
https://www....f97d1e7faed06
3-Braun
*One of the BEST shavers on the market right now!!! Consists of three personalization modes for a more individual shave, from sensitive to intensive.
https://www....uto-append-20
*Check out some additional gifts here:
http://www.b...ifts-for-men/
*https://www.google.com/amp/heavy.com/social/2015/06/best-gifts-for-men-guys-gift-ideas-him-fathers-husband-boyfriend-guide-presents/amp/
____________________________________________________________________________________________________________________________________
GIFTS FOR THE KIDS:
Word on the street is, these are some of the hottest gifts for the holidays, this year!
1-Nintendo Switch
(this could be the perfect gift for the kids AND many adults would love it too!!!)
*Nintendo Switch is designed to go wherever you do, transforming from home console to portable system in a snap. So you get more time to play the games you love, however you like.
https://www....o.com/switch/
2-Lego, DC - Superhero Girls
*Girl Power! With the latest 'Wonderwoman' movie, female superheroes are all the rage! These girls attend Superhero High, where the heroes include, Wonder Woman, Super Girl, and Bat Girl!
https://www....uperherogirls
3-Hatchimals- Glittering Garden Hatching Egg
*'Hatchimals' live inside of eggs and it's a surprise as to who is inside...Hold them to hear their heartbeats, flip them for fun, tap and they'll tap back! 'Hatchimals' can't hatch without you!
https://www....dp/B01N1FZVNU
4-Test Ruxpin
*Youre not reading this wrong, parents... the gift you loved to get as a kid is back and better than ever! Said to be one of the top toys for 2017, this version is softer, smarter, and more interactive than the original!
http://www.j...-ruxpin-2017/
**View this list of amazing gift ideas for the kiddos:
https://www....fts-for-kids/
____________________________________________________________________________________________________________________________________
HOMEMADE GIFTS:
1-Marbled Ring dish
*These tiny dishes are absolutely stunning! Design them in any color combos you want!
http://abeau...ing-dish.html
2-Hand painted dishes
*This is such a unique and fun idea! Made from inexpensive and easy to find materials, this diy gift is easy and exciting to create!
http://abeau...dish-set.html
3-Delicious-scented hand scrubs:
*There are so many amazing recipes for hand and face scrubs! View the ones, below, and search for others online, for more variety! They're easy and practical gifts anyone would love!
http://lifei...rubs.html?m=1
http://www.g...n-hand-scrub/
4- Hand painted mugs (or wine glasses):
*Get crafty with mugs or glasses, found at the dollar store! Buy enamel paints from the craft store and have fun, creating unique and custom designs for everyone on your list!
http://www.g...ay-craft.html
*Get creative with some ideas from this list of DIY gifts:
https://www....esents-ideas/
Lastly:**Here's an incredibly-well compiled list of gift ideas for everyone... prices and time consumption at all ranges:
http://www.b...istmas-gifts/
____________________________________________________________________________________________________________________________________
GIFT IDEAS FOR THE 'HARD TO BUY FOR' PEOPLE ON YOUR LIST:
(1) Something Homemade:
*Gifts, made with love, are always a big hit! You're able to give your loved ones an original, unique gift, that you put time and effort into. Parents and Grandparents, especially love a good, homemade item, and will greatly treasure it, forever!
(2) Something Personalized:
Gifting someone with a present, meant JUST for them, is a sincere and wonderful idea. They'll know you took the time to pick out and personalize a gift that means something to them. It's a kind and thoughtful idea and will always get a big reaction! Adding a family name or initial, or perhaps the recipient's name or monogram, are just some ideas of how to personalize! Also, think the colleges they attended, their sorority's letters, a nickname or quote you share, are other unique ways to make someone's gift extra special!
*Find TONS of Personalized Gifts Here:
https://www....tionmall.com/
(3) Something Practical:
Sometimes, the answer to "What do you want for Christmas?", can typically receive the answer, "I don't know." Or "I don't need anything." These are the people who perhaps have been given dozens of pieces of team paraphernalia, way too many knick knacks, and constantly receive the same, useless items as gifts. There are a lot of people who try hard to declutter their things, and adding well-meant, but useless gifts to their pile, isn't what they want. Think about some things that your friends and family will actually use! Things that they have mentioned they needed in the past, or that you've seen them missing in their homes that they would benefit from having.
* Check out these practical gift ideas:
http://www.l...ctical-gifts/
(4) The gift of an experience:
Sometimes, someone might be tricky to buy if it seems like they have everything or constantly tell you that they don't need anything. Most people would thoroughly enjoy partaking in an experience, rather than receive a gift they don't need. Giving them tickets or a gift card to something they wouldn't think to get for themselves, is a genuine idea. Whether it's something for them to do alone, with a spouse, their whole family, or for you and them to do, together, the gift of an experience is sure to be appreciated!
How about:
*An artistic experience at Pinot's Palette! We sell gift certificates so you can give everyone in your family the gift of an artistic experience, this year! A painting and wine class is something that you'll all be able to enjoy, together!! Come with your friends for a fun girls' night out, your significant other for a great date night, or bring the whole family!
(More 'experience' ideas):
https://well...-experiences/