Join Us For Some Of Our Newest Specialty Nights!
Mellow Music Mondays & Wine Down Wednesdays are here!!!!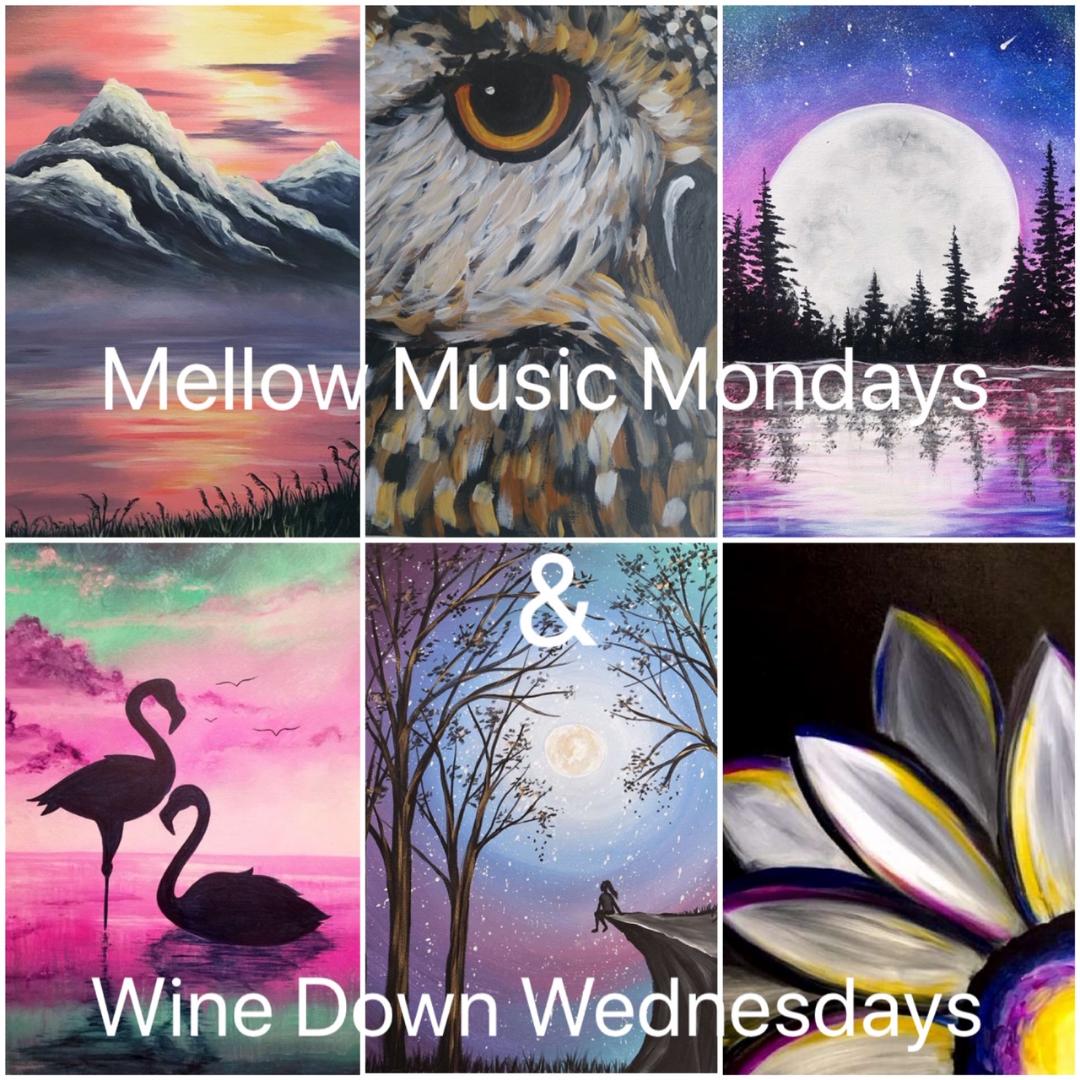 If you've seen our calendar lately, you know that we've been trying out some new things! From new artwork to the very popular 'Thursday Theme Nights', we've got some great things to offer you, so come on in and check them out!
We've just begun to host specialty nights on Mondays and Wednesdays and we're excited to tell you all about them!
Check them out:
*** MELLOW MUSIC MONDAYS ***
Painting and other creative activities are excellent ways to relax and let go of stress. When you add in some relaxing music to the experience, you're in for a really peaceful and mindful experience. Taking some time for yourself and trying some forms of relaxation are so important, especially on the day that we all dread the most: Mondays.
Join us for our new 'Mellow Music Mondays', where we'll provide some beautiful, relaxing music to enjoy as you paint the night away. See you there!
— Join us this January for some of these Monday specials:
1/13 'Purple Mountains Majesty'
These purple mountains are breathtaking and worth painting.
https://www..../event/363712
1/20 'Moonrise Lake'
Nothing is more peaceful then relaxing by a lake as the moon rises and the sounds of the forest begin to sing their songs. This is a fun and easy painting that will have everyone leaving happy.
https://www..../event/378413
1/27 'Hooty Patooty'
A pointed owl gaze painted in an abstract fashion will leave you mesmerized. Painters can get creative with color for owl feathers and eye.
https://www..../event/363710
*** WINE DOWN WEDNESDAYS ***
Are you ready to Wine Down on "Hump Day"?! We're here to make your mid-week dreams of stress relief come true with our new
'Wine Down Wednesday' Classes! In these special events, you'll get $3 glasses of wine, all night long… and that's $3 for ALL wine! A great deal you just can't pass up! Tell your friends!
— Join us this January for some of these Wednesday specials:
1/15 'Lilacs In A Glass'
Inspired by Manet's painting, this bouquet of purple lilacs can add a soft touch of color to any space.
https://www..../event/374296
1/22 'Daisy En Vogue'
This super chic daisy is cool for any decor.
https://www..../event/393782
1/22 'Talking To The Moon'
When nobody is listening, take a break from reality and tell your dreams to the moon.
https://www..../event/396253
1/29 'Let's Flamingle'
Love birds mingling in the playful, pink paradise of "Let's Flamingle."
https://www..../event/346314
_________________________________________________________________________________
*** And remember to keep our 'Thursday Theme Nights' in mind, as another one of our specialty classes we offer throughout the week!
Get more info about these special Thursday Themes for January here:
https://www....lljanuarylong
Be sure to check the calendar for more upcoming Theme nights (which have been steadily growing in popularity), AS WELL AS other special events like discounted classes and drinks, new and unique artwork, and more!
— Some of these super fun classes to look out for include:
** Family Day
1/11
https://www..../event/374629
1/12
https://www..../event/368382
1/26
https://www..../event/363719
** Off-The-Canvas & Other Unique Creations
1/11 Paint A Tote Bag
https://www..../event/400866
1/14 Marble Art (pour painting)
https://www..../event/369372
1/28 Add Lights
https://www..../event/394018
1/31 Large Canvas
https://www..../event/397067
** Black Light Painting
1/21
https://www..../event/380488
** Mimosa Mornings
1/18
https://www..../event/363718
1/25
https://www..../event/394033
3/1
https://www..../event/394216
** Date Night Class
1/17
https://www..../event/394030