Join Us For Our Summer Black Light Classes!!!
Each week throughout the Summer, we're going to be offering some really special classes!... We're painting in the dark!!!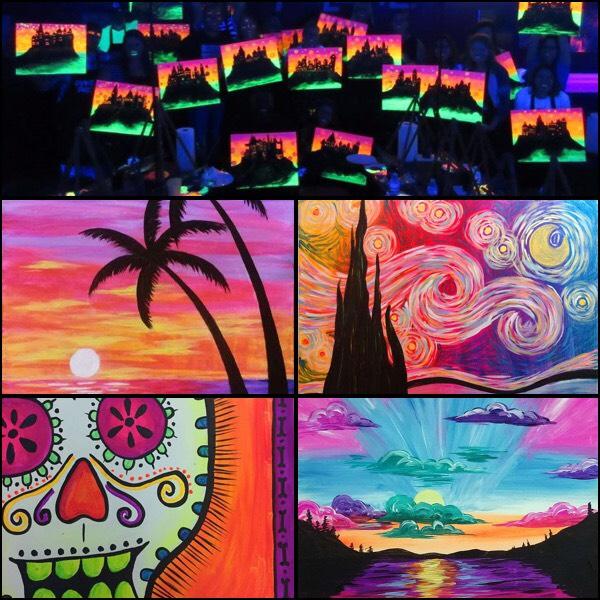 That's right… we've got some black lights and fluorescent paint and we're going to put them to good use as we get extra creative and make some artwork that will light up your life! If you've never been to one of our black light classes, you've been missing out! Make sure you stop in for one (or a few!) of these spectacular classes this Summer and see all of the excitement for yourself! Like our standard classes (the ones with the lights, on), we'll have one of our talented instructors, walking you through the steps of the painting, encouraging you the whole time! Enjoy copying the original as you go, or get crazy and add your own special touches into the artwork to make it truly unique, to you. We have wine and beer, some great music, and best of all, a creative environment where you can explore your artistic side! Bring friends and family along to experience this fun time with you as you make some some art, as well as some wonderful memories that'll last a lifetime!
Every Tuesday, all Summer long, we'll be offering these one of a kind painting classes, so you have a lot of chances to come in and paint one! We'll have some fun, black light props for you to enjoy and be sure to WEAR WHITE, so you can glow under the black lights, along with your masterpiece!
Our first class is Tuesday, June 5!
Here are the other classes, we'll offering throughout the Summer months:
JUNE-
June 5, 'Paradise Sunset'
The setting sun bathes this tropical paradise in a beautiful array of colors. Vibrant hues of violet, pink, and orange make this stunning landscape come to life, adding happiness and color, anywhere you hang it!
https://www..../event/233441
June 12, 'Prismatic Elephant'
Elephants are a symbol of power, wisdom, strength, protection of the home, fertility and most important, are good luck. This elephant painting is simplistic in design but complex in the array of colors it's made up of. Prismatic colors wash over the elephant's skin, colorfully yet subtly enough to work in anyone's home!
https://www..../event/233442
June 19, 'Psychedelic Starry Night'
This vibrant take on Van Gogh's Starry Night is just as fun to paint in the daylight as it is under blacklight. The glowing color palette is easy to customize, and the simple design is very beginner-friendly. Join us and paint your own technicolor masterpiece!
https://www..../event/222506
June 26, 'Endless Summer'
We are day dreaming about summer and being on the beach. What about you?! Come find your happy place with us while painting this beautiful paradise scene.
https://www..../event/233443
JULY-
July 3, 'Rockin' Rhino'
The most important thing is to preserve the world we live in. - Jack Hanna
This painting of a majestic rhinoceros gets a cool and modern makeover with it's bright colors, minimalistic composition, and wildlife theme!
https://www..../event/233445
July 10, 'Kaleidoscopic Sunset'
This is one of our newer paintings, filled with color and a whole lot of natural beauty! It depicts a gorgeous sunset over the water, clouds in the sky, and the silhouette of trees on the banks.
Any landscape is gorgeous but add a little neon to the mix and this fun painting makes for a perfect night out with friends. Brighten up your life with this fun and easy to paint image!
https://www..../event/233446
July 17, 'Van Gogh's Dolphins'
Van Gogh goes dolphin watching at sunset! What if Van Gogh really was a lover of dolphin-watching??! This would probably be the masterpiece that we would create after seeing the peaceful creatures in their habitat, during the most gorgeous time of day… Sunset!
https://www..../event/233447
July 24, 'Sweet Glow Sugar Skull'
Laced with lots of gorgeous detail, this painting is one of our customers' favorites! It's a great one to get extra creative with, adding the details and extra touches of your choice as the creativity, moves you!
This whimsical black light sugar skull looks great in normal lighting but wait until you see how it glows in black light!! This is a great holiday painting that can really jazz up your party decor.
https://www..../event/233448
July 31, 'Swimming Octopus'
We will be painting on a LONG canvas for this one! A modern and sleek 10" x 30" form of art will fit into small spaces, adding color, style, and a whimsical touch to your home's decor!
This delightful octopus swimming throw the sea is great for any decor! Created with stunning pops of complementary colors, this turquoise and orange masterpiece will brighten any room in the house!
https://www..../event/237513
***Be sure to continue to checkout calendar, as we add classes, often! We'll be posting all of our classes for August, soon, including a few more 'Black Light Series' paintings! Yay!
*Bonus Class:
We're offering another style of painting that looks lovely in the dark… a light-up painting!
While this one isn't a black light painting, it does have bright colors and even a strand of fairy lights, woven into the final masterpiece!
June 16, 'Catching Fairies'
If you are ever lucky enough to catch a fairy, you will witness a glow so bright, it will light up the forest. Until then, paint your very own fairy, glowing in the night!
(*lights are included)
https://www..../event/231670
We hope to see you soon for a class at our studio if you're looking for something fun to do in or around the Tampa area! Whether you're stopping in to paint IN THE DARK with us, or just attending any of out other, amazing classes, we think you'll have a blast! We make the perfect event for everything from a fun and unique date night, an awesome girls' night out experience, and we even offer private events! When you view our classes on our website, you'll be viewing our schedule for our public classes, but you can also book a painting party with the guest list of your choice! Come in to celebrate a birthday, bridal shower, reunion, retirement, and more with friends and family, sharing their artistic sides, together. Make memories that will last a lifetime with a souvenir to treasure forever with one our classes.
*Learn more about our private parties, here:
https://www....ivate-parties
We also play host to tons of corporate events, too! Why not book your next work party or team building event with us? We offer several styles of paintings that incorporate team building strategies, encouraging the whole office to work together, creating a stunning world of art!
*Read more about corporate events, here:
https://www....porate-events
Finally, in addition to out studio parties, we offer mobile events, off-site! You choose the location and we'll come to you with all of the supplies!
*Learn more about out mobile events, here:
https://www....ainting-party
Share View our full calendar here! | Buy a gift certificate!