Happy 5 Year Anniversary To Our Fabulous Artist Instructor, Jessie!
September 3rd marked FIVE whole years that we've had the pleasure of working with Jessie and we can't imagine Pinot's Palette without her!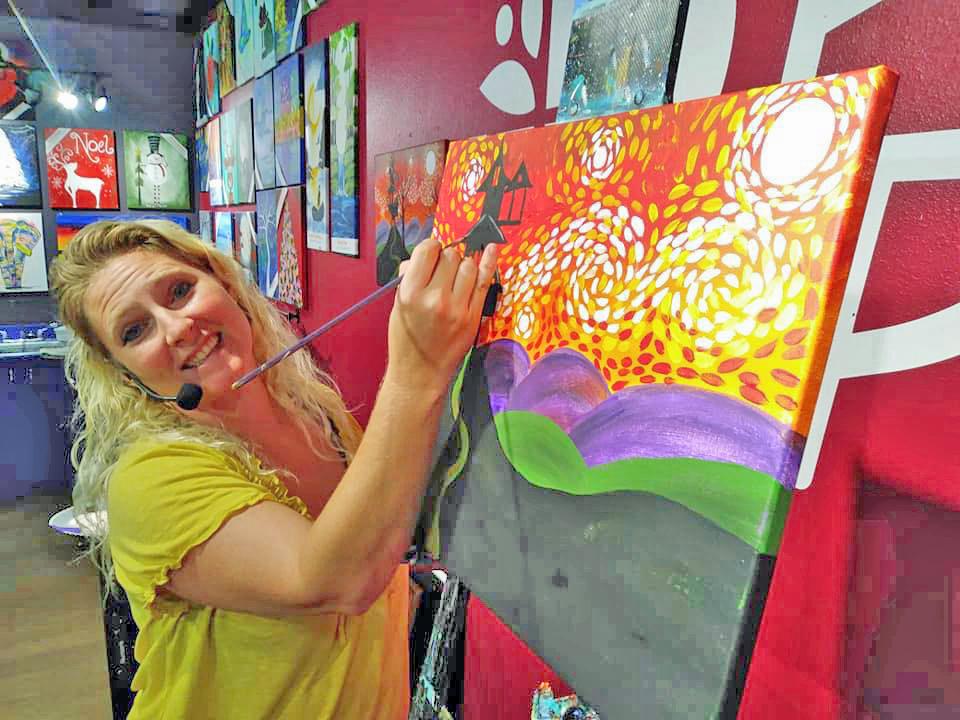 Pinot's Palette is such a great place to work! We love the energy of the music and creativity floating around all of the time; The best part for us as artists is helping others to create a painting in just a 2-3 hour class, when the majority of them, never thought they would be able to paint! Our team of artists, assistants, managers, and bartenders are all so incredible and we've been working together for years, growing closer as a work family, while also growing more as artists. It's so nice to be in a creative environment all of the time, bouncing ideas off of one another, and inspiring each other in different ways.
We're here today to talk about one of the key members of our team, Jessie! She has been such an asset to Pinot's Palette throughout her 5 years here, and we can't wait to spend even more time with her in the future!
Jessie is kind, incredibly helpful, and has a great way of explaining the steps of the paintings so it's easy for anyone to do!
We love Jessie for her dedication to the studio and all that she's done, not just for us, but for so many of you, too!
Our Pinot's Palette family came together and threw a surprise party for Jessie to show her how much she means to us and the studio! We created a pour painting, which turned out great, and will be something for her to treasure forever! It was after the event that we sat down with her and did an interview so you, our beloved customers, can get to know this brilliant woman even better! Walking into the studio and seeing a familiar face, makes the entire painting and wine class so much fun. You'll be comfortable being led through the painting steps, asking for extra help if you need it, and have some great things to talk about when you have some background info on your artist, like you'll learn about Jessie, today!
Enjoy getting to know her, as we have loved doing throughout the years, and be sure to stop in and say, "Hello" to her, whether you're in for a class or not! She's a pleasure to talk to, an inspirational artist to learn from, and the best team member we could ask for!
Jessie has been an artist at our studio for the past 5 years, but has loved art all of her life. When she's not creating things, painting or otherwise, she and her partner love to take their 3 children boating, paddle boarding (her personal favorite), kayaking, camping, and they love to travel! She says that any kind of exploring outside or on the water is always a lot of fun for her; She loves to rollerblade and says that there have been times where she's skated 60 miles in a week because she enjoys it that much! To further understand the depth and beauty of her spirited and outgoing character, we'd like to share a quote from our interview with her that we absolutely love…
"I truly believe that if you fill up your life doing things you love then you will always be happy, because you're fulfilled!"
*** Enjoy our Q & A from our time with Jessie ***
Q. What made you want to work at Pinot's Palette?
- Honestly?!?! Or the real answer…I was sick of being home with my two small kids all day!!
Q. Had you even been to a painting and wine style class before teaching at one? (Attended one as a guest)?
- I had never been to a paint and sip class before.
Q. What do you love most about being an instructor for PP?
- The lives that were changed! I believe this with my heart! Several people have told me that they didn't believe in themselves, and now that something that I said or a compliment I gave them, they now have a whole new perspective.
Q. What does it feel like to watch people who don't know how to paint, leave with a handmade work of art at the end of a 2-3 hour class?
- It is so fulfilling! To watch them realize they can do it. It is a confidence builder, you are watching it happen in their mind! It's amazing!
Q. About how many classes have you taught??
- Over 1,000
(*So that's close to an estimated 20,000 people who have been impacted by Jessie's classes!)
Q.What are your favorite types of paintings to teach?
- Beach scenes, I just love blending…and the beach!
Q. Have you ever created any original artworks for Pinot's Palette?
- 'Summer Time Memories'
Q. Who is your favorite (famous) artist?
- M.C. Esher
**Who is your favorite artist at Pinot's Palette?
- Amber. Her creativity & cuteness, originality…she can make trash beautiful. She is a great instructor.
Q. What is your favorite wine?
- Ca'Montabello Sangue…the Sangria and the Ciders are a close runner up!
Q. How have you grown as an artist?
- Exponentially as an artist, my painting skills have multiplied many times by doing it over and over, you learn.
** How have you grown as a person since working at PP for the past 5 years?
- As a person, [I've grown] working here with Dennis and Beverly. They always are pushing us to be better people, not for just work, but for home and neighbor and inside ourselves. Kinda like life coaches. Helping me see inside myself better and keep myself in check better. It's not just me, it's all of us to see things in a different perspective, in a different light, and helping us be the best version of ourselves.
Q. How has Pinot's Palette, Brandon grown/changed over your time there these past 5 years?
- Well…we do Chunky Blankets now!!...Lol
Our classes are much fuller and expanding and doing different things!
Q. What would you say to someone who has never been to a class and wants to attend one BUT is nervous to try it because they think they can't paint?
- You gotta try it! You never know till you do it…You'll be surprise by the outcome! At the end they leave so proud of themselves! I see it almost every single class.
Q. How do you feel like you have evolved as an artist?
- I am an artist that I never thought I could be. I asked Rosie (a former Pinot's employee) about being creative, and she told me "oh no I'm not creative…I've just got skills." And I was like, that's so true! I'm not creative, I've just got skills.
Q. Tacos or Pizza?
- TACOOOOOOOOS!!
Q. I'm sure there are times when the job is taxing, so what do you focus on to get through those times?
- I've worked here for a long time…5 years! I love my job so much, I love coming to work. I get excited when I have a class or its theme night, it just excites me! I love being in front of people and talking to people. But you asked about taxing times, there are times when it gets really hectic and things can get a little hairy. So to me I don't focus on those bad moments, I just focus on everything else that I love. The people and the relationships that I've built, the friendships that I've made. So the times that are hairy, you just deal with it and move on. But you just work through those times and just have fun and paint!! If someone told me 10 years ago that I was going to get paid to paint I would have laughed in their face!!
Q. When you talked about the relationships, you talked about the relationship you have built with our customers, but I feel like you are including in that statement your relationships you have with your peers.
- Ya definitely! And an extra part of that, I've never been able to work with a group people that are like-minded that are artist and think outside of the box and aren't afraid to go that extra like 'well what if we do this, what will that do, or what will this look like', it's freeing. Living in a world of people of rule followers. It's just freeing
Q. In contrast to that, not everyone knows that you are a Veteran, which the military is very rule oriented. You thrived in that arena, and you thrive in this artistic arena as well. You did both very well, and not a lot of people can thrive in both worlds. How were you able to do that?
- I'm a chameleon! Lol When I joined the military my life was a mess! I needed order, direction, and structure. I needed something to be a part of, I had no goals and direction. I needed that structure. The military gave me that structure, and a sense of home, and something I could be proud of and be a part of. I stayed in the military until I became a mom and my goals changed.
Q. What is your favorite holiday?
- Halloween!!
Q. Any final words?
"When you do what you love, you'll never work a day in your life!!" <3
We hope you'll come in for on of the wonderful classes on our calendar, soon; You just might have Jessie as your artist for the evening, and if so, you're sure to learn a lot!
Thank you for all of the support and love you've give to our studio and employees thoguhtout the years and we can't wait to send many more with you and artists like Jessie!
Cheers!