Get Ready For Some Special Kids' Classes This Summer!!!
We're Entertaining The Younger Crowd With Some Excellent Artwork, All Summer Long!!!
If you and the kiddos are looking for a great way to spend some time this Summer, look no further that Pinot's Palette!
We're offering some amazing, weekly art classes that will have EVERYONE, jumping for joy!
You can come in and spend time with your children, OR drop them off to get creative on their own!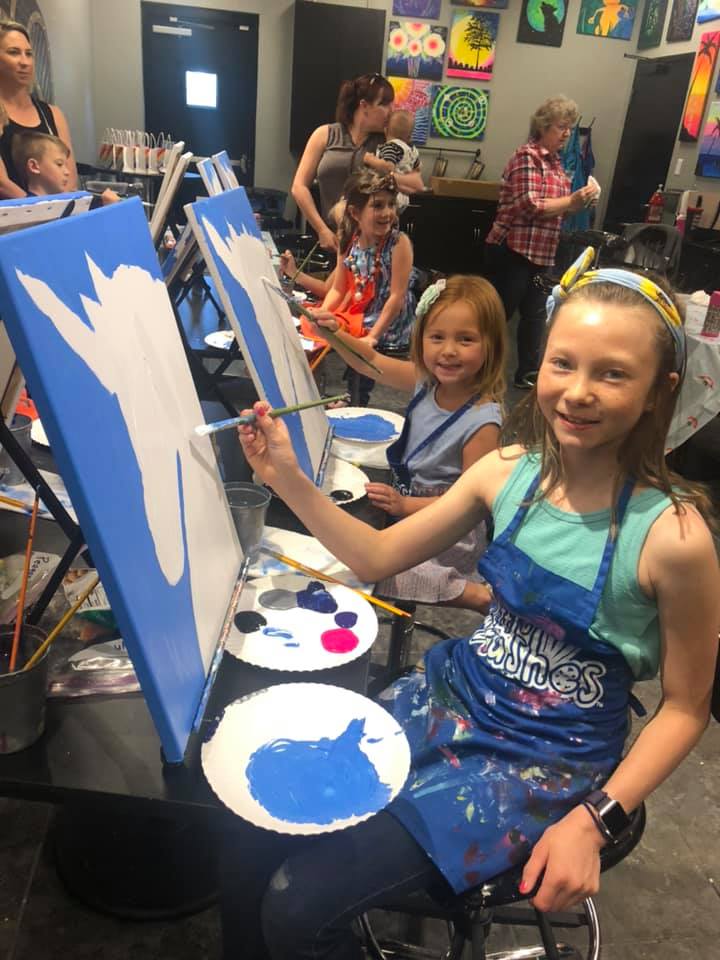 Summertime is the best time to slow down a bit and unwind from the hectic school year schedules we all have. The kids are out of school, class projects, PTA meetings, school sports, and after-school activities are all on hold as your kids get some time for themselves. While it can be a lot of fun to have that special time with them, the Summer days are long and after a while, they can begin to drag on. Give your kids some fun and creative pastimes this Summer with our painting classes!
Bring them in with a group of friends and let them get in touch with their inner-artists as they paint a masterpiece to always treasure; They'll have a lot of fun, hanging out with their peers in a creative environment and will be eager to tell you all about it when you pick them up!
For the younger crowd, who not join them for some painting events?! What a great way to spend time together this season, as you paint, listen to music, express your creativity, and have a lot of fun, bonding over this new activity!
Check out the schedule below to see all of the dates and times of the classes, then plan your Summer, accordingly.
(*)Note: there will likely be some date in August, as well, so keep checking out our schedule through the next few weeks, as those dates get closer!
** JUNE KIDS' CLASSES **
June 7 'Pandastic Days'
What can be better than a glass of fresh lemonade on a hot summer day? Painting a Panda with sunglasses of course! Have a Pandastic day painting this fun and colorful painting :)
https://www..../event/329766
June 14 'Sleepy Sloth'
Who can't relate to this sleepy sloth?! Naps are my favorite and to have butterflies lull me to sleep,yes please! Sign me up to be a sloth...after I paint this cute momento sipping on my favorite beverage.
https://www..../event/300742
June 21 'Huggable Bumble'
Spring has arrived and the flowers are blooming. Join this friendly bumblebee on his search for the perfect flower to make someone smile.
https://www..../event/329767
June 28 'Llama-rama'
It will be a llama-good time while you paint this bright and colorful creation!
https://www..../event/300744
** JULY KIDS' CLASSES **
July 5 'Eye See You Emu'
This inquisitive emu has a little bling, a lot of color, and lashes on fleek! The eyes have it on this cheerful painting!
https://www..../event/300743
July 12 'Ocean's Daughter'
Beautiful mermaid, under the sea ...
Won't you come up and visit me?
Sparkling flowers ringed in your hair
Made of sea pearls - none can compare.
*Customize her hair!
https://www..../event/300745
July 19, 'Dripping Daisies'
Change up the colors in this whimsical daisy painting to match your décor or your mood
https://www..../event/300746
July 26, 'Fluorescent Gecko'
This funky gecko is designed for black light painting but is just as much fun in regular light. This is a perfect painting to personalize as you can change the patterns and colors to your liking. His name is Artie and he is fabulous!
https://www..../event/300748
—————— More fun for the kids this Summer ——————
** 'Open Studio' classes (for all ages)
Join us on Wednesday for our all-ages-welcome Open Studio classes! Come in and paint what you want with friends and family by your side!
Next up: May 22
https://www..../event/318375
** Family Paint Days
Bring the whole gang in to spend time together, creating art AND memories in these specially-priced Family Day classes!
Next up: June 1
https://www..../event/323514
**Private Parties
In addition to our public classes, we also rent our studio space for private events like children's parties (in addition to other private events)!!!
When you reserve a private party with us, you get to choose the painting, the date and time of the event, as well as the other details like food, drinks, decor, and more! Keep us in mind for your child's birthday, team or troop celebration, and more!
https://www....ainting-party