Continue The Holiday Celebration With Our Upcoming Classes!
It's that special time of year when we get to see more of our friends and family, have more days off work, and time to catch up on the good things in life...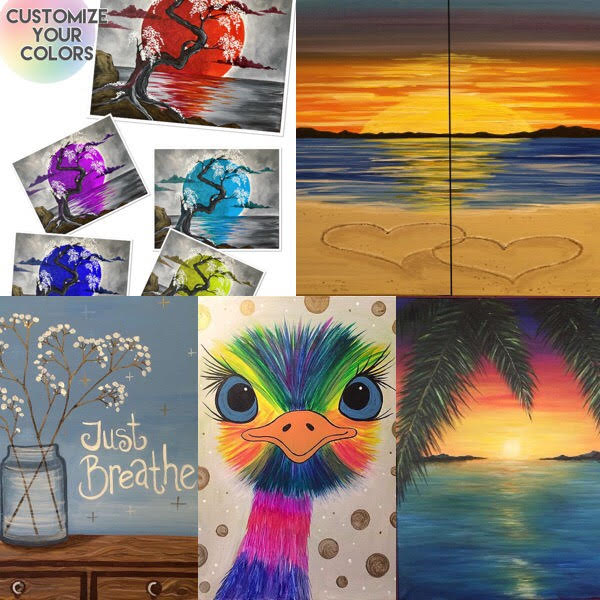 Make Pinot's Palette one of the many good things on your list, and come in for a painting and wine class! If you live in or around the Tampa area, we'd love to see you! Whether you're a first-timer or a seasoned profession, you'll love our classes and even want to share the experience with loved ones!
If you have some out of town guests staying with you and are in need of some fun, local things to do... look no further! Pinot's Palette is the place to be for a night out, filled with wine, music, friends, and lots of creativity! We make a terrific girls' night out spot in Tampa; We also work perfectly for a unique date night idea with your other half! Come in with a large group to have a LOT of fun, or just come alone to relax and get away from life for a few hours!
We've been having some amazing classes, lately, with paintings featuring some seasonally themed artwork like winter landscapes, snowmen, Christmas trees, and more! These holiday classes tend to be some of the most popular ones of the year! Our customers love getting into the spirit of the season by painting a holiday picture while listening to Christmas music, and (of course...) drinking wine!
Once the crazy busyness of Christmas Eve and Day are over, come in and relax with a painting class or two, and remember to bring those loved ones along! We've got a special campaign running throughout the rest of December, where you'll get the 6th seat FREE, when you purchase 5 seats, so the more, the merrier!!!
*Read more about this special:
https://www....rbuy5get1free
Some of the amazing classes we'll have coming up immediately following Christmas Day and go into the new year will be just the thing to continue your holiday fun, letting the spirit of the season continue on as you spend time with loved ones, making precious memories and beautiful art!
Join us for one of these classes:
12/26 (7-9pm) 'Just Breath'
*All of the baking, shopping, long lines, and traffic are finally starting to slow down and it's time to enjoy yourself, so just breath, relax, and join us as we paint some serene and delicate baby's breath in a light and soothing color scheme.
Dec. 27, 28, 29 (11am-3pm) Open Studio!!
Pay just $15 and come paint what you want to! You can get extra creative in this class as you select the painting of your choice and get to do it your way, as there are no step by step guidelines for how to paint it! We'll have artists walking around to assist, but you're in control of your time and the painting selection for this event!
12/27 (7-9pm) 'Japanese Crimson Moon'
*Come out and paint a beautiful and peaceful Japanese-inspired landscape, with a tree in front of a big, red moon! The colors of the original are black, white, grey, and red, a popular and stunning color combination, but in this class, you get to pick your colors!! Does red not fit into your home's color scheme? No problem! You can alter the painting to fit your style and taste in this customizable painting class!
12/28 (7-9pm) 'Dream Island'
*With the cold days of winter, just beginning, take a 2 hour vacation to a tropical location, as you paint and breathtaking sunset with a palm tree in front!
12/29 (7-9pm) 'Romance On The Beach'
*DATE NIGHT painting!!!
Come paint one half of this beautiful beach scene, while your other half paints the second canvas. Push them together at the end to show one, whole painting.
December 30 (multiple classes!):
(1) (10am-12pm) 'My Wish'
*Mimosa Morning- Your first mimosa is FREE!!!
Join us for a colorful and calming painting of a dandelion blowing in the breeze.
(2) (2-4pm) 'Eye See You Emu'
*FAMILY DAY painting!!
Come in with the whole family (all ages welcome) and paint this colorful and adorable emu!
(3) (7-10pm) 'Japanese Moon Garden'
*A customer favorite! Enjoy this gorgeous painting of a big, bright moon, over the water. Cherry blossoms compliment the blue and golden colors of the moon's reflection.
Remember to bring everyone out for some of these classes! Buy 5 seats and get 1 free so why not bring the whole gang?! Pass the deal along to all of your friends so you can ALL come in and paint together!!!
We hope you have a happy holiday season with your loved ones! Come in and visit us soon, and have a wonderful New Year!!!
Share Sign Up For A Class With Us! | Buy some gift certificated for all of the people on your list!