Valentine's Day & Other Date Night Fun With Pinot's Palette, Brandon!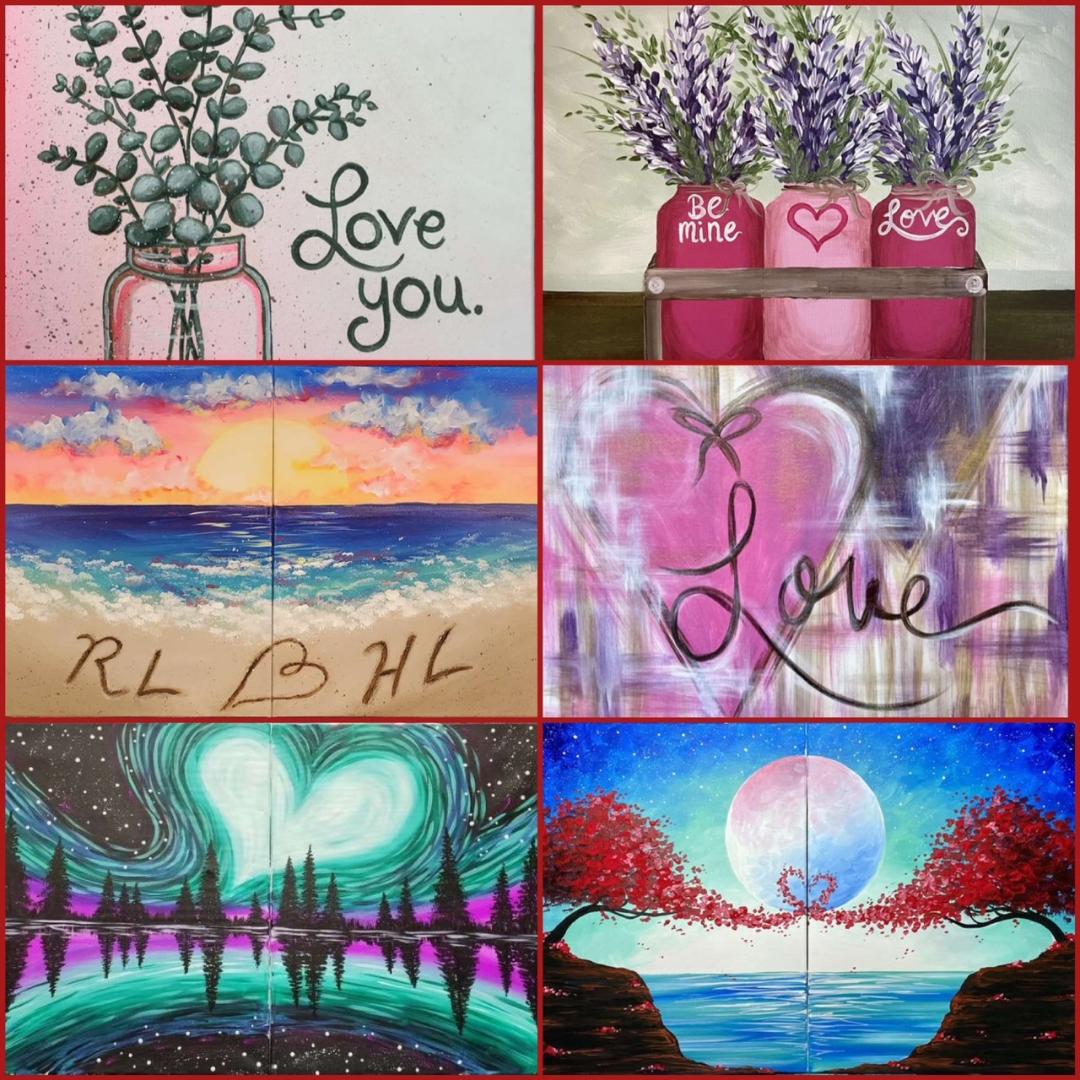 The LOVEliest day of the year is almost here! Valentine's Day is Monday, February 14th, less than a month away, and you know how quickly reservations fill up this time of year. Get ahead of the game and lock in a spot for a painting and wine class with Pinot's Palette!
Whether you're looking for something unique to do to celebrate, OR something to add to the usual dinner out tradition, we've got you covered!
From plans on 2/14, to classes before and after the holiday, Pinot's Palette is offering some amazing artwork these next few weeks and we hope you'll join us for them!
Come in to the studio for an in-person class OR paint from anywhere with our virtual classes! Gift certificates are also a great option for your Valentine, letting them paint anywhere, anytime ((*and choose any painting)) that works best for them!
Pre-Valentine's Day…
Valentine's Decor!!!
Join us at the beginning of the month to make some lovely artwork to hang as Valentine's decorations in your home; Bring them out each year to display and remember the fun you had making it AND stay proud of this one-of-a-kind artwork that YOU made!
Valentine's Presents!!!
Can you imagine the look on your Valentine's face when they unwrap a handpainted work of art?! The time, effort, and thought that goes into something like that won't go unnoticed.
Stop in anytime between now and February 14th to create a handmade work of art for your special someone.
Customize the colors; Add names, initials, or quotes; ANYTHING that you wish to do to your artwork to make it your own and extra-special is encouraged! There;s no wrong way to make art, so relax with a glass of wine or beer and paint away!
**Some Of Our Upcoming Classes:
1/29 Love Wreath - Bottomless Mimosas $15
https://www..../event/587557
1/29 Rustic Heart - Bottomless Mimosas $15
https://www..../event/587558
2/3 Love You-calyptus
https://www..../event/587818
2/5 Sweetheart Gnome - HURRY AND SIGN UP!
https://www..../event/587552
2/5 Be MIne Blooms - Bottomless Mimosas! Yay!
https://www..../event/587905
2/10 Rustic Valentine
https://www..../event/587918
Valentine's Celebrations…
JOIN US in the studio OR virtually to paint with your Valentine and make some memeories (and masterpieces) that you will treasure forever. From our very popular 'Date Night' (2 canvas) paintings, to single canvas beauties like flowers, landscapes, and more, we've got something for everyone!
Join us before February 14th, on the actual day, or after the holiday to paint, drink, and have so much fun!
((Date Night//2-canvas Paintings)):
2/11 Hammock With My Honey -
https://www..../event/587823
2/12 Carved In Love-
https://www..../event/587824
2/12 Northern Love Lughts -
https://www..../event/587825
2/14 To The Moon and Back -
https://www..../event/587827
2/14 Cosmic Nightfall -
https://www..../event/575995
2/15 Sunset Beach -
https://www..../event/587830
2/15 Van Gogh's Live Blossoms -
https://www..../event/587831
Galentine's Day (Feb 13th)
February truly is the month of love and Galentine's Day on February 13 fits right in. We're quick to shower our significant others with gifts and treats on February 14, but the day prior was designed to celebrate other equally important relationships in our lives: our girlfriends! Galentine's Day is a time to bring together the ladies in your life you love most.
**This year, is also happens to fall on SUPER BOWL SUNDAY. Join us for a class with friends before the game, then take your painting home to display! OR, if football isn't your thing, invite your bffs over to paint from home with our virtual classes, while the football lovers watch the big game in a another part of the house! Win, Win!
**Here's What's Coming up:
*(NOTE: All of these classes have Bottomless Mimosas just $15!)
2/12 Paradise Cove -
https://www..../event/587948
2/12 Rainy Day Chic -
https://www..../event/587947
2/13 Paris In The Rain -
https://www..../event/587826
Celebrate After Feb 14th
You can always celebrate V-Day after the 14th…
You may already have plans, might be working, or just prefer some of the paintings on our calendar that take place after February 14th.
Keep our GIFT CERTIFICATES in mind as a unique gift, too! Give your Valetntine the gift of a painting class and they can choose the day, time, and artwork that is preferred for their experience!
https://www....-certificates