Make A Special Gift This Season!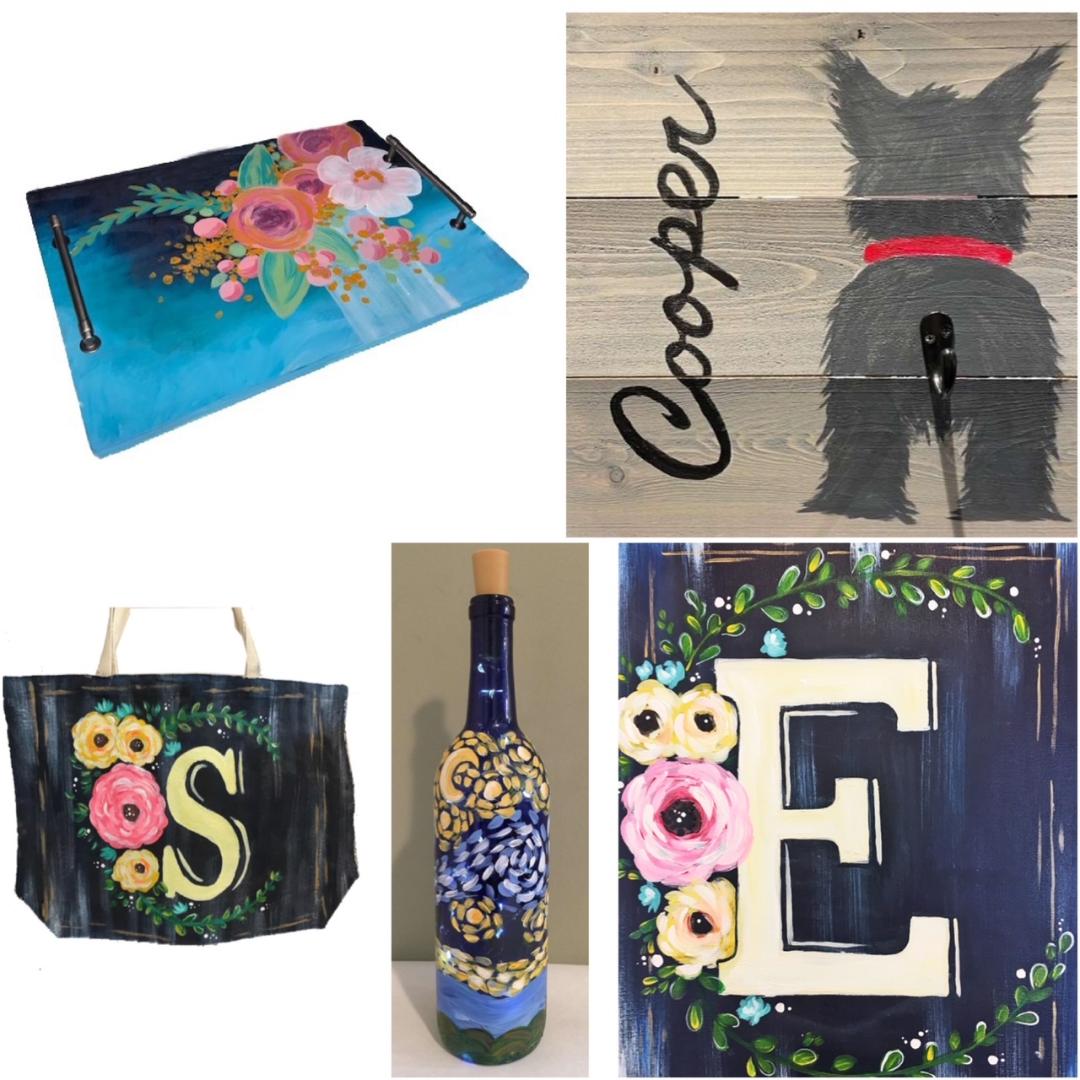 Make A Gift On A Non-Canvas Surface This Season And Give It To Someone Special!
JOIN US this upcoming week to make some artwork that goes beyond the canvas and makes a really great gift! Create some of these items to give to friends and family OR make it and display it in your home each year! Customize the colors and personalize your art the way you want to; Don't overthink it.. ANYONE can paint and make art, you just have to let go and put your inner artist to work :)
Whether you're joining us in the studio or virtually, there is no shortage of fun classes for you and your loved ones this season and any time of year, so be sure to check out the FULL calendar on the bottom of the page.
HERE'S WHAT'S COMING UP THIS WEEK:::::
December 19th & 20th - VIRTUAL EVENT!
Make A Blanket
RECORDED 2 HOUR CLASS. Introducing Pinot's Pre- Recorded Video Tutorial Chunky Blanket Kit. Our take home kit will include - 4 skeins of Chunky Knit Yarn. Once your order has been placed, we will email you to get your color choice. You will also receive a link to a pre-recorded video tutorial valid for 30 days that will take you STEP-BY-STEP throughout the project! Your completed blanket will measure approximately 30x40" when complete, depending on how tight you weave your loops. No experience necessary. Knitting needles not required. Your supply kit is available for pick up at the studio
https://www....op-item/35521
December 20th - DOG LEASH HOLDER
This leash holder is the perfect item to hold your pup's leash before going on a W-A-L-K. We have several dog silhouettes to choose from to allow you to customize your leash holder.
https://www..../event/572302
December 21st - PAINTED WNE BOTTLE
Create your own Starry Night wine bottle. Based on Van Gogh's masterpiece, we provide the bottle and step by step instructions.
INCLUDES BATTERY OPERATED FAIRY LIGHTS!
https://www..../event/572321
December 22nd - PAINTED TRAY
Sugar Coral Blossoms
Pour some sugar coral on your canvas and create a masterpiece that will add a sweet touch to your home decor!
Painted on a flat serving tray with metal handles at each end.
https://www..../event/572322
December 23rd - Canvas Or TOTE BAG
Floral Monogram
This elegant monogram is easily customizable so that it fits perfectly into your home decor!
Add Tote Bag to register for Tote Bag Option. For regular canvas painting, no additional options are necessary.
https://www..../event/572323
AND MORE!
We're always offering fun non-canvas artwork in the studio, so be sure to keep an eye on the calendar from month to month. In addition to these off-the-canvas projects, we have TONS of paint kits that you can enjoy from anywhere!
***Use HOLIDAY PROMO! BUY 5, GET 1 FREE! Put 6 kits in your cart. Can be 6 of the same or 6 different kits. Use code BeMerry.
Paint at home recorded 2 hour classes. Purchase with ALL ART SUPPLIES or purchase LINK ONLY.
LOGIN ON DEMAND. Paint from the comfort of your own home! LOGIN ANY DAY, ANY TIME in the current month (if purchased the last week of the month, email us for a link valid thru the end of the following month for no extra charge). This take home art kit includes the following materials: - Canvas - Paint Brushes - Paint - Disposable Apron - Water Cup - Paper Plates for Art Palettes - Paper Towels or LINK ONLY can be purchased. The link to access the class recording will be emailed to you within 24hrs of purchase.
Shop:
https://www..../brandon/shop
A handmade gift is a fail-proof gift you can give on any occasion. It's a unique way of telling your recipient that they are special. After all, the gift itself took time to be created and nothing shows Love quite as well as the time, thought, & effort you put into someone's special gift.
intention of giving handmade material is not about saving money but to make the receiver feel special. It's a meaningful gift that you can give to your family and friends on special occasions or even on ordinary days.
ANYONE will love getting the gift of handmade art, whether it's a gift from you that you created just for them OR a gift for them to make on their own! Paint something with them in mind and watch their face light up as they unwrap a handmade masterpiece with a lot of thought and love behind it.
You can also take advantage of our gift certificates and virtual classes, too. Buy someone the gift of an art class and the two of you can make memories together in a class OR they can paint in a class themselves- in the studio or from home! Our take-home paint kits are a lot of fun and very convenient, so be sure to mention them to the recipient of the gift certificate, too!