How Your Problems Disappear When You Make Art
"Art washes from the soul the dust of everyday life."
-Pabo Picasso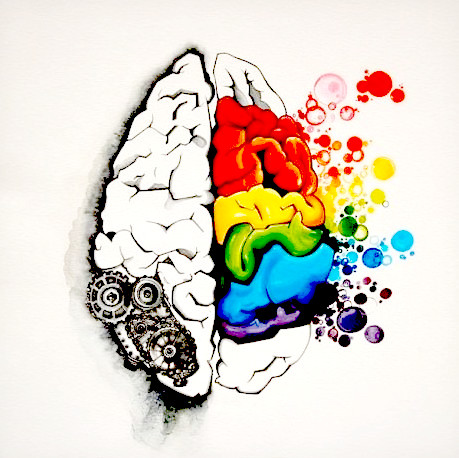 Life is hard.
Let's be Real…
No matter what your life is like - kids or not, a stressful job, busy schedules, and more - your mind is undoubtedly being pulled in a million different directions, leaving you little to no time for yourself.
But we've heard it before, and we'll say it again: You HAVE To Take Care Of Yourself Before You Can Take Care Of Others.
We've got the perfect way for you to reduce your stress while having a lot of fun and making a work of art that you can be proud of!
The best part? We can literally guarantee that you'll relieve some stress while you're in one of our classes, making art…..
FUN FACT:
*The way our brains are divided and the roles that each part of the brain plays, it's scientifically proven that you can't indulge in your creative part of the brain while overindulging in the problem-solving part.
The human brain is an intricate organ. At approximately 3 pounds, it contains about 100 billion neurons and 100 trillion connections. Your brain is command central of all you think, feel, and do.
The left side of the brain is associated with analytical thought, whereas the right side is associated with creativity. While each side of the brain, generally-speaking, controls the other side, there's a dominate side that each one of us possesses; It's the reason why some of us are better at art, rhythm, and imagination, and others are better at mathematics, logic, and linear thinking.
**Think About This:
Your brain has to disengage from the problem-solving (worrying) side to be engaged with the creative (painting) side.
Basically, you can't be thinking about (and stressing about) all of the problems in your life and the many things on your to-do list, if you're engaged in an artistic process.
Unwind from a long day at work with a painting and wine class at our studio! Carving some time out of your schedule to do something creative and fun like painting and sipping wine, is really like a mini-vacation you're giving to yourself. You're taking a break from your problems, if only for a 2-3 hour period, and just that small amount of time away from the problems of life, can do wonders for you and your sanity!
Just the act of finding a new hobby can make a person feel more well-balanced in their lifestyle. With all of the responsibilities in life, it's sometimes easy to forget that most people need and should have some 'me time'. Dedicating some time on a regular basis to painting can help this to be achieved. Painting and creating art is a good way of distracting your thoughts from whatever is causing your stressing or anxiety. The distraction is, of course, only a momentary effect, but many people find that the relaxation gained during a painting session enables them to have a clearer line of thought, which later helps them deal with problems and help put them into perspective. One further benefit of painting to relieve stress, as it can often enable a person to achieve a positive state of mind known as "Flow". This is a state of mind which occurs when an individual involved in an activity is completely immersed in strong feelings of involvement and focus.
<3<3<3<3<3<3<3<3<3<3<3<3<3<3<3<3<3<3<3<3<3<3<3<3<3
*** The Perfect Pairing: Wine and Painting
We love the concept of painting with friends, listening to music, and enjoying some wine or beer.
All of these things, individually, are proven stress-relievers…
Now, combine them all like we do in our classes, and you've really got something great.
— Painting And Stress-Relief:
Our painting classes are always an excellent choice for beating stress, and the best part is all you have to do is sign up We'll provide the supplies and instructions to guide you through your artwork.
As we mentioned, so many of our customers come up to us, thankful for our classes and how much it helped them put a good ending on a bad day.
Participating in an artistic activity, like painting, can do wonders for you. It's never too late to try something new (especially something creative like making art), and truly, anyone can do it.
If you can hold a brush or crayon or marker, you can draw and paint; And it doesn't have to be a big investment. If you're looking to make some art of your own at home, just a few acrylic paints or a set of watercolor paints, some brushes, markers or crayons, and paper are all you need.
You will be greatly rewarded emotionally, physically, and spiritually for your creative efforts.
— Wine and Relaxation:
Drinking wine—and alcohol in general—is one of the most time-honored ways for disconnecting our brains at the end of the day. This has been documented for over 5,000 years, and there's a good reason for its persistent popularity.
While the many physical health benefits of drinking wine, especially red wine, are well-documented, wine can also improve your emotional well-being.
— Music and Relaxation:
The soothing power of music is well-established. It has a unique link to our emotions, so can be an extremely effective stress management tool.
When people are very stressed, there is a tendency to avoid actively listening to music. Perhaps it feels like a waste of time, not helping to achieve anything. But as we know, productivity increases when stress is reduced, so this is another area where you can gain vast rewards. It just takes a small effort to begin with.
— Spending Time With Friends:
A small new study shows that during stressful times, being around friends decreases levels of the stress hormone cortisol.
Being around those that your trust and care about, knowing that they also care about you, is a powerful thing for our minds, and something that also boosts confidence,
Its also incredibly beneficial to know hat you have people you can lean on, confide in, and who may share similar issues with you; This is great because then you and your loved ones become an emotional support system, leaning on and learning from one another.