5 Things Everyone is Mildly Afraid Of
Most of us share the same everyday fears. Fears that are trivial, yet appalling. Like getting the squeakiest cart at the grocery store. Even though these may be mild, overcoming and avoiding them makes life a little nicer.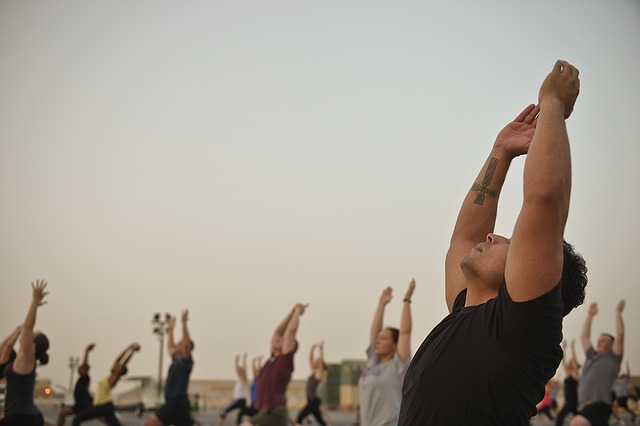 FEAR #1: Being the only one in yoga class who doesn't understand a move.
Worst case scenario: You ask for help and everyone stares at you. Someone sniggers. The instructor is annoyed but shows you how to do it. Boom! You can now safely and successfully perform that move. Best case scenario: You ask for help and no one pays any attention because they're zenned out. The instructor happily does her job and helps you. Oh look, same outcome as the worst case scenario.
FEAR #2: Asking a new acquaintance to hang out.
Worst case scenario: They say no. Or they say and you enjoy a nice delicious cup of coffee together but don't hit off so you go on with your lives. Best case scenario: They say yes, you two hang out, and a beautiful friendship begins.
FEAR #3: Climbing over other people's knees when you have to go to the restroom in the middle of a movie.
Worst case scenario: You touch every single person's knees, and every single one of them is irritated with you. One guy spills his popcorn. When the movie's over, one of them gives you the side eye. This seems like a small price to pay, really. Best case scenario: No one notices or cares. Later in the movie, half of them have to do the same thing. Everyone enjoys the show and goes home.
FEAR #4: Tripping on the sidewalk when people are looking.
Worst case scenario: Six people see you trip and watch your face turn red as you awkwardly try to resume a nonchalant gait. Your day goes on. Best case scenario: The only person who notices is the dude who did the exact same thing an hour ago, but he does you a solid by pretending not to have seen. Your day goes on.
FEAR #5: Having no idea what to do with yourself when you show up to a new place for the first time.
Worst case scenario: There are no signs or people to direct you, and you wander around awkwardly for a while. Maybe you figure out where to go, or maybe you backpedal to the parking lot and drive home. Best case scenario: Someone greets you at the door, tells you exactly how everything works, shows you where to sit and stays nearby in case you have follow-up questions.
HAVE NO FEAR
You should never have to endure this sort of everyday awkwardness at Pinot's Palette! At every one of our studios, you'll get a greeting at the door and the lowdown on where to find wine glasses and smocks. If it's your first time, you'll get a full rundown of what to do with your paint palette and what to expect from the class. You'll feel confident and comfortable from the moment you walk in the door.