Bar Menu
BAR MENU
Also ask to see our catering menu at:
https://www....ning/catering
We also have non-alcoholic selections including sodas; ice tea; coffee; over 14 bottled beer/IPA and specialty brews (not listed below); and wine coolers; spiked seltzers and more... All brews range from $5 to $6. All non-alcoholic options and snacks range from $1-$3 in price.
Prices shown are by-the-glass and by-the-bottle; if no glass price is shown only available for purchase by-the-bottle.
Get ready to Paint. Drink. Have Fun.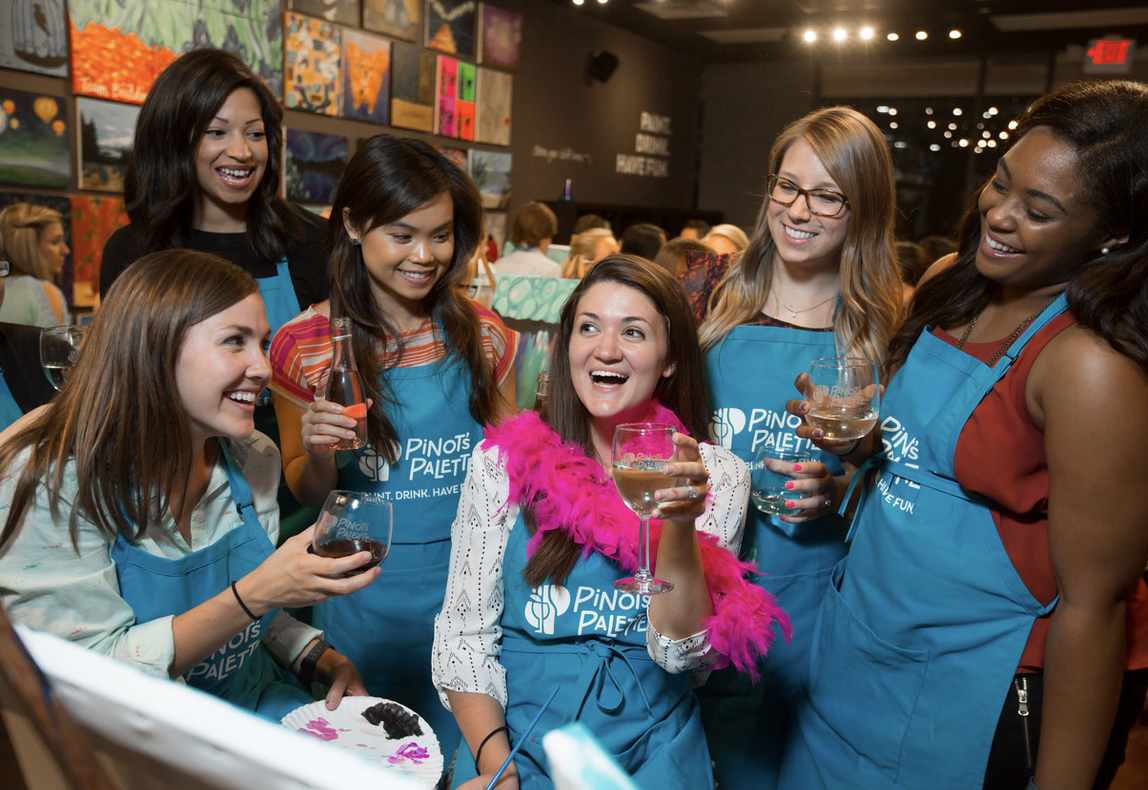 WINE MENU
WHITE********
Pinot Grigio, Ecco Domani
(Italy) $8 $28
Crisp, flavorful notes of lemon, apple, apricot and pineapple with a refreshing finish
Chardonnay, Penfold Koonuga Hill
(Australia) $9 $36
Light-to-medium bodied with distinctive primary fruit characters, sustained intensity and a subtle oaky undertone
Sauvignon Blanc, Matua
(New Zealand) $8 $32
A fresh blend of citrusy pineapple and grapefruit accented by delicious guava
Riesling, $8 $32
Slightly dry and slightly sweet with an enticing bouquet of juicy green apple, peaches and a hint of citrus
Moscato, Seven Daughters
(Italy) $8 $29
Fruit-forward and pleasantly sweet with the delightful natural flavor of the Moscato sweet grape
ROSE********
Rosé, Juliette
(France) $8 $28
A dry, bright Rosé with mixed berry flavors starring juicy raspberries and a refreshing, elegant feel
White Zinfandel, Beringer
(California) $7 $26
Full of fresh citrus, red berry and melon aromas rounded out by subtle hints of nutmeg and clove
RED********
Cabernet Sauvignon, BV Coastal
(California) $8 $32
Straightforward and well-balanced, blackberry and black cherry mingle with toasty, vanilla-oak spices
(California) $42
Rich, lush and structured, this wine displays intense flavors of blackberry, blackcurrant, cassis and crushed violet
Malbec, Bodega Norton
(Argentina) $8 $29
A full bodied, bold Malbec with ripe blackberry flavors and hints of violet
Merlot, Cusumano
(Italy) $8 $29
Elegant and approachable with ripe fruit aromas and the softness of the Merlot grape
Pinot Noir
(California) $8 $32
Fruity flavors of fresh cherry, raspberry and plum are layered with creamy vanilla, smoke, tea spice and toasted oak
Shiraz, Penfold Koonuga Hill
(Australia) $32
Known for its full-flavored style with savory, dark fruit aromas and a touch of peppery spices
SPARKLING********
Mimosas $6
Prosecco, LaMarca
(Italy) $9 $36
Delicate yet lively flavor with notes of lemon, green apple and grapefruit