How to decant
It's likely that you have a wine decanter sitting in your home, especially if you were recently married; yet you have no idea when or how you are supposed to use it. Or for that matter, why you even would. Let's talk about decanting today.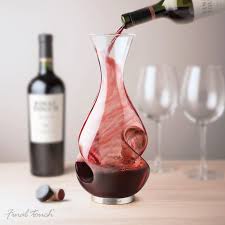 How to decant?
- Air It Out
Pouring wine into a decanter rapidly exposes it to oxygen. Aeration improves the flavor of tannic young red wines, many dry whites, and vintage ports.
- Cellared Wines
Decant older wines gently, taking care not to include any sediment. Pouring so the wine slides down the decanter walls will let you spot sediment in the stream of wine so you can stop pouring.
-Young Reds
Glug the bottle roughly into the decanter one hour before you're ready to drink it. Let it splash to soften the tannins.
Now you can put your decanter to use and enjoy your wine more!