Our first class offered to everyone!
Our first class open to everyone will start 7pm on Saturday Dec 3rd.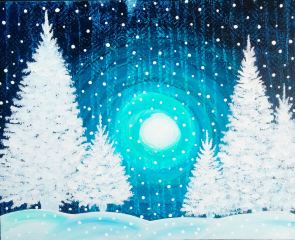 We are painting 'First Snowfall'. With the temperature being almost 80, it is hard to imagine snowfall right now. What I heard is that the temperature is going to drop tomorrow and it will drop A LOT. Maybe it will finally be winter time.
Just imagine sitting next to a crackling fire and looking out the window at the first snowfall of the season! Capture that moment by sipping some wine and painting First Snowfall with us! This is our very first public class. Come and be the first to see our lovely studio. We will have holiday music and wine ready for you.
Here is the link to sign up for the class:
https://www..../event/130729