Throw the Easiest New Year's Eve Party Ever!
Here is how to throw the easiest yet most fun New Year's Eve Party ever: Have a Paint and Sip party at Pinot's Palette Apex!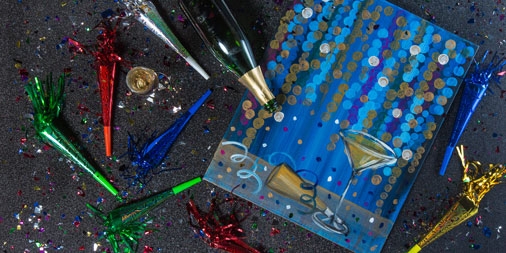 Step 1: Sign up for the 1pm New Year's Eve event at Pinot's Palette Apex, by clicking on the link:
https://www....event/206999.
Make sure you use the code 'MERRIER6' to get the BUY 5 GET 1 deal. Don't forget to tell us that you are coming to celebrate with your friends, so we can seat you together. Holiday party in our studio is joyous and relaxing at the same time!
Step2: Drinks and Snacks. For wine, champagne, and beer call us at 919-296-1741 to pre-select and reserve bottles for your party. Here is our bar menu:
https://www....mind/barmenu.
As you can see we have many yummy snacks, but feel free to bring your favorite soft drinks. We also have soda, sparkling water, iced tea, juice, hot chocolate and other soft drinks for sale. Bring your favorite snacks. Here is a something easy to prepare and scrumptious. Thanks to Real Simple.
Pears With Blue Cheese and Prosciutto
Ingredients:
• 2 pears (such as Bosc or Bartlett), each cut into 8 wedges
• 2 teaspoons fresh lemon juice
• 1 cup arugula
• 3 ounces blue cheese, cut into small pieces
• 6 ounces thinly sliced prosciutto, cut in half lengthwise
How to make it:
In a large bowl, toss the pears and lemon juice. Layer a slice of pear, an arugula leaf, and a piece of cheese on a piece of prosciutto and roll up.
Step3: Prepare to give each other parting gifts of good fortune. Some fun ideas: Pack up black-eyed peas (which bring good luck, according to southern tradition) in a box or cellophane bag and a recipe.
Step4: Show up and have fun! Our artist will lead you step-by-step through creating the beautiful painting 'A Walk Through Color' while you sip and nib and enjoy each other's company!
If you haven't painted with us before, here is a video clip that gives you a quick preview of what a night out is like at our studio.
https://www....v=0HJFaZxViNU