Team Building with Apex Youth Leadership Group
We had the privilege recently to host a team building event for a group of high school students, and the result was wonderful.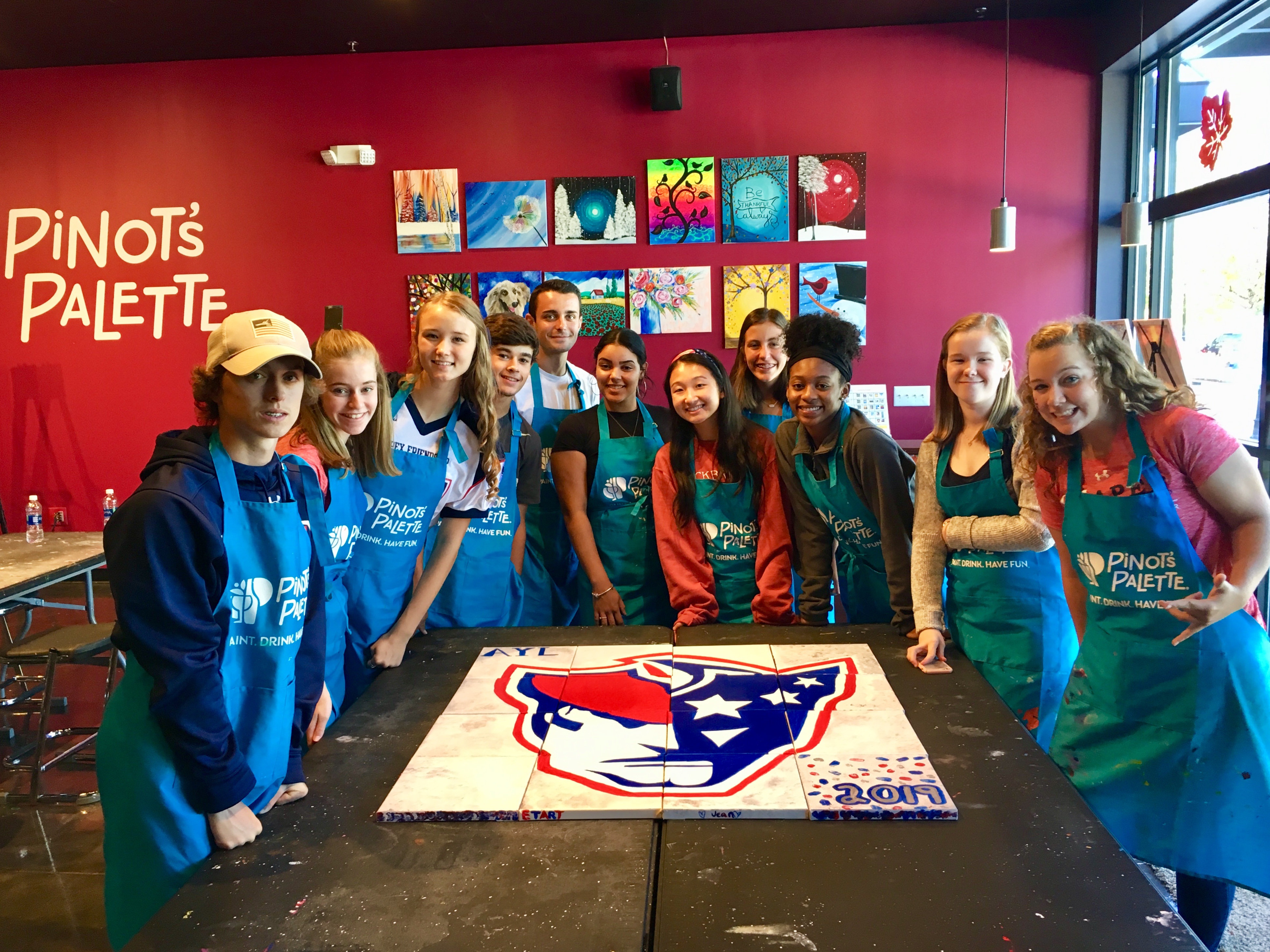 Every year, the Apex Chamber of Commerce works with the local high schools, Apex High School and Apex Friendship High School, to identify 14 juniors from each school who have demonstrated leadership potential. The group of 28 young people then meet monthly to gain experience and exposure to local businesses and local government and to work on a community service project. This year, for their first meeting, they gathered at Pinot's Palette in Apex to get to know each other better and to begin figuring out how to work together.
After a round of self-introductions, the students dove into painting their pieces of the two jigsaw paintings that we had planned for them. We didn't tell them what they were painting, and each painting had students from both schools working on it. As their independent work progressed, some of the students began to guess what the paintings were, but only a handful of 32 canvases gave much of a clue.
Finally, the individual pieces were painted and the real fun (and team building) began as they collected the puzzle pieces and began to fit them together and discover what their subjects were, the mascots of the two schools, a patriot and a cougar. But the work wasn't finished when the images were assembled. The students still needed to work with the full painting to ensure that the lines met correctly and that the colors matched. This was also an opportunity for them to add their own creative flair to the works, and they signed them with their fingerprints.
In the end, everyone seemed happy with their work, and they'd all had fun painting and getting to know each other. In fact, they now have already started to learn to work together. Of course, the pizzas delivered for lunch from Anna's Pizzeria in downtown Apex helped ensure that everyone was happy. The students enjoyed sitting in our private party room 'The Secret Garden' and eating under black light. We are grateful to the Apex Chamber of Commerce for choosing to work with us, and to both high schools for giving us a chance to meet and paint with a wonderful group of young leaders.
Our next event focusing on the local high schools is this Saturday. We will host a fundraiser for the Apex Rotary Club's scholarship program that gives money to deserving seniors from Apex High and Apex Friendship High School. The Interact Club at Apex Friendship High has helped plan and promote the event. We will be painting "First Snowfall" as a way of kicking off the holiday season while supporting the Apex Rotary Club's efforts to help our local youth. We are excited to be involved in the Apex community and look forward to contributing more to it.