What a long, strange trip it's been
Wow! It's been a wild first week, but it's been a lot of fun!
We had our first event, a preview for media and VIPs, last Thursday afternoon, and two more successful events before the weekend was over. It was three beautiful paintings and three great parties! But we're just now beginning to catch our breath. What a long strange trip it's been!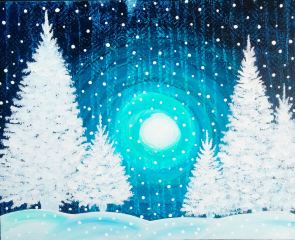 It was about a year ago, when Claire and I decided to take a new path, leaving the safety of corporate life and a regular paycheck for our own business. We were tired of living parallel lives and tired of working with people across the country without any professional connection to our chosen home town. Just as we had decided four years ago to choose our new home, and we chose the Raleigh, North Carolina area, we decided to choose our new work. After much research, we decided to leave the healthcare industry and start a "paint and sip" studio.
And there are no regrets. Whether our guests come for a girls' night out, a date night, a painting party with friends, or a corporate event, they all seem to have a great time, leaving with smiles on their faces and personal masterpieces. Spending a couple hours painting with friends while having a glass of wine seems to be just what many of us need to find relief from the stress of everyday life. For us, it's been incredibly busy, especially the last few weeks as we raced to our first event, but at the same time, it is just what we need to start a new chapter in our lives, spending more time together, focusing our energies more locally, and making new friends every day.
Thanks to all of you who have helped along the way, and thanks especially to the best group of artists anyone could hope to find – each different from the others, but each a real star!