March 3rd is World Wildlife Day
This morning, as I was walking in the pasture, I startled three deer and saw a fox scrambling into the woods. One advantage of living in a more rural setting and just a few miles from Jordan Lake is that I have lots of opportunity to see wildlife, from deer and foxes to beaver, wild turkeys and bald eagles. I've always enjoyed nature and "wild things." One of my favorite children's books is Where the Wild Things Are, by Maurice Sendak. I love the illustrations and the story of Max's adventure to become king of the Wild Things.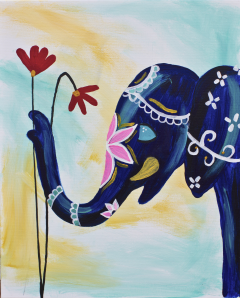 I'm fortunate to have this kind of access to nature and wildlife. Unlike Max, I don't need to visit nature in my dreams. Having lived in and around big, sprawling cities, and watching the Triangle grow, I believe that protecting wildlife and wild places for future generations is important. In 2013, the United Nations established World Wildlife Day to raise awareness of wild animals and plants. This year's theme is "Listen to Young Voices" in recognition of the importance of encouraging our youth, as our future leaders and decision-makers to protect the world's wild things.
Maybe someone at the UN liked the story of Max and the Wild Things since the declaration of World Wildlife Day was the year of the fiftieth anniversary of the book's publication. Whatever the origin, let's all remember that the wild things and wild places need our protection.
For more information on World Wildlife Day, see
http://wildlifeday.org/
or @WildlifeDay on Twitter.
Share Come Paint Opulent Elephant with us | Local World Wildlife Day Events