Color Trends in 2017
Are you planning to repaint or redecorate a room or just add a painting to a wall to spruce up the space you live in? Experts are saying that 2017 will bring some changes in the colors we choose, and they say we're getting bolder.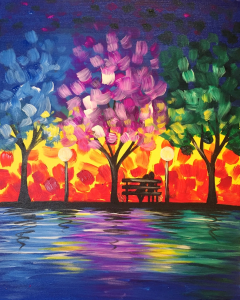 Last year, both Benjamin Moore and Sherwin Williams picked whites as their colors of the year. This year, however, Benjamin Moore has named a deep amethyst they call "Shadow" which they recommend pairing with other jewel inspired colors such as ruby and emerald. Sherwin Williams is staying more neutral with its "Poised Taupe." While it combines browns and grays, it is much bolder than a simple beige, and Sherwin Williams recommends combining it with brighter, richer colors to give the space more excitement.
Other experts are similarly predicting that brighter, bolder colors will gain traction this year. "For big-ticket items, we'll make the safer choice such as neutrals, from rich gray to camel, using trendier colors, like acid green or amethyst, as accent pieces " says Emily Kiker Morrow, Director of Color, Style and Design at Shaw Industries. Designer Heather Higgins goes farther, predicting the people will be using more deep jewel tones like emerald green and amethyst along with pastels found in nature. For more about color trends in 2017, take a look at the links below.
Whether you listen to the experts or are comfortable making decisions on your own, BE BOLD in 2017. We've added a number of bold paintings to our calendar in January and February, so have some fun as you work on your decorating. Invite your family and friends to join you for a paint night party sipping wine and painting at our studio, customize the colors to match your decorating plans, and go home with a masterpiece reflecting your inner artist.
http://www.e...color-trends/
http://www.h...ew-whats-next
http://www.b...-color-trends
http://www.h...tes-for-2017/