Our guests have spoken!
We want to share some real feedback from real customers. We put our heart into giving our guests the best experience possible and we believe we are on the right track. Come to paint with us and tell us what you think.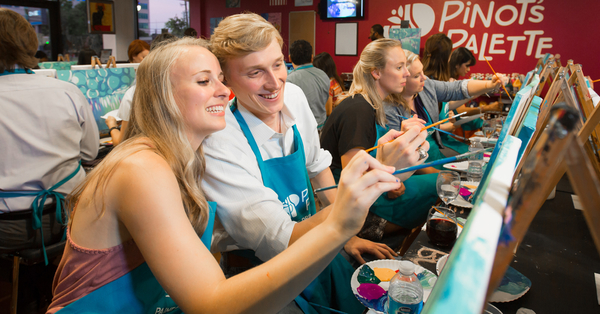 Kim: This is my 3rd time going. The staff are always such a delight. Warm, welcoming, encouraging and their willingness to help are what makes this such a great place for everyone.
C: I really enjoyed myself! The artist was great, patient, and encouraging! The owner was very patient, supportive, and accommodating.
Robert: Laid back, instructions step by step, great sips, cool environment, Great music& stories by instructors.
Deb: I really enjoyed myself and my husband did too. Looking at my painting this morning it is pretty good.
Alice: First time at this location and it was by far the best I have been to. I loved the artist and the owners. I loved the food options and the space. Look forward to getting a group of folks together soon.
Jessica: I will be a regular at Pinots Pallet. I have already gotten friends interested. I've told them about how the artists make it easy to tap in to your inner creativity. They really make it a fun experience, and most people leave being happy with their creation.
Lindsey: The instructor was great! She was clear with her instructions, patient and fun to be with. No pressure, very relaxing and fun to do.
E: The experience was beyond words. I'm really happy and will be doing it again!
A: Great atmosphere and great instructor; she made painting a little easier
We look forward to painting with you and hearing your feedback too!