My Favorite Starry Night
It's hard for me to visit New York City without stopping in at the Museum of Modern Art to see some of my favorite paintings. Among them is the dazzling,, turbulent landscape, The Starry Night, by Vincent Van Gogh.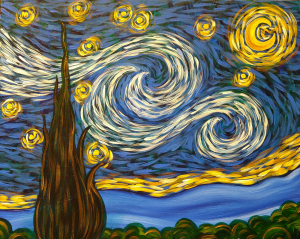 Inspired by the view from his bedroom window at an asylum and painted in June 1889, this painting has become one of the most iconic images in our culture. It's not only recognized by almost everyone, but has appeared on such pop culture standards as The Simpsons and Dr. Who. It has even been the subject of a TED talk about the math and science of turbulence, which Van Gogh so successfully depicted in this work.
In a letter to his brother, Van Gogh describes his inspiration for the painting: "This morning I saw the countryside from my window a long time before sunrise, with nothing but the morning star, which looked very big." While the painting includes elements of this view, Van Gogh painted scenes as he experienced, imagined and ultimately interpreted them, not as they are expected to be rendered. Perhaps this one, which Van Gogh considered to be a failure, reflected not the placid early morning sky so much as the turbulence going on inside the artist.
If you like this painting as much as I do, you owe it to yourself to join us this Thursday to paint Simply a Starry Night, one of our favorite versions of this masterpiece. You can enjoy an evening with your friends, a girls' night out or just come as you are to paint and sip your favorite wine or beer as you release your inner artist and create your own interpretation of this iconic wonderful painting.