A walk through our March events calendar
If you like to paint animals, you will love our March calendar. You will find an elephant, a kitty cat, some flamingos, a stylish cow, a colorful emu, a cute hedgehog, a sweet sloth, a pretty fox, an owl, and a howling wolf. Many of them are being painted in our studio for the very first time. Check out the calendar
https://www..../events/march
and see if you can find all the animals.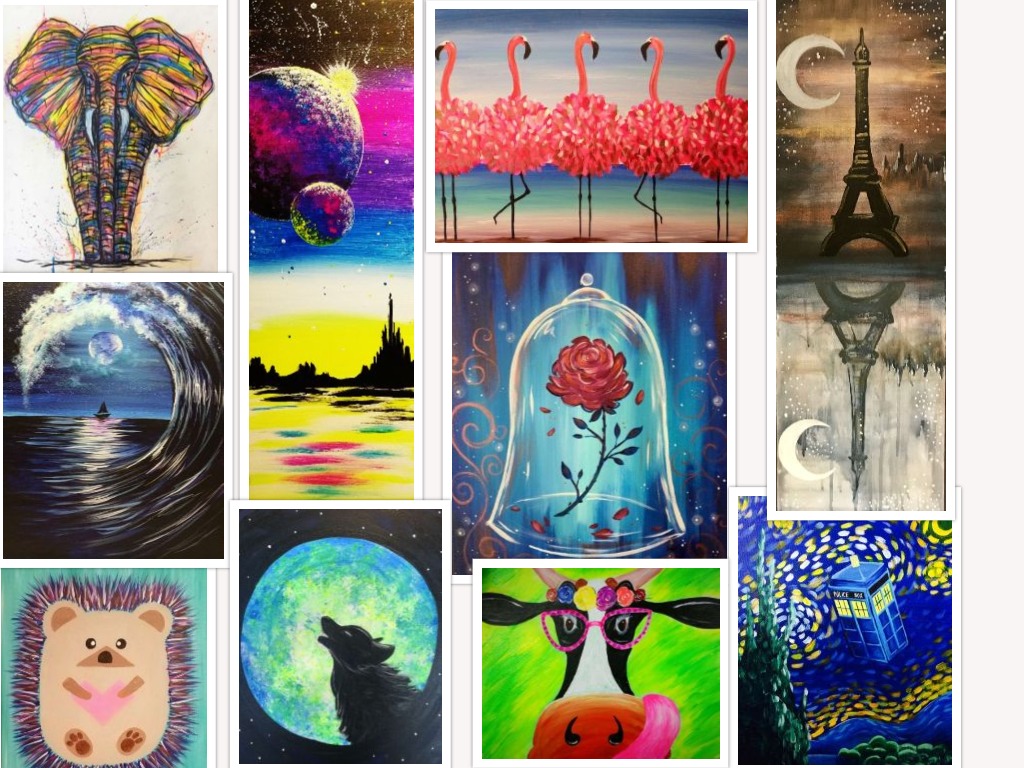 Our artists work hard to create new paintings, and our March calendar features three brand-new paintings created by our own artists. On March 8th we debut 'Water Lily Bloom' which is a beautiful watercolor-like painting of water lilies and incorporates some interesting painting techniques. Here is the link to sign up
https://www....event/302994.
On March 17th we are debuting a 'sci-fi' kind of painting 'Edge of Space' created in our studio. This painting looks even more fantastic when you put it under black lights. We will paint it in our black light room.
https://www....event/304388.
It is also done on an extra long canvas. One of our artists is a big fan of locomotives. He has created a painting 'American Locomotive' for folks who adore trains like he does. The painting looks great and the steps are easy to follow. He will even teach you the parts of the engine as he goes through step by step with you to paint them. Don't miss this opportunity, sign up at
https://www....event/303013.
Dr. Who fans and Harry Potter fans, don't miss the following paintings (we had you in mind when we put them on the March calendar):
https://www..../event/303018
and
https://www....event/303019.
Also if you are like me, 'Beauty and Beast' being one of my favorite stories, you should come to paint the 'Enchanted Rose', as long as you are 8 or older. The painting is breathtaking.
https://www..../event/303016
Friendly reminder, don't forget the $25 Little Brushes classes on Saturday mornings if you have a little one who enjoys painting. Every Saturday morning, our 'Little Brushes' class will work on a unique, "kid approved" painting. We welcome kids of age 5 and above. Your child will learn acrylic painting fundamentals such as blending, shading, application techniques, color theory and brush handling. More importantly we strive to see every child succeed and be proud of themselves in creating. The very process of creating involves problem solving, encouragement, patience, and self confidence…all of which we love seeing develop and grow in the kids!
Whether you live in Apex, Cary, Raleigh, Holly Springs, Fuquay-Varina, Durham, Morrisville, Pittsboro, or Sanford, even Fayetteville and Chapel Hill, come to paint with us in March and have fun, paint and sip at Apex!