HAPPY GROUNDHOG'S DAY!!!
HAPPY GROUNDHOG'S DAY!
Whether the groundhog sees his shadow this morning or not, the coming of Groundhog's day is always a reminder in my house that it's time to start making summer plans. And with the return of colder weather over the last couple days, I am definitely thinking about the beach!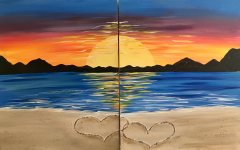 In our family, we love the beach. When I left Indiana for college, one of my criteria was to be closer to the beach, and while Maine beaches aren't the warmest, they are beautiful. When I lived in Arizona, we drove 6 hours at least once each year to get over to the San Diego beaches (Coronado Island has the best beach in the area in my opinion). When I was dating Claire in San Francisco, we frequently ran off to the beach at Half Moon Bay to enjoy watching the surf, and when we married, of course, we were married on the beach in Maui! Now that we live in North Carolina, we enjoy heading to the Outer Banks in the summer.
So, we'll start making our plans for a summer trip, probably to the beach. With a couple little ones in the house, we will also be looking at camps or summer will seem to be endless, which may sound romantic, but not so much when the kids are bored.
If you're looking for camps for your kids, keep an eye out for more information about our camp offerings coming soon, and if you're like me and want to dream about the beach a bit on a cold February night, consider joining us for a date night painting party on Valentine's Day to paint "Romance on the Beach." It's a beautiful work of the sun setting over the ocean covering two canvases – one for you to paint and one for your sweetheart (or child or BFF) to paint.
By the way, Punxsutawney Phil, the groundhog, saw his shadow this morning forecasting six more weeks of winter. Whether he's right about the weather or not, I'm happy to dream about summer beaches.