Time to Fire up the Grill
With warm weather finally here, it's time to pull out the patio furniture and call the neighbors! What better way to celebrate than with a few new recipes? Try out these side dish recipes to take to your next outdoor BBQ and start your summer off the right - and delicious - way!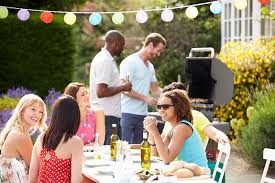 Cole slaw is the classic cookout side dish recipe is perfect for any backyard BBQ. It is easy to make in advance leaving you time to focus on the rest of your party planning.
Ingredients:
¾ lb. red cabbage, shredded
¾ green cabbage shredded
2 carrots, grated
1 onion, grated
2/3 cup of mayonnaise
3 tbsp. of malt vinegar
1 tsp. salt
1 tsp. pepper
In a large serving bowl, combine the cabbage with the vinegar, salt and pepper and toss. Add the carrot, onion, and mayonnaise then toss again to mix everything together. Cover the cole slaw with plastic wrap and let it sit for at least 2 hours before serving.
Spicy Grilled Corn turns up the volume on classic corn-on-the-cob. The spicy/ sweet combination makes this dish the perfect addition to any outdoor BBQ.
Ingredients:
1 lb. shucked corn
1 tsp. freshly cracked pepper
1 tsp. salt
1/2 tsp. cayenne pepper
Olive Oil
Brush each ear of corn with a light layer of olive oil. Sprinkle pepper, salt and cayenne pepper evenly over each ear of corn. Place corn on a medium hot grill. Let the corn cook for about 12-15 minutes or until tender. Serve and enjoy!
Baked beans are a must-have for any BBQ, and are always a crowd pleaser.
Ingredients:
2 (16 ounce) cans baked beans with pork
1/4 cup molasses
1/4 cup chopped onions
4 tablespoons brown sugar
1 tablespoon prepared mustard
2 tablespoons ketchup
2 slices bacon, chopped
Preheat oven to 350 degrees F (175 degrees C).
Mix baked beans with pork, molasses, onions, brown sugar and ketchup together and put in a greased casserole dish. Top with bacon, cover and bake for 3 hours or until thick.