This Week at Pinot's Palette
Happy 4th of July!! Do something fun and feed your creative side this week at Pinot's Palette!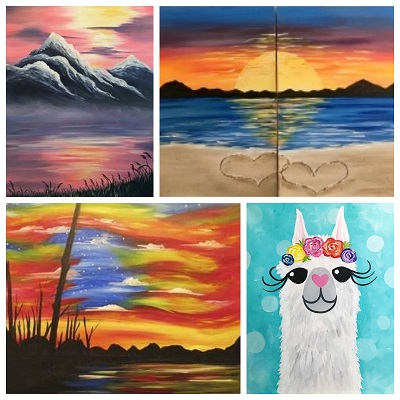 It's going to be a hot one this week! While we Western New Yorkers revel in the warm weather, when it hits 90 degrees it may be time for some indoor activities. Pinot's Palette has a little something for everyone this week.
We'll be painting at My Dad's Market on Monday. It's a great new restaurant at the corner of Main and Transit and we are there for a one hour painting event every Monday at 7pm. This week we are painting a lovely piece celebrating America and our flag, inspired by the famous artwork "Our Banner in the Sky" by Fredrick Edwin Church. If it's a nice night and not too hot, we'll be painting on the patio.
We're taking July 4th off so our artists can spend the day with their families; then we'll be back in business on Friday with one of our favorite date night paintings, Romance on the Beach. This is painted across two canvases that are shared by you and another person. Want to paint alone? Our artist will help you paint the entire scene on one canvas. They're very flexible that way. This is another painting that's easy to customize. Don't like the hearts? Replace them with a symbol that's meaningful to you. Or add some initials to memorialize a great night out with your significant other!
On Saturday, we'll be painting the beautiful Purple Mountains Majesty, a gorgeous depiction of the scenery that makes our nation so great.
Finally, LLama-rama is perfect for all members of the family. Feel free to change up the background, so every member of the family makes it their own.