Paint Whatever You Like at Open Studio!!
Looking for a creative outlet for you or your kids?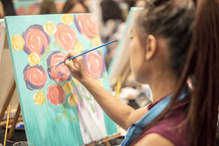 Check out our Open Studio sessions on Monday, Wednesday, Thursday, Friday and Saturdays throughout the summer.Come in during the posted hours and paint what you want. You can stay as long or as little as you like as long as you leave the studio by end of the hours posted for that session.
The Open Studio fee is $12 per painter (payable on registration) plus a fee for the painting surface selected by the painter (payable on arrival at the studio). Painters can choose from the following surfaces:
10x10 or 9x12 Canvas - $5
16x20 Canvas - $15
10x30 or 12x36 Canvas - $20
Canvas Totes - $20
Shiplap Door Hangers - $20
Wine Glass - $5
Ceramic Tile - $5
You can also bring in your own denim jeans and paint them for no additional fee!
This is a self-guided experience. An artist may be available to answer questions but will not be instructing! You are welcome to bring any snacks you would like to enjoy while you paint. Beer, wine, specialty cocktails and sodas are available from our bar.
Note that, if you are looking to modify a painting you did in a class with us, just stop in. There is no charge for finishing or adjusting a painting created in one of our classes.