The Art of Romance
"A fixation with connecting with 'friends' online comes with the risk of disconnection with friends waiting for you to be present in the offline world."
― Craig Hodges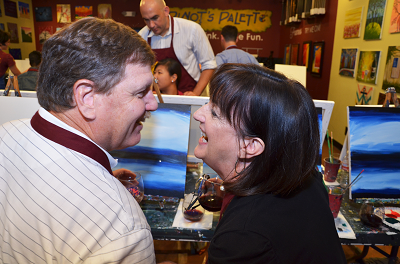 Have your ever looked around you in a restaurant and noticed how many people are looking at their phones rather than talking to their dinner partners? Or maybe you haven't noticed because you're looking at your phone too? Personal connections are so easily lost in the draw of the digital world. In a study done by the University of California, San Diego, three out of five respondents said they spent more time on their devices than with their spouses, and 73% of respondents agreed that their use of technology contributes to their stress. So maybe it's time for us to think about ways to disconnect from the digital world and reconnect with the people around us.
The more time spent disconnected from digital media, the better your mood, relationships and overall health. Group activities are a great way to put down the phone and spend some quality time with loved ones. Exercise with friends, play a board game with the kids, go on a date with your spouse. Artistic activities like painting, coloring and sculpting can lower stress levels by giving your brain a break from the usual routines and distractions and help you make more meaningful connections. Romance can get lost in the weeds of digital distractions, and artistic activity can be just the thing to help you reconnect and deepen your relationships. Studies have shown that art increases feelings of empathy, tolerance and love. Simply viewing art or engaging in a creative activity triggers a surge of the feel good chemical dopamine and can give the same pleasure as falling in love!
A paint and sip event is an ideal way to reconnect with your partner and rekindle the romance in your relationship. Kindle some passion through a shared novel experience, and ultimately create artwork of which you can both be proud. So next time you are looking for a date night activity, leave the kids at home and head out for a painting class!