Summer Not Lost, but Found
It may technically be fall, but nobody's ready to admit it yet. I'd like to cling to this extended summer for as long as possible. Inevitably, my craving for pumpkin flavored everything and oversized sweaters from the thrift store will kick in, but this is not that day. At least, not until daylight savings ends.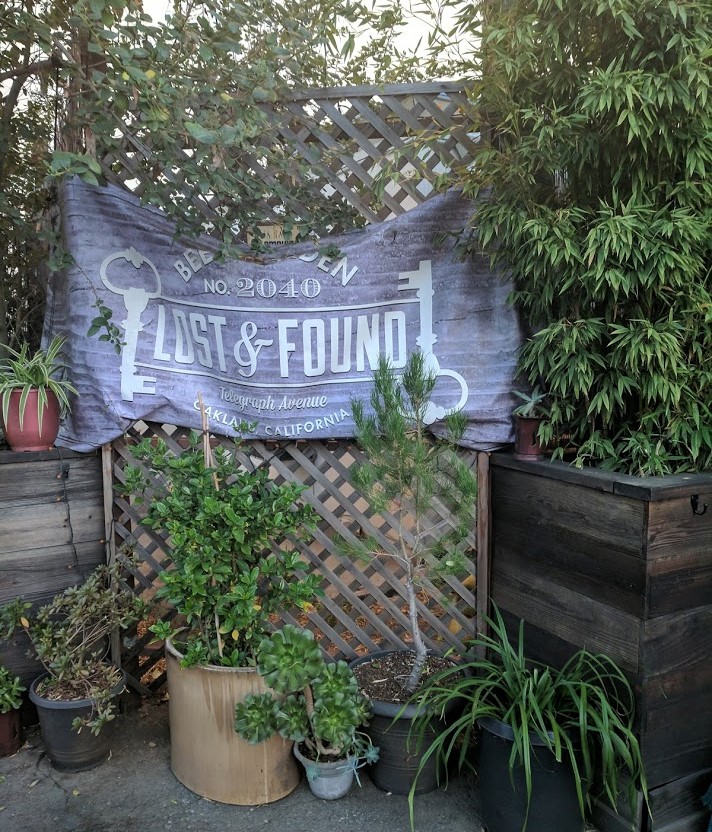 Looking for a way to embrace the last breath of summer? I recommend spending some quality time at the local Oakland watering hole and hidden garden, Lost & Found. Somewhere between a brewpub and a garden party lies a gem often overlooked along the vibrant and beer-soaked Telegraph Ave in Oakland's trendy Uptown neighborhood.
Kick back on the garden patio with a frosty glass of beer and gnaw on some of your favorite bar snacks as the sun sets earlier and the evenings get chilly. With a wide selection of beers that derails from the typical IPA-obsessed California taprooms, everyone will find something they like.
The bar menu includes a nice assortment of appetizers, Hummus trio being a favorite. Sandwiches and salads to give you more staying power.
Cornhole and murals give the garden a party vibe beneath the giant lettering of the Paramount Theater. Enjoy the patio lights, abundant umbrellas to avoid a late-summer sunburn, and bask within the chatty, social atmosphere this fun spot attracts. I recommend beating the 5pm rush to get table space before the offices empty out into the autumn evening.
We only have a few weeks left of happy hour sunshine. Why not spend every last ray of sunshine sipping a pint of Moonlight's Reality Czech?
Learn More here:
http://www.l...-rations.html
Uptown Information:
https://www....ds-in-america
https://sf.e...ptown-oakland
Remember to follow us on Facebook-Instagram-and Twitter for more pictures and updates.
#PaintDrinkHaveFun!
Enter your contact info and request details below, and we will contact you with details about your private party!