Travel Tuesday 9
A Cooking Class With Some Extra "Spice"
One of our favorite things to do, in each new place, is to take part in a local cooking class. Not only does it give us the opportunity to do two of our favorite activities: cooking and eating! But, it also allows us to learn about the unique ingredients and methods of preparation used to cook a meal in the countries we visit.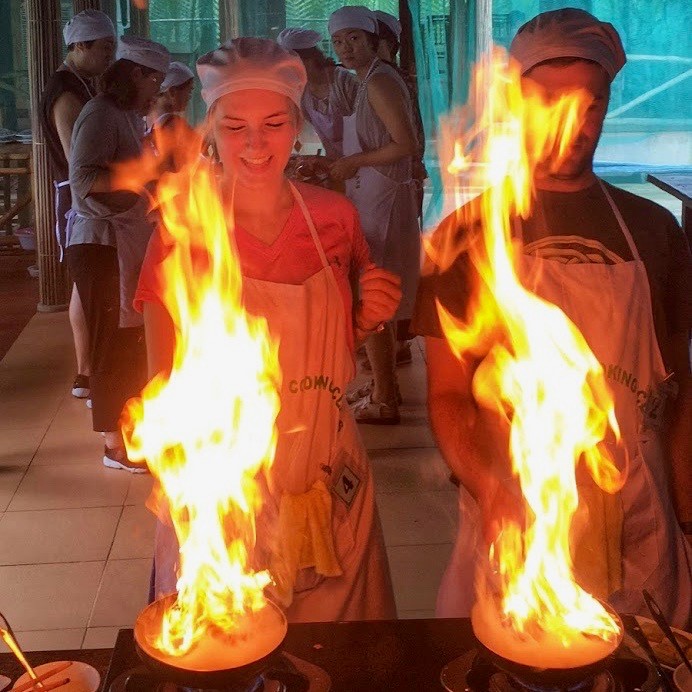 Often, picking a cooking class is harder than it sounds especially in the countries we have visited lately. As tourism has flourished in SE Asia, so too have the number of cooking classes (guess we aren't the only travelers out there who miss cooking). Finding the right class can be an overwhelming task. It seems as though there are just as many cooking classes in some cities as Cyclos peddling the streets of Vietnam and picking which class to take can be tough.
We usually take to the Internet and find out what our fellow travelers have to say before we go and check things out for ourselves. Between TripAdvisor reviews and posts from fellow travel bloggers, we can usually narrow our options down and we've always managed to find a class that we loved. Our last class in Hoi An, Vietnam was no different. Little did TJ and my parents know as we set off to find Eco Cooking Class that we were in for a special treat and a little extra "spice" in this cooking class.
"Go-Go-Go Faster, Faster" he yelled as the wind ripped through my hair and I laughed so hard my belly hurt. The extra "spice" in this class was hopping in a Thuyen Thung, a traditional Vietnamese bamboo fishing boat shaped like a basket, and rowing down the Thu Bon River in the heat of the day. Upon arrival, we all hopped in these boats, donned nón lá hats (Vietnamese conical hats), and set off to catch crabs using tiny sticks with a shrimp on the end. Before heading back to harbor to cook though, we raced these basket boats along the river among the palms and I had a blast being carted along as TJ and one of the local fishermen paddled us along as fast as they could.
With smiles on our faces we all unloaded from the boats and prepared to cook! Like most classes, we made a variety of dishes including:
• Sweet & Sour Fish Sauce - This is the typical dipping sauce in Vietnam and is made with a fish sauce far less strong than what we find in the States.
• Round Rice Paper - To be used in the fresh spring rolls we would make later. Wondering how on earth we'd get the perfect thinness, this was easier than expected!
• Goi Cuon - Fresh Spring Rolls - A delightful and refreshing snack these fresh rolls are filled with herbs, veggies, and meat if you like.
• Grilled Eggplant - Complete with a flaming tomato sauce. Eggplant didn't use to be our favorite, but this was delicious.
• Pho Bo - Vietnam's most popular beef noodle soup dish and a breakfast staple.
• Nom Hoa Chuoi - Banana Flower Salad - A delightful and refreshing salad made without salad greens. Instead, it's chocked full of banana flower (yum!), carrot, mango, cucumber, grilled pork/shrimp, and delicious herbs.
• Banh Xeo - My absolute favorite in all of Vietnam, this savory pancake with pork and bean sprouts inside is perfect dipped in your homemade sweet & sour fish sauce!
Everything was so much fun to cook, and even more fun to devour when we finished preparing our meals. Aside from the added fun of journeying around the river in the basket boats, cooking in the open-air, riverside pavilion was delightful. We just had to make sure to not burn our eyebrows off as we cooked with leaping flames!
If you love cuisine from all over the world, taking a cooking class is one of the best ways to excite your senses and learn something new! Plus, bringing a recipe book home with you (provided in almost all classes) ensures you'll remember the experience for years to come and it will help you re-live the moment as you conjure up delightful dishes for friends and family back home. If you're not traveling right now but still want to try Vietnamese dishes, we recommend checking out Huy's recipes from
https://www.hungryhuy.com
- just looking at his site makes our mouths water!
Stay tuned next Tuesday for more adventures from the world travelers of Life is Meant for Exploring!
Remember to follow us on Facebook and Instagram for the most recent photo's, events and specials.
https://www....alettealameda