Bites and Drinks Before Painting
We are often asked about where to eat and drink? Why not make a night out of it and hit up one of the many restaurants around us before (or after) your paint class?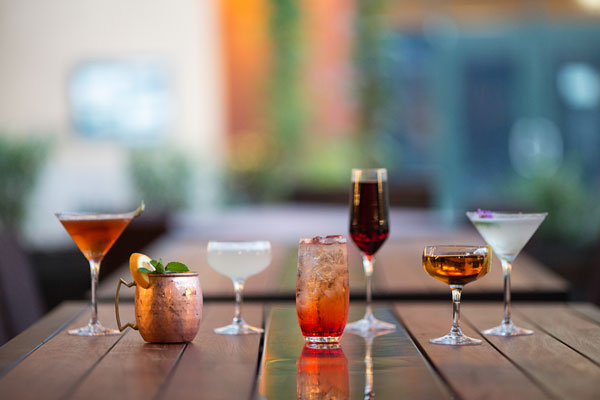 If you are familiar with Alameda and South Shore Center, you know there are SO MANY amazing places to eat! From sushi...to steak...to microbrewery... there's a variety of types of food and drinks around us to satisfy the most demanding "foodie" in your squad!
Try out one (or ALL of them if you really want to experience all that our little Island has to offer):
1-Trabooco (Benvenuti! *Our Staff Favorite) Located in South Shore Center Alameda
Sunday-Thursday: 11:30AM-10PM
Friday-Saturday: 11:30AM-11PM
This is the Alameda go to local Italian restaurant, featured many times on "Check-Please" for good reason. Their menu features locally sourced products from around the Bay Area: locally grown produce, meats and poultry from Bay Area farms, local artisan cheeses. Come hungry, the portions are generous.
See more:
http://trabocco.com
_____________________________________________
2-Alameda Island Brewing Company (We feature on tap) 1716 Park Street
Mon-THU:2-10PM
Fri-Sat: 12-11PM
Sun:12-6PM
Matt Fox and staff are off the hook! They have a beautiful and inviting tasting room and patio, they offer tours of the facility and have created a welcoming space for families (kids are welcome) and even dogs (but only on the patio, please). Alameda Island's facility is 10,000 square feet with a tasting room over 1,500 square feet. We are running a 20 barrel brew house, with a 40 barrel mash tun and 40 barrel fermenters. We invite you to come in and try our beers.
See more:
http://alame...ngcompany.com
_____________________________________________
3-China Gourmet Located in South Shore Center (2 doors from us)
Mon-Sun 11AM-9:30PM
Fri-Sat 11AM-10PM
China Gourmet is one of our teams' favorite destinations. The servers are extremely attentive and friendly. The food is flavorful and well proportioned. With the full bar and dim sum, happy hour is always a smashing hit with friends, colleagues and/or clients. If you are in Alameda, and looking for some good Chinese food, make your way to South Shore and give China Gourmet a try. You will not be disappointed.
https://www....urmet-alameda
______________________________________________
4- Dragon Rouge 2337 Blanding Avenue, Alameda 94501
M-F: 11:30AM-9:30PM
Sat-Sun 11:00AM-9:30PM
Authentic Vietnamese served with love and a serious shot of hot peppers upon request! Dan & family are wonderful! We're here for Happy hour many times each week- food & drinks consistently good. Don't miss their gorgeous patio.
http://www.d...estaurant.com
______________________________________________
5- Forbidden Island 1304 Lincoln Avenue
Sunday:3PM-10PM
M-Thursday: 5PM-12AM
Friday-Sat: 5PM-2AM
This is the go to Oasis in the middle of our Island for the best rum drinks anywhere! This is Not your grandpa's Tiki-Bar! This tropical tiki paradise is a favorite after class! They serve not only the world famous classic rum cocktails but many delicious originals as well. Awesome selection of appetizers will top the evening off. They feature a variety of entertainment as well so be sure to look them ahead of going. Don't miss the tropical backyard it is like your favorite vacation right here on our little Island!
Check it out:
http://www.f...ndalameda.com
History of Rum:
https://www....rited-history
NOTE: Be sure to check out the website of these 5 spots to see the menu and details, as most change seasonally. These are just 5 of are choices, as you know the City of Alameda has many choices for drinks and or dinner before class. Feel free to call us for additional information.
Be sure and follow us on Facebook for the most recent pictures and news:
https://www....lettealameda/
PAINT.DRINK. HAVE FUN!