Love Wine?
Northern California is renowned for a great climate, breath taking scenery, a creative music scene and delicious locavore food selections to delight any foodie. What about wine?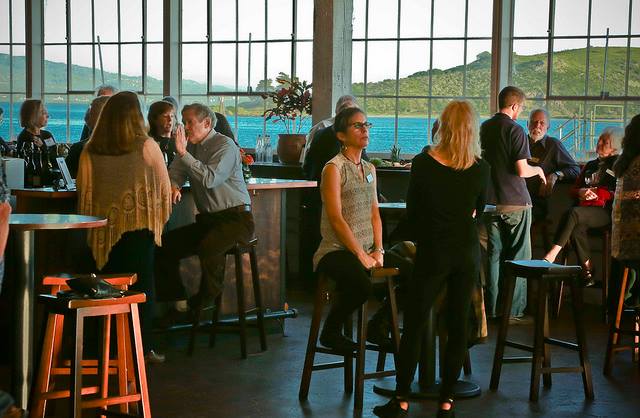 Back in the day, when contemplating a winery visit you closed your eyes and imagined rolling hills of vineyards, with stunning vista's and stately chateau's surrounded by manicured grapevines. Oh the pleasure of that first taste! But wait…the drive up to wine country on almost any given weekend is enough to make any local say, maybe next weekend.
Urban Winery's…What? Yes, today we in the Bay Area and especially the East Bay of Oakland and Alameda, CA are blessed with a plethora of stunning urban wineries. Set in the midst of our bustling cities are a host of local wineries producing international recognized award winning wines. Just a short transit or Uber trip from your front door.
What started a number of years ago from a mere hobby, Kent Rosenblum started Rosenblum winery from a 400 to a 250,000 case producer then sold Rosenblum Winery in 2008. His brilliant daughter Shauna Rosenblum who literally grew up in a wine cellar produces award winning wines today at Rock Wall Wine Company on the shores of Alameda at the former Alameda Naval Air Base. Shauna spent her childhood in wineries and vineyards where she has worked and learned all the facets of the wine making business. Shauna has a Master's degree in Sculpture from the San Francisco Art Institute. As an undergraduate, she became very interested in chemistry through the ceramics glaze making process. Her daring creative work is evident in every new release.
http://www.r...wallwines.com
Jeff Cohn Cellars, the Rhone master of wine. Jeff started as a winemaker at Rosenblum wines, a lover of Zinfandel he discovered his unique talent for creating some of the best Rhone influenced wines in the industry. Jeff is certainly one of the most passionate winemakers in the business and you will taste that in your very first sip.
http://www.j...hncellars.com
Michael Dashe, of Dashe Cellars in Oakland, says the advantages for urban wineries are numerous: "We can bring in grapes from many different places—the Sierra Foothills, Sonoma, Napa, down south to Paso…it's easy to get grapes and bring them to the winery." Dashe was one of the first in Oakland, along with Rosenblum; today the Oakland Urban Wine Trail has boasts over 31 winery members.
https://www....hecellars.com
R&B Cellars is the only wine that's paired with music, from the way it's made to the way it's consumed. For Kevin and Barbara, wine-making is a passion, just like the jazz they perform. With a strong belief to create the best possible wine at all price points, head winemaker, Kevin creates his protocols for each wine - his recipes, if you will - and constantly re-evaluates them as dictated by the wine. Just like music, each wine, each new vintage requires its own interpretation, and Kevin matches that need with an individual oak program, yeast application, and overall protocol. And it's just possible their wine benefits from the music that wafts throughout the winery! Their new tasting room located in the Port of Richmond Historic Rigger's Loft are views to die for!
http://www.rbcellars.com/
Pinot's Palette Alameda, is proud and blessed to feature many wines and varietals from these local wineries. To say we are fortunate to work with a few of the best wine maker's in the industry is an understatement. So when you ponder what to do next weekend, can we suggest a short local trip to one of our fantastic wineries and then stop by later in the evening and cap your weekend off with a memorable paint night with us and maybe another glass of the East Bay's best wine!
https://www....n-wine-trail/