Be the Office Superstar
Hooray, it's almost time for your next workplace team-building event. Do any of these sound familiar? Bowling, happy hour, adventure courses (complete with trust falls), softball games and a potluck lunch.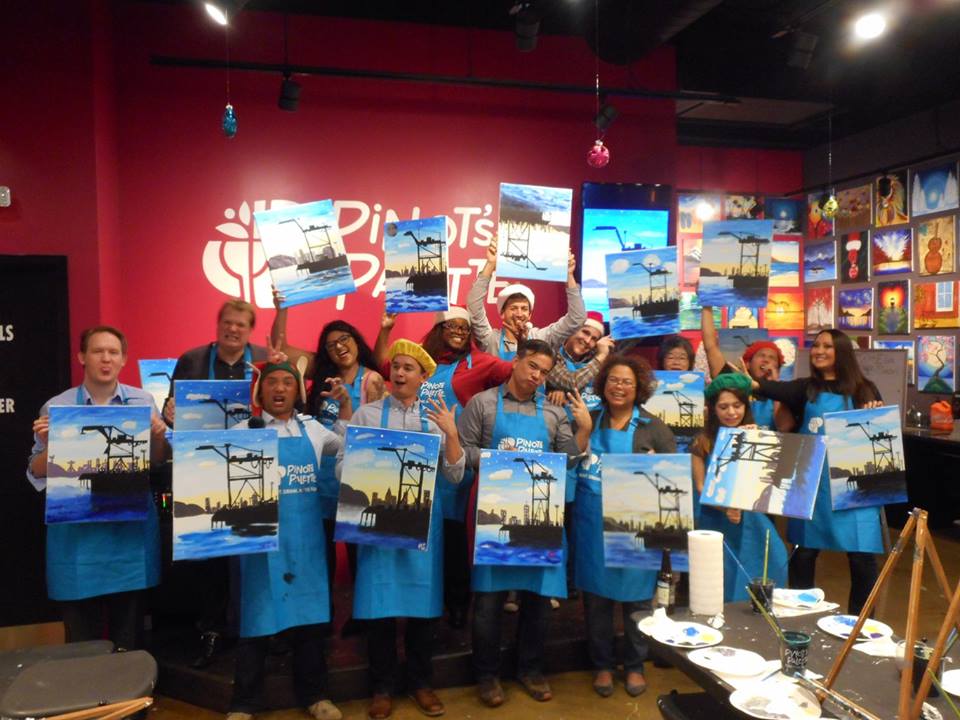 What do Kaiser Permanente, Perforce Software, Ghirardelli Chocolate, Clear Com, Wells Fargo, UC Berkeley, Kohl's, Abbott, UCSF, AAA, USTA, and CA ENA have in common? THEY ALL DID TEAM BUILDING EVENTS WITH US! Join an elite group of companies that know team building activities help attract and retain great talent.
Recently we had the honor to provide a paint and wine team building event for Clear-Com, an HME company, located in Alameda, CA. Clear Com is a trusted global provider of professional real-time communications solutions and services since 1968. They innovate market proven technologies that link people together through wired and wireless systems.
We proposed our team building event of paint and wine for the entire group. Our team building events are not stressful competitive activities but rather stress free that promote creativity. They also improve creative problem-solving!
It's well-documented that creative pursuits activate new neural pathways in the brain. Combine this effect with the stress-busting effect of painting, and your team is better prepared to find solutions to problems that previously stumped them.
Additionally, an in-depth 2015 report from Aon Hewitt showed that companies that increase their employee engagement and team-building activities see three percent higher revenues the following year. That's a hefty return from a one-day mental break.
How did the event turn out? Let's hear from Ana A. Alas Young in her own words: I would like to take this opportunity to thank you both for a very successful holiday party. Our team had so much fun at your studio. Everyone was smiling and having a great time! There wasn't a frown to be found anywhere! Your customer service from start to finish was wonderful. I really appreciate the attentiveness to all my questions and for taking care of our staff the day of the event. So many people came to me after the event and commented about how much fun they had. Some had never painted, but everyone walked out with a beautiful painting thanks to your skilled local artist. You all made me look like a superstar! Our staff was so impressed with the activity, they want to make this a regular thing. You will be seeing some of our staff very soon, Thanks again for a very successful holiday event!"
So how do you become an office Super Star? Call the studio today at 510-263-8770 for more information, or email us at alameda@pinotspalette.com
And don't forget to follow us on Facebook, Twitter and Instagram for our latest updates and pictures of your team!
To learn more about the leader in wireless intercom communication solutions, please visit the Clear-Com website here:
http://www.c...com.com/about