I Solemnly Swear That I Am Up to No Good
Calling all witches and wizards! Grab your owls, quills, and wands, and hop on the train at Platform 9 3/4.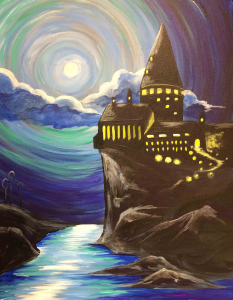 Whether you're a brave Gryffindor, a brilliant Ravenclaw, a loyal Hufflepuff, or a cunning Slytherin, you're going to fall in love with this spellbinding painting.Even if you didn't get your Hogwarts letter in the mail when you turned eleven (trust us, we understand the disappointment), you can still enjoy an afternoon of witchcraft, magic, and spells with our adorable new painting, Spellbound Scholar on Sunday, June 25th from 12:30-3:00PM. Sip on a glass of your favorite potion -- wine counts as a potion right?! -- and let your brush make magic on the canvas, no wands required! Do you solemnly swear that you are up to no good? Then, book your seats for this class because they're going faster than you can say Quidditch! Click on the painting below to sign up!