Travel Tuesday # 6
Surviving A Nepali Bus Ride!
After spending two weeks hiking the incredible Annapurna Circuit in the Himalayan Mountains of Nepal, TJ and I decided to head back to the lakeside town of Pokhara, but not without one more adventure - surviving the bus ride out of the mountains.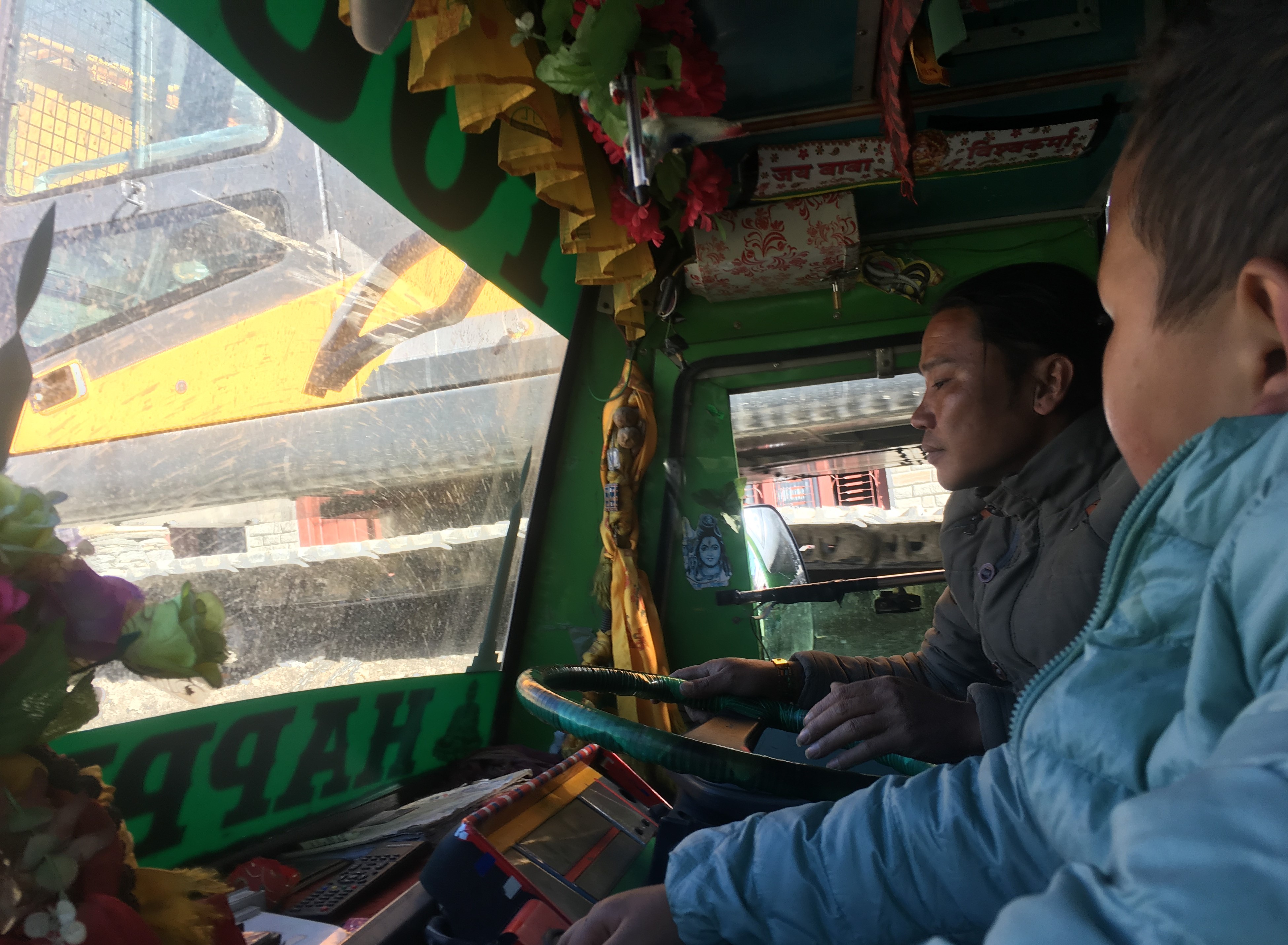 Clutching our tickets in the early morning breeze as we waited for our bus to arrive we were curious what seats we'd end up with, or if we would even have seats at all. There is no real concept of a full bus in Nepal, people just keep climbing on and will stand, hang on to the side, or even ride on the roof. Given tickets with seat letters instead of numbers and with a vague description from the man we bought the tickets from that we'd be close to the driver, we weren't quite sure what we were in for.
As the bus pulled up, and Nepali locals clambered off, we hopped in and learned that we were right up front. Sitting parallel with the bus driver and squished in with the locals who pile into the front cabin once the remainder of the bus is filed, we gave each other anxious looks and prepared for the long journey ahead. These are the kinds of experiences we live for!
Curious how this ride would go, and with a smile on my face, I clambered my way around two Nepali women, and over a small boy to take residence in my seat - Seat A - plastered up against the windshield on a bench seat greeted on my left by a Nepali woman my age, and on my right by a large cushion protecting the gear shaft that would soon become home to whomever boarded next.
As I pretzeled my legs in underneath me and settled in for the ride, a young, rotund Nepali boy took up residence on the cushion that separated me from the driver. As we drove off with the melodic horn singing (every bus has a custom horn song), my wide, curious eyes took in the amazing scenery around us on what was soon to be the most eventful bus ride of our lives.
The dirt, mountain road proved slow to navigate as the bus teetered back and forth (to a nearly 45 degree angle at times) as we dodged boulders left and right, drove through soft dirt and crumbling rock, avoided landslides, careened around corners, and flirted with cliff edges. The woman next to me and I may not have spoken the same language, but the looks we gave each other and the nervous giggles and wide eyes we exchanged as we gripped the handle in front of us told me we were thinking the same thing. At times we were knocked so close to the windshield that my knuckles rubbed the dusty glass. The two weeks of trekking may have been tough, but this ride pushed our comfort levels to the limit.
As we continued descending the mountain we rolled up to giant excavator working on the road, and had to sit patiently as the bus driver pointed to boulders that needed to be moved out of our way so we could squeak through with millimeters to spare. We passed through small towns and had several close calls with the power lines that hung so low we could hear them scrape over the top of the bus as we drove by.
One of the most memorable parts of this journey as we teetered along the cliff edges and over dried up river beds was the young Nepali boy who sat on the cushion next to me. At the beginning of the ride he toppled over left and right into the bus driver and myself as we cut around corners before he figured out how to adequately hold himself in place. He also reminded me of an orchestra conductor, as each time we encountered another vehicle or construction site he'd perch up on his cushion throne and raise his hands, signal, and point to dictate which vehicle should have to tempt fate by backing up around blind corners with the raging river below (usually he got his way). All of the Nepali women and the driver sitting in the front section with us thought he was hilarious and would erupt in laughter each time he commanded attention. When he wasn't dictating the fate of those around him he was happily singing "Despacito" to himself and devouring a bag of Lays Potato Chips. He must have enjoyed these very much as he proceeded to lick the entire inside of the bag once he was finished with all of the chips.
After a long, exhausting, and comical ride we arrived back in Pokhara where our Himalayan adventure began in desperate need of a cold shower and tall beer. This ride will certainly be one we never forget as we continue exploring this wide and wondrous world.
Stay tuned to learn how we competed for seats on our first train ride in Sri Lanka in next week's #TravelTuesday post!
Learn more about these incredible adventurous couple at:
https://life...exploring.com
Remember to follow us on
https://www....alettealameda
for the most recent photo's of you, your friends and contests!