Travel Tuesday Presents: Our Favorite Foods From Across Asia
With each new country comes a palate of flavors, a distinct list of ingredients, and whole new textures to set your taste buds a flurry. Traveling through Asia this past year has been one of the greatest culinary adventures of our lives and we wanted to share some of our favorite dishes with you!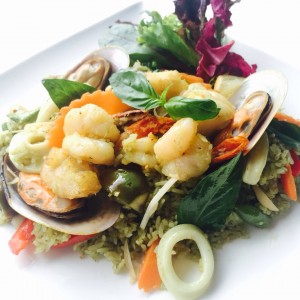 Indonesia - Mie Goreng/Nasi Goreng
Mie stands for noodles while Nasi stands for rice and these dishes are the staple Fried Noodles and Fried Rice of Bali. Why start the list with such a simple dish? Well, the dish may be simple, but prepared correctly, the flavors are not and the result is an exquisite meal to excite your senses. At this level, it can be served in a 5-star restaurant. Aside from the noodles or rice, these meals are enhanced with red chilies, garlic, and sweet soy sauce. Plus, it's usually served with a mouthwatering Shrimp Chip which bubbles and pops in your mouth as soon as it touches the wetness of your tongue.
Myanmar - Tamarind Leaf Salad
Rather than the coveted Tea Leaf Salad one often attributes to Burmese cuisine, our favorite is the lesser known Tamarind Leaf Salad. Mixing the delicate tamarind leaf with finely chopped shallots, roasted peanuts for crunch, tomato, lime juice, sesame seeds, and crispy garlic provides a whole host of flavors that will keep your taste buds intrigued and wanting more even after you've finished the last bite.
Thailand - Khao Soi
Oh, Khao Soi, this was one of the first recipes we added to our Pinterest Recipe board after TJ took us to try it for the first time. While different versions of Khao Soi can be found in SE Asia our favorite comes from Thailand. Basically, it's a noodle soup with a twist. The broth is made with curry sauce and coconut milk as well as chilies. It's a bit like a curry soup. But, noodles aren't the only thing that grace the liquid! Khao Soi is chocked full of pickled mustard greens, chicken, and a boiled egg all topped with crispy noodles for some added texture. Yum!
Cambodia - Fish Amok
Continuing a bit on the curry theme – Fish Amok, cooked in a banana leaf is another amazing dish. We first tried this while living in a small Cambodian village teaching English and haven't found a bowl as good since. A mild white fish is smothered in a curry, that is perfectly concocted from herbs, and served with a side of rice. Amok gets its delightful flavors from the shrimp paste, coconut milk, spinach leaves, and palm sugar. A must try in Cambodia!
Hainanese Chicken Rice Singapore
Considered one of Singapore's national dishes, Hainanese Chicken Rice has a heavy Chinese influence with a Singaporean twist. Just like your skin at the spa, this chicken must be exfoliated before the procedure is complete! Otherwise, Chicken Rice is just as it sounds – a few pieces of incredibly tender and succulent chicken served with a bed of delightful rice and the perfect blend of sour-and spicy chilies.
Dal Bhat - Nepal
On one of the craziest experiences of our lives took place in Nepal (oh and we got engaged ) trekking 16 days through the Himalayas on the Annapurna Circuit. As we trudged along gaining altitude and putting miles under our boots, we needed some serious sustenance. Dal Bhat was the perfect solution! This dish is served on a metal platter and has many different tastes to accompany it. First, the white rice and lentils. Next, the vegetable curry, wilted greens, and mixture of pickled (and spicy!) veggies. To top it all off you get papadam to eat to your hearts content. The perfect meal to fuel your body through 16 days of hiking.
Authors:
Alli & TJ of Life Is Meant For Exploring, a dynamic duo, who have been together for over a decade, out to explore the world one adventure at a time. For more #travel tips follow them here:
https://life...xploring.com/
Remember to follow us on Facebook for the most recent photo's, contests, discounts and events here:
https://www....alettealameda