How to be a Tourist in Your Own City:Alameda
Do you ever receive compliments on a jacket you've had for ten years? How about high praise on the same Thanksgiving recipe you've made every November since forever? I think that too often, we take for granted the things we have. The same can be said for the people and places we love the most. Even, our hometown.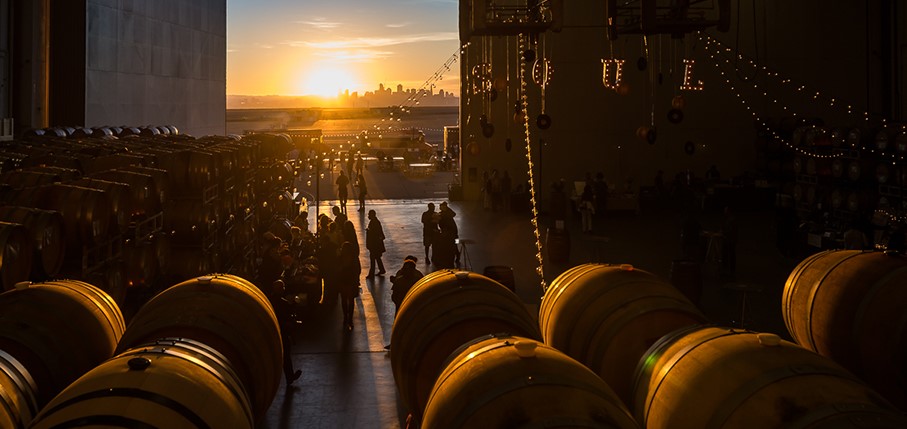 Whether you're a transplant or born and bred like me, there's a lot to love about Alameda. For instance, did you know that our Pinball Museum has been featured in a Jeopardy question? Or that the Alameda 4th of July Parade is one of the largest and longest Independence Day parades in the nation? I'll be the first to admit that there are way too many activities/sights that I have failed to take advantage of in the last 25+ years. I mean, why bother waiting in line for brunch at Ole's Waffle House or visiting the U.S.S. Hornet when you know they'll be there tomorrow, right? Let me just say that tomorrow turns into 25 years very quickly.
So, here's my challenge to all the Alamedans, natives and newbies alike: it's Tourist Time! Spend your next Saturday (or Tuesday – who am I to judge?) playing tourist in your own city. Bring your friends, bring your family, bring an out-of-towner guest, or enjoy the day to yourself. However you decide to spend it, here's my guide to our beloved island:
For breakfast, skip the line at Ole's and head a few blocks down to Jim's Coffee Shop. The lines are usually much shorter and (though it may cause some distress), dare I say the food is better? Like they say in Jerry Maguire, "You had me at…hash browns." Alternative – if you want to keep things lighter, grab a donut from Home Skillet and a coffee from one of the many coffee shops between Central and Encinal.
After breakfast, take a stroll down Park Street and take in the many fabulous shops and venues Alameda has to offer. Various antique stores, gift shops, and an indoor miniature golf course – plenty to choose from, at least until High Scores Arcade opens after lunch. Speaking of lunch, if you're still hungry after biscuits and gravy that is, why not check out Burma Superstar, Alameda's #1 restaurant according to Yelp (and Alamedans). The wait for lunch pales in comparison with the dinner rush.
If you've got the time, take in a movie at the historic Alameda Theatre and Cineplex before ending your time on the East End with an ice cream at Tucker's. Should the weather allow and if you're traveling on the weekend, continue your trek down Park Street and rent a bike at Pedal Beach. Or, thanks to the new Lime Bike system, grab a bike wherever you can find one and pay the $1 to ride – such a splurge, I know. After a ride down the beach, it's time to head for the West End.
On Webster Street, you'll find good coffee, great dessert, and epic games. Wescafe is a West End favorite for coffee, baked goods, and on-the-go meals. Grab something quick on you way over to the widely acclaimed Pacific Pinball Museum where $20 buys your unlimited game play all day long. Spend an hour (or four) enjoying all the fun and nostalgia the museum has to offer, but don't lose track of time, because…
The U.S.S. Hornet Museum closes at 5 pm. If you haven't made the trip to the Hornet yet, you're doing yourself a disservice. Maybe you've attended the annual New Year's Eve ball, but haven't seen the aircraft carrier by the light of day. Maybe you spent the night on the Hornet during a fifth-grade field trip and haven't been back since (anyone else?) In any case, this historical museum is one meant for all ages. That being said, if you happen to be traveling with 21 and over companions, you're in luck. Your time at the base isn't through yet.
In recent years, a series of spirits and brewing companies have popped up on the base – Rock Wall Wine Company, Faction Brewing, and Almanac Barrel House, to name a few. Spend the end of the day and a beautiful sunset winding down at any or all of these. And don't worry about food – several of these boozy venues often come with local Bay Area food trucks.
And there you have it – Alameda in a day. It's amazing how we've barely scratched the surface. There must be more to this island than we thought…
For more info visit their websites:
https://down...wnalameda.com
http://www.r...wallwines.com
https://www....ss-hornet.org
https://www....icpinball.org
Remember to follow us on Facebook:
https://www....alettealameda
for the most recent photo's, events, contests and updates. Cheers!