Love Me Do, Hear, & See July 16th – 22nd, 2018
This week is all about the outdoors and beer, separately and together. I didn't plan it that way, but sometimes things are just meant to be! Let this be the sign for you to take a break from a hectic work day, leave the paperwork at the office, and kick back with a drink…and maybe some yoga or shopping?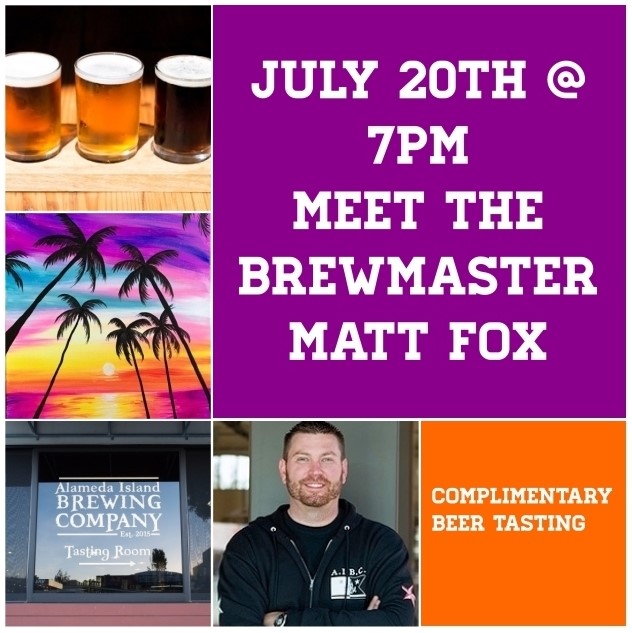 Monday July 16th
Take it from someone who hasn't been to the State Fair in years, let alone the Alameda County Fair…it's worth the trip. Play hooky this Monday and head to the state capital. Whether you are coming for the concerts, games, blue ribbons, horse racing or the funnel cake - stop by the San Francisco Bay Gourmet Trolley to get some Cold Brew to refresh you, give you a quick caffeine boost, or simply because it is delicious! You'll find me perusing the craft fair…
Get tickets here:
http://www.c...rg/tickets18/
Tuesday July 17th
Beer, Trivia, Prizes, and good company – you can't go wrong! Come on down to The Good Question: TRIVIA TUESDAYS at The Good Hop. Get a team together, (or form one when you get here!) and get your thinking caps on because trivia kicks off at 7:30 pm. Categories vary every week and span across the board, from pop culture to politics to sports and geography. And of course – there will be prizes! Prizes include TGH draft tokens that can be applied right to your bar tab, and sometimes other cool local brewery schwag.
Event details here:
https://www....m/TheGoodHop/
Wednesday July 18th
Yes, it's Ladies Night and the feeling's right. Oh, what a night! I don't know about the rest of the ladies out there, but nothing says Ladies Night to me like drinks and chicken. Good news! Every Wednesday from 4-10 pm, head on down to Wine & Waffles to enjoy Happy Hour prices all night long. Specials range from Large Sangrias to W&W's famous Chicken & Waffle sliders. Man, I feel like a woman.
Event details here:
https://www....504291197489/
Thursday July 19th
Be sure to attend this warm-weather special event at the North Berkeley Farmers' Markets! Thirsty Third Thursdays feature rotating beer, music, and good times at the all-organic, neighborhood farmers' market. There will be live music, art vendors, massage vendors, local beer, and more, and all proceeds support the Ecology Center!
A $20 ticket gets you a Berkeley Farmers' Market Tote, a Farmers' Market pint glass, one pint of beer, and a 15% off coupon for our Ecology Center Store! Such a deal – but there are plenty more ticket options.
Get tickets here:
https://www....s-45953230349
Friday July 20th
Are you a Beer Lover? The long-awaited, much anticipated return of Matt Fox, brewmaster of Alameda Island Brewing Company will be serving complimentary tastings of his summer brews at tonight's "Some Beach" painting event. This is one you don't want to miss!
Event details here:
https://www..../event/249293
Saturday July 21st
Summer is in full swing and so is the Summer Market in Berkeley! I'm talking 90 of the best local vintage collectors, independent designers, makers and artisans who embody timeless spirit and quality craft. Not to mention, awesome goods for guys and girls alike made by local artisans and makers. Admission is FREE and the event runs from 11 am until 5 pm, just in time for dinner by the bay.
Event details here:
https://www....887504946898/
Sunday July 22nd
Maybe you've heard of goat yoga, I know I've mentioned silks yoga, but how do you feel about beer yoga? I'm feeling pretty positive about the idea, myself. Almanac Brewery has got you covered! Every 4th Sunday of the month means Beer Yoga from 10-11 am. With natural wood interior, high ceilings and towers of beautiful oak barrels, Almanac is the perfect place to take a deep breath. Best part… the class "culminates in your choice of draft beer." Your pint is included in the cost of the class, just remember to BYOM (bring your own mat).
Get tickets here:
https://www....ickets-V2PSY8