Why Taipei Should Be on Your Travel Bucket List
Two words: The Food.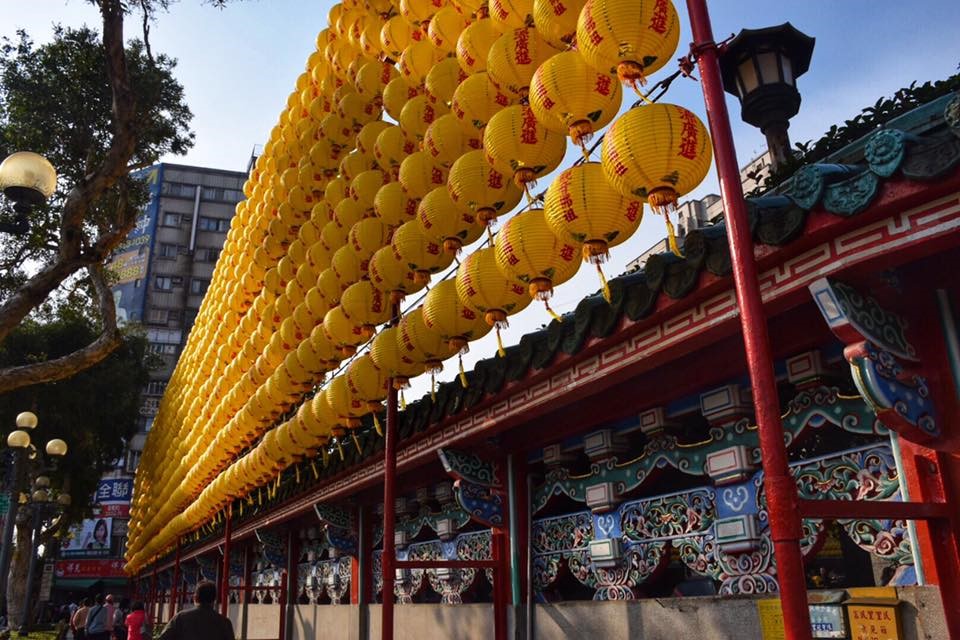 When we first visited Taipei in 2018, it was a spur of the moment trip that lasted 11 days. We had zero expectations. We chose to spend those days in Taipei because we had exactly that much time between when our visa in Thailand ended and when we were meeting TJ's sister in Nepal. So, we did what we always do in such moments – looked for the cheapest flight to anywhere. To our delight, Taipei was on the top of the list and so we set off to a country where little English is spoken in search of something new and exciting. And, oh boy did we find it.
It just so happened to be Chinese New Year, so many of the temples and popular street markets were decorated in the traditional fashion and the sound of firecrackers and bottle rockets lulled us to sleep each night...
One thing we quickly learned is that a lot of people in the city travel away from home for Chinese New Year to visit relatives and go on vacation in other parts of the country. So, the city was pleasantly mellow in comparison to every other week of the year. Still busy though, after all, it's a city with a population of over 2.6 million.
Not too surprisingly, we both wound up falling in love with Taipei and Taiwan. The problem was, 11 days didn't give us enough time to do all the things we wanted to do. It didn't give us enough time to see all the places we wanted to see. It didn't give us enough time to eat all the food we wanted to eat, which is why we're dying to go back someday. However, our time in Taiwan made one thing overwhelmingly clear - Taipei is home to arguably the best street food in the world.
When you're in Taipei, dining at night is a cultural experience that revolves around night markets. There are a couple of dozen night markets all throughout the city, with the biggest ones attracting tens of thousands of people each night. There are tons of delicious things to eat in this country, especially in the capital city of Taipei. We spent hours every evening exploring new night markets and trying new foods. Some dishes took a little courage to order, but overwhelmingly, everything tasted delicious.
A few of our personal favorites are:
● Baozi - Chinese steamed buns filled with a variety of ingredients like meat and vegetables. They can be savory or sweet and are typically eaten for breakfast or as a snack.
● Beef Noodle Soup - This is no ordinary soup. Beef noodle soup is arguably the most beloved comfort dish in Taiwan. It consists of red-braised beef slow-cooked in soy sauce, beef broth, vegetables, and Chinese wheat noodles. So important is beef noodle soup that it's often regarded as Taiwan's national dish.
● Flame-Torched Beef - Tender cubes of beef are cooked over a grill before being torched and sprinkled with your choice of seasonings like salt, pepper, teriyaki, or cumin. It's simple but oh so good. The torching of the beef makes for a good show too.
● Mee Sua - We stopped to have lunch at the famous Ay-Chung Flour Rice Noodles in Ximending. Mee Sua is a type of thin wheat-flour noodle like vermicelli. It typically contains oysters, but Ay-Chung makes them with the most tender bits of pork intestine. Oh, so good.
● Peanut Ice Cream Roll - This is one of TJs all-time favorite desserts. To make it, peanut shavings are spread out over traditional popiah skin and topped with two or three scoops of ice cream. Some places may add cilantro before rolling it all up like a burrito. This is a must and adds a refreshing element to the dessert.
The list could go on and on. We honestly tried over a hundred different dishes while we were there and only a few were too much for our American taste buds. All in all, Taipei is a marvelous city and its appeal stretches far beyond just the food and night markets. We look forward to returning someday very soon!
Check in next week as we share an incredible adventure you should go on while you're in Taiwan! Hint - it's one of the most epic hikes we've been on in our entire lives!
Stay tuned next week for more #TravelTuesday adventures from our friends, Alli & TJ of Life Is Meant For Exploring, a dynamic duo, who have been together for over a decade, out to explore the world one adventure at a time. For more #TravelTips follow them here:
https://life...exploring.com