Travel Tuesday Presents: Sri Lanka You Have to Go
There are many reasons Sri Lanka is appearing on everyone's bucket list. From the welcoming people, endless beaches, fun trains, inspiring national parks with and rolling surfs. Here are 10 reasons we think you should go.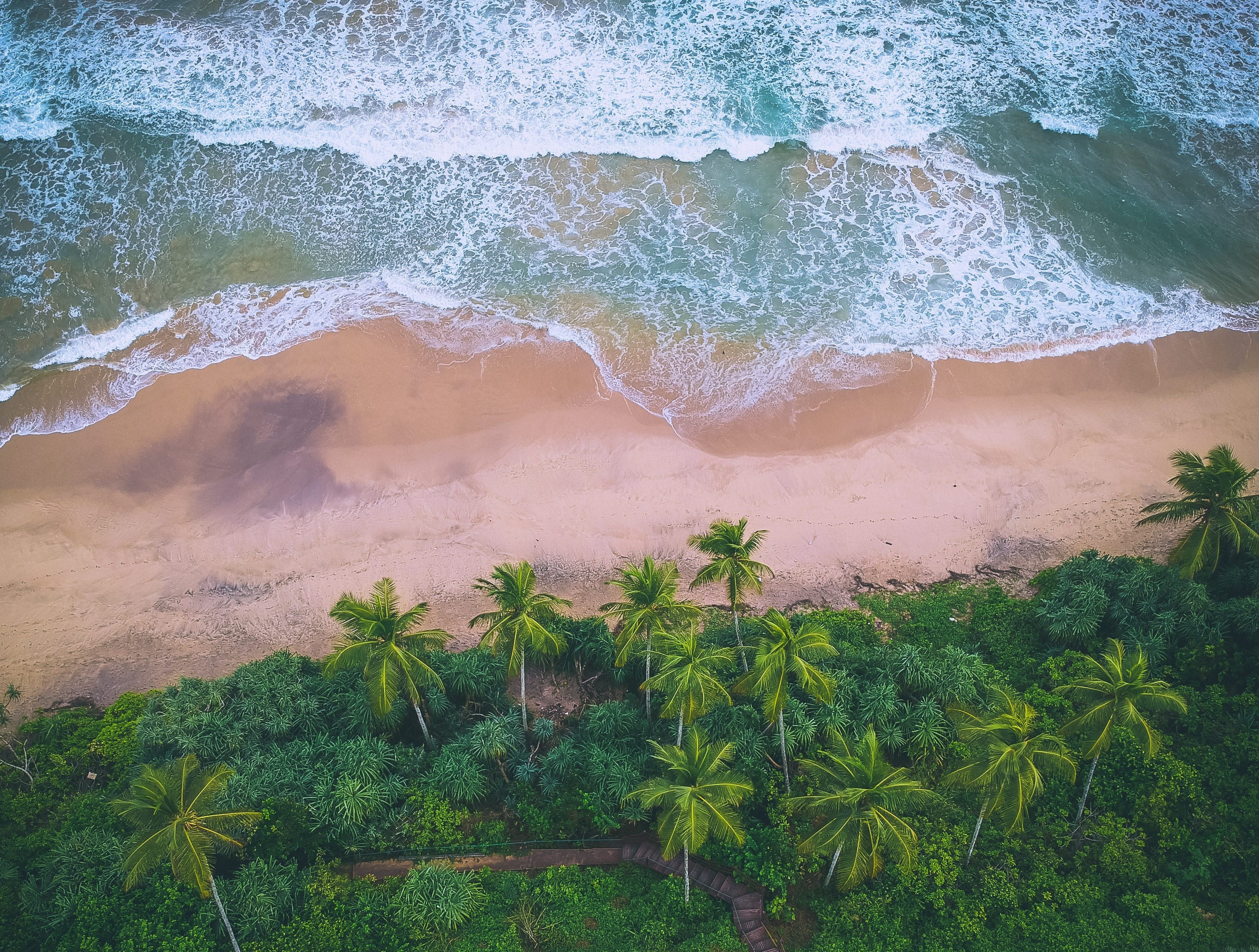 1) Surfer and Yogi Paradise.
Sri Lanka has built up quite the reputation for being a world renown surf and yoga getaway. The south coast pumps out some dreamy surf breaks for both beginners and more seasoned surfers. The crowds are well… there aren't really any crowds so catching wave after wave is pretty easy. The water is warm and crystal clear. And, you can often enjoy a fresh coconut right on the beach - gotta make sure you're staying hydrated after that surf workout!
For those more spiritually inclined, Sri Lanka is an ideal place to escape and deepen your Yoga practice. You will find studios and retreat centers practically everywhere on the island with prices to satisfy any budget. Many of the hostels we stayed at even offered Yoga classes to their guests for free and at a small cost for the public. Yoga in the morning. Surf all day. Yoga at sunset. Rinse and repeat! Talk about a little slice of heaven.
2) The Best Breakfast In The World
This is not an exaggeration by any stretch of the imagination. Sri Lankan breakfast is the bomb. In fact, I don't think we've ever eaten so much in the mornings on such a regular basis. We couldn't get enough. And now that we're back home in the States we find ourselves day dreaming about this delightful dish!
Here's what it it is: delicious freshly SLAPPED roti (if you don't know how slapped roti is made look it up - it's impressive!), paired with coconut sambal and dahl. Sounds simple, but the seasonings and fresh coconut make for some wonderfully delicious flavors!
If you're making a trip to Arugam Bay - make sure you try this dish at Blue Ocean on the main drag. Run by an incredibly friendly man and his family, you'll soon feel like part of the family as he serves your morning tea or coffee in mugs that say "brother" and "sister".
3) Natural Biodiversity
Considered one of the most biodiverse areas on the planet - this island has something for everyone. Sri Lankan jungles are filled with wild elephants, monkeys, thousands of bird species, mongoose, water buffalo, and so much more. The highlands are lush and tea fields dot the mountainsides. On the coats you can snorkel with turtles and a host of vibrant marine life.
No trip to Sri Lanka is complete without a visit to one of the many National Parks. We went on safari in Udawalawe NP and had some close encounters with elephants, monkeys, giant squirrels, and saw hundreds of other animal species. For those lucky enough, Spotted Leopards can also be seen in Yala and Udawalawe National Parks. There's something magical about watching the sunrise over the jungle as the days comes to life from the back of a safari jeep. Memories for a lifetime.
4) Incredible Sights and Cultural Heritage
Sri Lanka is vibrant, both in beauty and in its rich heritage. Home to eight UNESCO World Heritage sites, iconic temples, and many colorful religious festivals throughout the year. Because Sri Lanka was a colony of the Dutch, Portuguese and British throughout the 1800's and early 1900's you can expect to see European influence in the architecture, food, and there passion for cricket.
A great place to see the colonial architecture is in Galle where you can wander around the Old Fort taking in the cool buildings and panoramic views of the coast. Architecturally speaking, this was one of our favorite places. We walked the entire fort wall; smiled and laughed with children in their white uniforms as they walked the wall to the beach after school; and meandered through they alleyways taking in the rich history and beauty.
5) Travel Convenience
From Bandaranaike International Airport, about a 40 minute drive from the commercial center of Colombo you can travel to any part of the island with relative ease. Busses, trains, and renting a car are all good options when it comes to getting around. And, they're very affordable. Roads are well maintained in general, and there are highways connecting all major cities.
By far one of the easiest ways to explore Sri Lanka is by train which is very inexpensive by western standards. For a few dollars or less you can get anywhere on the island. Be warned that seats are hard to get unless you book a reserved ticket in advance. There is no capacity in 2nd or 3rd class cabins so they can be uncomfortably crowded at times. There were travel days where we stood for the duration of the 5 hour train ride. BUT, it was still an awesome experience as we watched some of the most beautiful scenery and vistas zoom by the open windows and doors.
6) Inexpensive
Sri Lanka is a country where you do not need a lot of money in order to afford a luxurious vacation. For $20-$30 a night you can book a stay at a nice hotel or guest house ($50 would get you 5 Star luxury). A typical meal will only cost $2-$3. As we mentioned above, transportation is very affordable as well as long as you avoid hiring a private car to take you around. If you decide to hire a private car, make sure you negotiate :)
Excursions such as spending a day on safari in one of the National Parks only costs about $60 for a private jeep and driver (up to six people can fit in each jeep).
7) There Is So Much To See
Don't be fooled, even though Sri Lanka is a relatively small island country you will be hard pressed to catch a glimpse of everything there is to see. From the less touristed cities in the North, to the tea plantations in the central region, to the pristine surf beaches along the south coast, Sri Lanka has something to offer everyone.
Some of our favorite destinations were:
• Galle Fort
• Udawalawe National Park
• Nuwara Eliya
• Unawatuna
• Weligama
• Arugam Bay
• Kandy
• Jaffna
• Anuradhapura
Ready to visit Sri Lanka?
Now is the time! Sri Lanka is still off most peoples' radar when it comes to vacation destinations. Thus, you can still find a little slice of paradise unspoiled by hoards of tourists.
Stay tuned next week for more #TravelTuesday adventures from our friends, Alli & TJ of Life Is Meant For Exploring, a dynamic duo, who have been together for over a decade, out to explore the world one adventure at a time. For more #TravelTips follow them here:
https://life...exploring.com