Summer-to-Fall Smoothies
Fall might be right around the corner, but we're coming up on the end of August and you know what that means – a good, old-fashioned, Indian summer! I don't know about anybody else, but when it's warm outside, regardless of the season on my calendar, the last thing I want to do is cook a hot meal. In fact, in recent weeks, I've found myself SIPPING my dinner…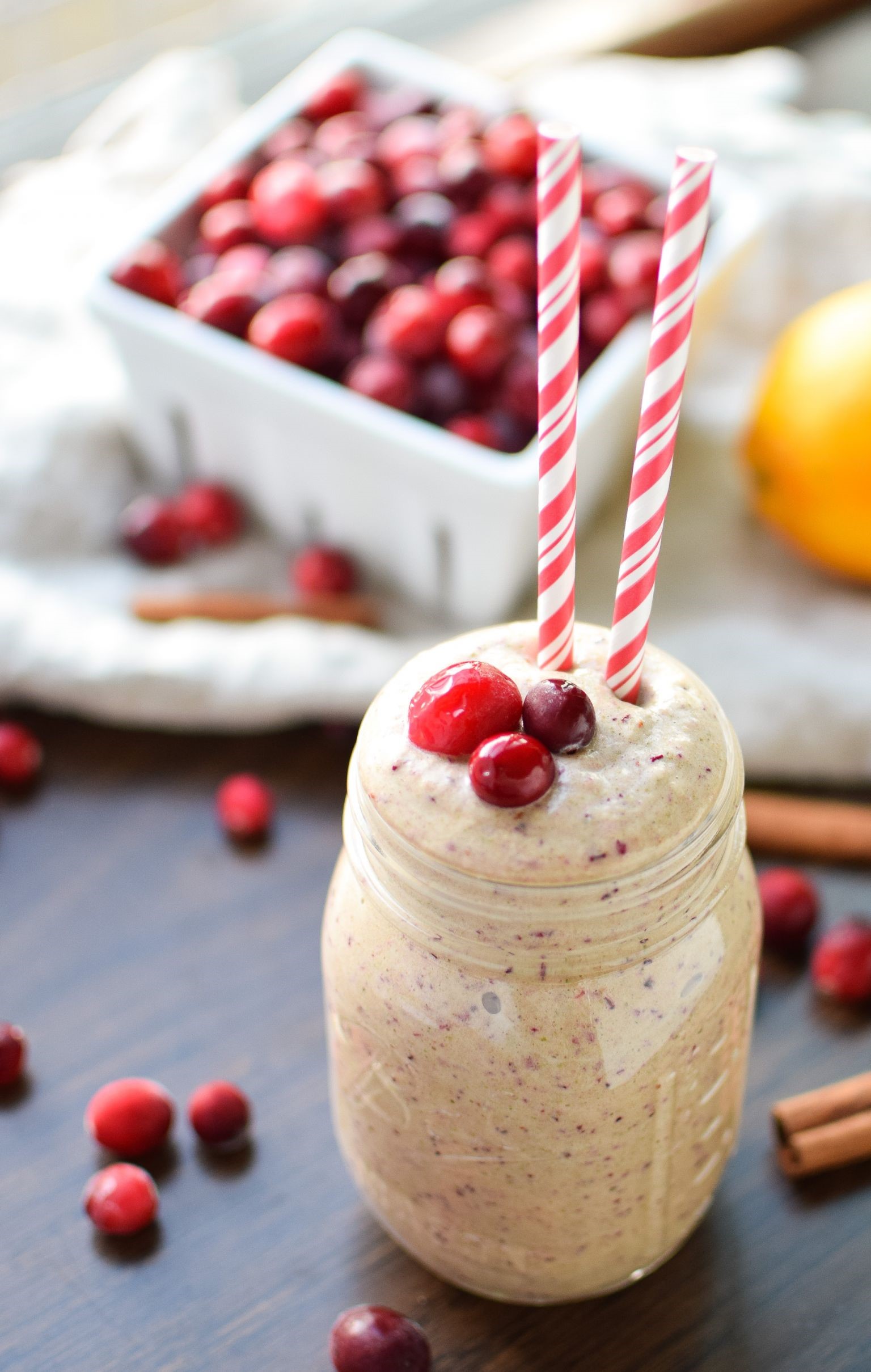 Pinterest is packed with smoothie recipes. Some are simpler than others, some are sweeter, others greener. Whatever you prefer, there's a little bit of something for everyone! So, if you're looking for an easy transition from summer cocktails to Starbucks' pumpkin spice lattes rolling out abnormally early at the end of the month, here are a few tried-and-tested "summer-to-fall" smoothie favorites, all of which require no more than 5-6 ingredients and your standard bullet/blender:
Orange Cranberry Greens Protein Smoothie
If you're looking for a smoothie that blends the best of summer and fall, this is the one for you. It's the cinnamon that ties all this frothy goodness together – as cinnamon often does – and the overall flavor is very reminiscent of a cranberry scone. This recipe has no additional sugars, beyond the fruits and protein powder. I prefer to use vanilla protein powder, so the smoothie can grab a little sweetness without me having to add any extra. Combined with the orange (which is pretty much mulled, juiced and gone in 1.5 seconds), the flavors tone down the cranberry tart-ness but do not hide the delicious cranberry taste.
Get the recipe here:
https://proj...ein-smoothie/
Caramel Apple Overnight Smoothie
This comforting, fall-inspired caramel apple overnight oatmeal smoothie is smooth, creamy, and sure to keep you satisfied for hours! Best thing about it? There's actually no caramel whatsoever. Apologies to anyone feeling ripped off by the name, but in the case, we're talking "nature's caramel" aka dates. If you're looking for a healthy breakfast or snack, and let's face it, I always am, this is the one for you. Vegan, gluten-free, and packed with plant-based protein and fiber, this smoothie makes a healthy and easy alternative to a sugary bowl of cereal. I fondly refer to it as a "Cup of Fall"!
Get the recipe here:
http://www.r...a5y_p=5256226
Blueberry Muffin Smoothie
Vanilla Greek Yogurt is blended with milk, frozen blueberries, frozen banana, lemon zest, ice, and uncooked oats until it's thick, smooth, and perfectly sippable! Skip the muffin and drink a healthy, gluten-free smoothie that tastes like one instead. Now, if we could only figure out a way to sip on a healthy steak and potatoes alternative…
Get the recipe here:
https://iowa...fin-smoothie/
Classic Green Smoothie
Here's something for the purists! It doesn't get healthier that a green smoothie, now does it? Green smoothies sound (and, honestly, look) like they wouldn't taste the greatest – I always imagined them to taste like Play-Doh until I actually tried them – but if you do them right, they are sweet, balanced, and have no flavor of the greens! I'm a lightweight and use fresh baby spinach in my green smoothies because you can't taste it at all…and because I think kale always tastes like dirty sand. If you're a little more hardcore, you can try kale, collards, or even chard! The truth is, you can make almost any smoothie a green smoothie by tossing a handful of greens in. The end result might look nasty, but it'll taste delicious – and Play-Doh free!
Get the recipe (plus seven more!) here:
https://whol...es-know-make/
Coconut-Chocolate Coffee Shake
I LOVE chocolate (what woman doesn't?) and coconut anything. The only thing I love almost as much as chocolate, and my mother, is coffee. So how on earth can all this be healthy and enable fat burning? Well it starts with the quality of your protein shake. There are SO MANY options out there when it comes to protein shakes, and between my roommate and I, we've probably tried them all! Throw a little chocolate protein powder with some coffee and coconut and what do you get? Instant delicious.
Get the recipe here:
https://reca...coffee-shake/
Enjoy!
Remember to Follow Us on Facebook for the most recent photo's, events, contests and specials:
https://www....alettealameda