Love Me Do, Hear, & See December 3rd – 9th, 2018
Don't panic! Yes, December is upon us, but there's still plenty of time to get your holiday shopping, decorating, and caroling in. That being said, don't forget to also set aside some time to enjoy yourself and the beautiful season that's upon us. Now that most of the smoke has passed (best wishes to anyone affected by the fires), I'd like to encourage you to take advantage of what little sunny weather we have left. Here are a few events to check out for the week ahead: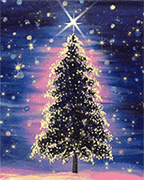 Monday December 3rd
Start the new month off right and feed your brain with Trivia Night at The Local, hosted by Smartazz Trivia. Arrive at 7 pm to pick teams or bring your own and prepare to play at 7:30. There will be wine, there will be beer, and there most certainly will be a whole lot of sass going on!
Full event info here:
https://www....432631682840/
Tuesday December 4th
Have you ever wanted to party on the AT&T field with some of your favorite Bay Area athletes? Holiday Heroes is a wonderful way to make memories with your family (s'mores and batting cages anyone?) while also giving back to deserving, local families in need.
Full event info here:
https://holi...rg/microsite/
Wednesday December 5th
Come One, Come All! Today marks the 4th night of Hanukkah and Temple Israel and South Shore Center are teaming up to bring you a Menorah Lighting Event. Delicious Latkes will be served and don't forget the Dreidel painting for the kiddos. Everyone is welcome to also bring their own Menorah, too – they will be displayed on a long table for all to enjoy for the evening!
Unwrapped toys will also be collected for Toys for Tots, so time to hit up Toy Safari…
Full event info:
https://www....055411114182/
Thursday December 6th
Christmas Magic: 6:30 9:00 PM
Capture the magical moment of a frosty walk in the woods to find the perfect Christmas Tree. Light up painting includes a set of 20 battery operated LED lights!
Reserve your canvas here:
https://www..../event/277145
Head on down to Oakland for the Holiday Marketplace Party and shop the best of local young entrepreneurs at Impact Hub Oakland! Young entrepreneurs from skysthelimit.org and the 2018 Youth Hub Fellowship Program will be vending their own products and services to the community. There will be a variety of offerings including food, drinks, plus live entertainment from DJ Destiny!
RSVP for free here:
https://www....-term=listing
Friday December 7th
Let the Sea Set You Free: 7-9:00 PM
Find your Friday feeling with wine, music and best friends. It's time to enjoy the calm breeze of the sea and let your worries free.
Reserve here:
https://www..../event/277146
Reserve your tickets now for the Holiday Mashup Variety Show! The Variety Show is an event hosted by Oaklands own sassy sister folk trio the T Sisters that showcases local and touring performers in an intimate setting. While primarily featuring a variety of musical performances, past shows have also included dancers, magicians, actors, comedians, improvisation troupes, storytellers, poets, writers, and more.
Get your tickets here:
https://t-ho...95yQmmMYWwfMk
Saturday December 8th
Today, you'll find holiday festivities aplenty in Alameda! Start the day bright and early with a docent-guided holiday home tour. Later in the afternoon, join Santa and the Alameda Mayor when they light the official island holiday tree at City Hall. Enjoy live local holiday performances beginning at 4:30pm and meet the big guy himself. Afterwards, do the Hot Cocoa Crawl with family and friends and vote on your favorite downtown holiday window display. Mmmm, cozy!
These events are free!
North Star: 8-10:00 PM A beauteous scene of the north star, Polaris, anointing a crown of mountains in this winter picture featuring aurora.
Sign Up here:
https://www..../event/277162
Sunday December 9th
Celebrate the holiday season with members of the San Francisco Gay Men's Chorus for "Home for the Holidays!" Known for its warm, rich choral tones and over-the-top productions, the San Francisco Gay Men's Chorus continues its tradition of bringing holiday cheer to the East Bay with its December 9th show in Berkeley. Upbeat, show-stopping numbers, stunningly beautiful choral pieces, and updated takes on old favorites – what could be better?
Get your tickets here:
https://www....PM7Xgv-RHNojg
Have fun and don't forget to bring an umbrella!