Top 5 Instagram-able Spots in the Bay
The sun is shining,
The sky is blue,
Time for a hike,
And an Instagram view!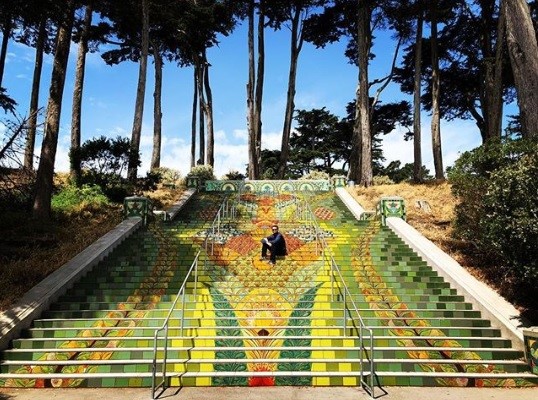 Let's face it… A well-taken picture is worth a thousand words—and, perhaps, a thousand "likes", too. Sometimes, you need a little something extra to motivate you to go for that jog or visit your family or drive thirty minutes out of the way for a dinner date. Sometimes, endorphins and love and tacos just don't cut it. But you know what does? Jealousy. That's right, I said it. Jealousy. Why else do you think Instagram was created? If we can't post pictures to show off the things we do or places we go or food we eat, then what's the point? Yes, it's vain, but it's also human. We see what we want, we go after it, we rub it in everyone's faces, and then they want it, too. The cycle never ends.
So, the next time you're looking to make an internet splash, try out some of these lesser-known spots around town – you can bet your bottom dollar that they're all cheaper than a ticket to the Museum of Ice Cream! Check it out…
1. Flora Grubb Gardens (@floragrubbgardens) – Come enjoy a cappuccino and a pastry, take in the serene atmosphere, or simply browse the yard. You can even craft together your own potted treasure to take home, along with some pics by the succulent garden or rainbow wall of chairs. It wouldn't be Insta-ready without a colorful set of seating.
2. Sutro Baths (@sutrobaths) – What used to be the largest indoor swimming hole in the world is now an eerily gorgeous ruin. The Sutro Baths are arguably one of the most Instagram-worthy parts of all San Francisco. Established in 1896 and burned down in 1966, these saltwater pools make for the best photoshoots. For the sexiest of shots, be sure to visit as the sun sets.
3. Lincoln Park Steps – You might be more familiar with the famous 16th Street mosaic-tiled stairs, but here's a new one for you! The newest set of mosaic stairs in SF is the Lincoln Park Steps. They are on California Street where it dead ends into the Lincoln Park Golf Course. It's a smaller staircase, but offers a colorful patter of bring yellows, greens, and oranges, perfect for #summer.
4. Anina (@aninabarsf) – The Bay Area has no lack of Instagram-worthy bars and restaurants. We've got it all, from black ice cream to sushiritos. But keeping in the spirit of summer, why not add some spirits to the list. And nobody's got a list of spirits quite like San Francisco's Anina. Be sure to bring your closest gal pals, because chances are you'll stick around for a second round…or third.
5. The Champagne Mural at The Riddler (@theriddlersf) – As if a champagne bar itself wasn't already Instagram-able enough (and their interior is definitely worthy of another pic), you'll find a champagne bottle on the exterior, as well, only this one is much too big to drink…at least in one sitting. There's plenty of gorgeous murals and graffiti to be found around the Bay, but this one takes the cake. Oh, and did I mention that they also serve up complimentary popcorn?
Be sure to tag us in your pictures so we can be jealous, too!
Remember to follow us on Facebook and Instagram for the most recent photo's, contests, events and discounts:
https://www....alettealameda
https://www..../pinotalameda
Enter your contact info and request details below, and we will contact you with details about your private party!