Hike 11-Get Lost Bay Area
Darling Dawn Falls
Larkspur, Cali.
With the summer weather approaching, Baltimore Canyon and Dawn Falls Trail are the absolute perfect little family day getaway right here in our Bay Area.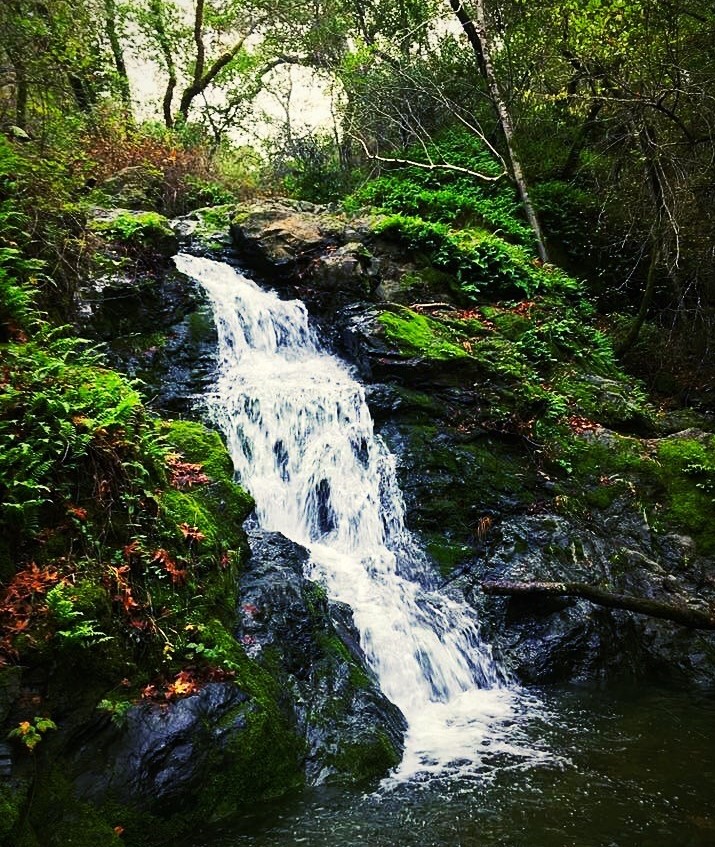 At 2.5 miles, this moderate hike can make you feel miles away and yet you can bring the kids, the spouse, and even the family dog (on a leash). Although my favorite time to explore these beautiful trails is during the winter months, the trees provide plenty of cool shade in the summer months with abundance of flowers as a feast to the eyes for spring. As is common in Corte Madera and Mill Valley, the trail-head begins at the end of a street in a residential neighborhood, so to say that parking is limited, is an understatement.
Start at the trailhead and walk down the path towards Larkspur Creek, then cross over the quaint little bridge and turn right onto Dawn Falls Trail. Along the way you will pass beautiful redwoods, madrone, big-leaf maple and tan-oak trees. After about .50 miles, you will reach another bridge, cross this second bridge, turn left, and continue on Dawn Falls Trail. At 1.15 miles, you will arrive at Dawn Falls and also the turnaround point. Dawn Falls has a 25 foot cascade and is truly beautiful. Although there is not a great deal of seating around the falls, it is truly a spectacular sight.
After a sweet hike with the family, why not grab a delicious burrito in Larkspur, from Avatar's Punjabi Burritos a delicious blend of Indian and Mexican favorites.
http://avata...tablehero.com
Happy Hiking weekend everybody! Hope to see you on the trail!
Romy @getlostbayarea.com
*Trailhead: 434 Madrone Ave. Larkspur, Ca.
https://www....n-falls-trail
Enter your contact info and request details below, and we will contact you with details about your private party!