What to Know BEFORE You Date a Gemini
It's the month of the Gemini – Happy Birthday, Twins! It's also the season of "summer love". However, there are a few things you should know about potentially dating a Gemini, before you jump head first into the dating pool. Because let's face it, if you're looking for an easy, breezy, beautiful fling this summer, you might want to avoid a certain set of astrological twins...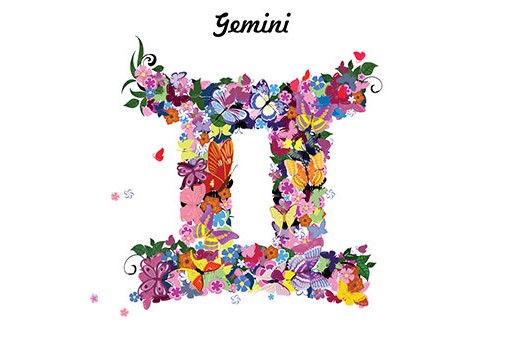 Here's a few words of advice (warning) when striking up a summer romance with a Gemini –
1. Kanye West is a Gemini. Just saying.
2. Spontaneity is a Gemini's middle name. They're always up for trying a new restaurant or taking an inadvertent day trip. With Geminis, you'll never get bored — but at what expense to your sanity?
3. Did I say Gemini? I meant social butterfly. They are anything but homebodies, but at the same time, loving knowing that they can come home to someone. One weekend, they'll paint the town red with balls, galas, bars and clubs … but the next, they're all about Netflix and the couch. Confused yet?
4. Geminis love to flirt. Geminis are faithful, loyal people, but boy do they like to shop around. Because they enjoy praise and being the center of attention (see #3), they love to receive compliments and feel sexy and wanted — only to come home and be with just you.
5. Geminis loooooovvvvveeee to talk. Remember Chatty Cathy? Well, she was for sure a Gemini. They ask a lot of questions, so much so that first dates might seem like interviews. Because Geminis are an air element, they have strong intellects and are skilled debaters and conversationalists. If you do make the conscious decision to pursue a Gemini, know that with them, a good debate is just that: a debate. They're not looking for an argument (though they might get one); they just enjoy conversing and sharpening one another.
6. "Wait, what? We had plans?" With spontaneity comes flakiness. Count on a Gemini to flake at the last minute on plans or want to change the location. If they don't flake or change plans, they'll be 10 minutes late to wherever you were supposed to meet anyway.
7. I hope you weren't planning on cheap date, because guess what? Geminis like to spend money. Part of their impulsive personality is to purchase whatever they want whenever they want. Because, well, why the hell not? Again, see #2 for spontaneity.
8. Geminis are extremely analytical people, which also makes them self-aware. While this seems like the perfect recipe for self-assurance, it actually causes a lot of doubt since they're apt to also consider where they "should" be in life or what they "should" be doing.
9. Geminis tend to be a curious breed (*cough* NOSY *cough*). There's a reason they call them a "Jack of all trades…but master at none." Because Geminis are intellectuals, they like information about a variety of things and can pretty much have a conversation about anything. On the flip side, they're also good at finding things out and researching. Basically, if you've got secrets, a Gemini will find out.
10. Lastly, Geminis are straight up, without a doubt, 100% conflicted. I prefer not to use the term "crazy", but with two personalities constantly fighting each other, a Gemini can seem flippant, all over the place and quite frankly a little nuts! But don't worry, they'll calm down from whatever argument they just had in about five minutes. Phew!
If you're not exhausted at this point and you're still considering the possibility of dating a Gemini, congratulations, you just might be strong enough to do so!
Remember to follow us on Facebook for the most recent photo's, specials and events here:
https://www....alettealameda