Travel Tuesday Presents: 4 Tips for Staying Happy and Healthy in Planes
We've just finished a 12 hour layover after two days of flight cancellations due to a volcanic eruption in Bali. But we're about to take off and are headed home to the States for the first time in 14 months!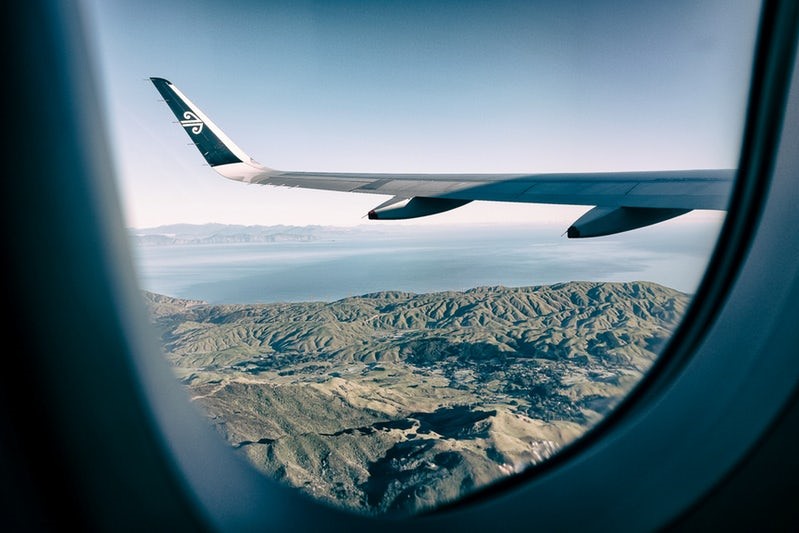 It feels a bit surreal, but then again when we're this tired most things do. In an effort to keep ourselves healthy and happy on the journey there are a few things we like to do:
Hydrate
Riding on planes for hours on end dehydrates you pretty quickly. We like to make sure we replenish our reserves at each layover and drink as much water as we can on the plane. With tighter security regulations nowadays this can be a challenge.
Many airports have gate security and you have no hope of bringing a water bottle on board. If this is the case, don't fret the flight attendants will bring water. Just make sure you take them up on their offer each time they ask! Hydration means feeling more alert and fending off any dehydration headaches.
Pro Tip: We like to make our flight attendants feel appreciated. They have an extremely tough job dealing with cranky passengers day in and day out. Even just a smile can go a long way in brightening their day. In the past, we have brought a small gift of sweets for all of the flight attendants to share.
Not that this should be the goal, but when a flight attendant feels appreciated and likes you they are more willing to go out of their way to make your flight more enjoyable. An extra sandwich, pillow, or that unfilled seat in first class would be a nice bonus for making someones day a little more enjoyable ;)
Sleep
Can you sleep on a plane? Or do you sit wide awake the entire time?
Alli tends to get colds when she doesn't get enough sleep so it's a good thing when she can get in some shuteye while we're soaring through the air. Getting some hours of Z's on the plane and/or in the airport if you can't sleep on the plane will go a long way in making you feel better and helping you combat jet lag.
Get Cleaned Up
Long international travel days inevitably mean some overnight travel. Make these times a little easier by keeping your toothbrush, some wet wipes, deodorant, and any other toiletries you like to use easily accessible. Waking up and washing our face and brushing our teeth after 12 hours in the Singapore airport felt amazing. Plus it got us ready to board our next flight to SFO.
Planes aren't the cleanliest of places - make sure you wash your hands again and a again. There are hundreds of thousands of people that transit though airports daily and recirculated airplane air doesn't help keep those germs off of you.
Bring Snacks
There's nothing worse than being on a long haul flight without any food of your own as you sit there with your tummy grumbling uncontrollably. Ok, there are some things that are worse, but being hungry can get painful. Avoid this discomfort by packing yourself some snacks or even an entire meal to munch on throughout your journey.
Well there you have it. These are our 4 tried and true practices for staying happy and healthy as you zoom across the world. And now it's time for me to take a sip of water and drift off to sleep. See you after this 15-hour flight!
Authors:
Alli & TJ of Life Is Meant For Exploring, a dynamic duo, who have been together for over a decade, out to explore the world one adventure at a time. For more #travel tips follow them here:
https://life...exploring.com
Follow Us on Facebook for the most recent photo's, contests, specials and events:
https://www....alettealameda
Enter your contact info and request details below, and we will contact you with details about your private party!