Mother's Day Weekend
Treat Mom to some fun away from the kids!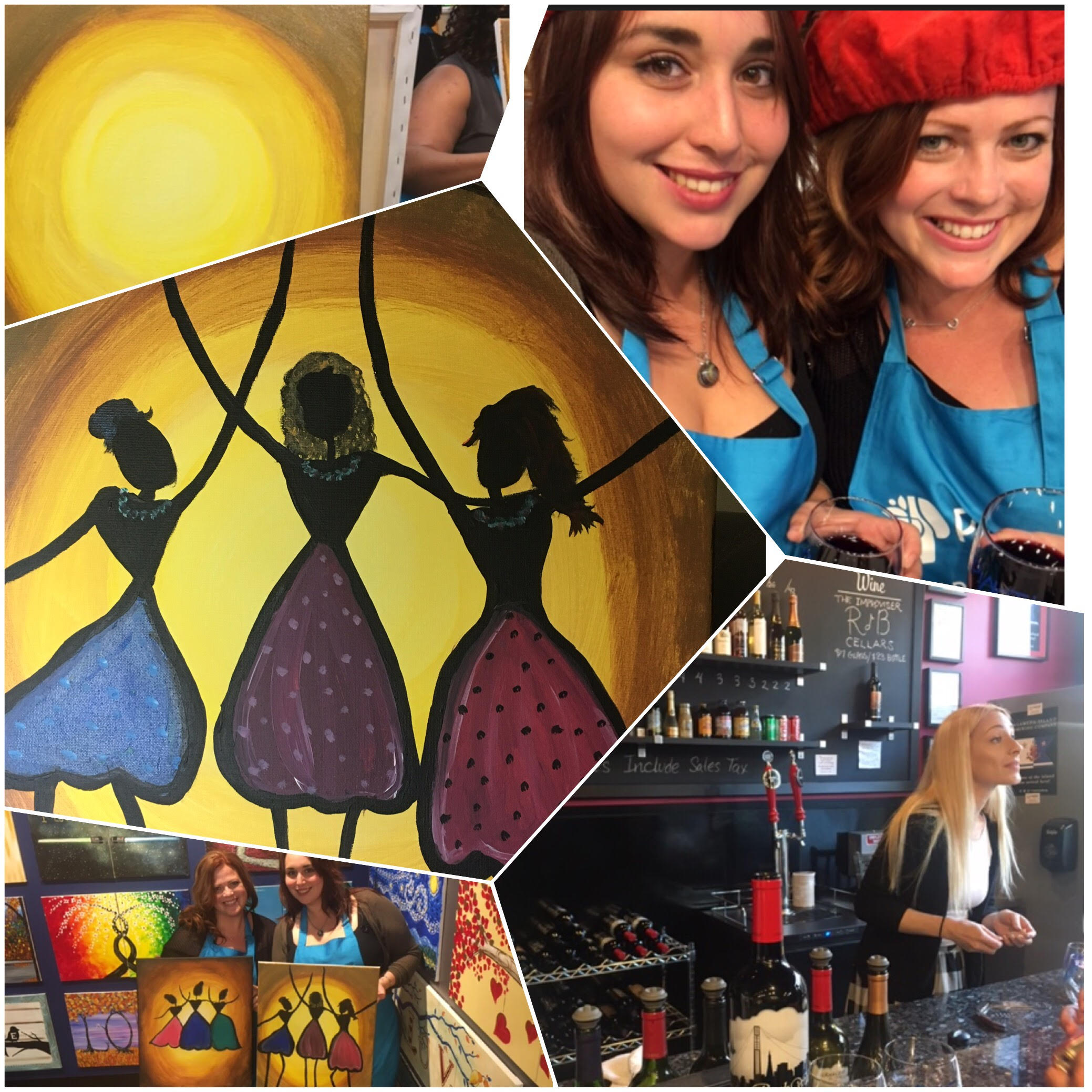 This article was authored by one of our favorite local moms from Macaroni Kids Oakland. If you are a mom, you should really check them out for great things to do locally in the Bay Area with the kids.
Are you from the Bay Area and are looking for somewhere fun to go for Mother's Day Weekend? Or are you looking to treat your Mom to something special?
Trust me, Pinot's Palette is the go-to spot to relax, unwind and let loose !
From date nights to birthdays and bachelorette parties, the paint parties are a unique way to celebrate all of life's special moments - even if the occasion is just called "Friday."
Peri, the owner, Invited My friend Esmeralda and I to enjoy a night out away from the kids and get an early Mother's Day Treat. We both had an AMAZING time, that I wanted to make sure to share my experience with you all this week, because I know their Mother's Day Weekend classes will be so much fun. I wish I could join in on the fun (I will be out of town visiting my mother in Southern California)
If you are thinking " I am Not the best at Painting".. DO NOT WORRY!
The instructor walks us step-by-step on how to get the finished product. They showed us how to mix colors to get the one we needed for that section of the painting, they also helped Esmeralda and I fix a couple of mistakes we made - Anyone can be an Artist here! They even let you take "paint to go" in case you end up wanting to add something at home, or you do not get to finish your painting in the 2.5 hour time frame.
Before heading to our painting class, We decided to make reservations for dinner at Trabocco a few store fronts away. Trabocco is a Fine Italian restaurant that features delicious and fresh ingredients in every dish. The owner, Guiseppe Naccarelli, catered to our every need and swept us off our feet. Since Pinot's Palette lets you bring your own snacks to enjoy, we decided to stop by See's Candies for dessert and got a couple of chocolates to pair with our wine. Yum!
https://www.trabocco.com
As soon as we walked in the door at Pinot's Palette, we were greeted by staff members Katie and Briana, they handed us aprons, showed us around and took us to our seats. They have cubbies a few feet away from the seats, where you can store your purse and any other items you might have with you. After putting our aprons on, Lucy the bartender, recommended a lovely red Wine to pair with our dessert. Esmeralda and I decided to purchase a whole bottle of wine to share (It is a bit cheaper this way), they even let us take the rest home (No corking fee)! Whoohoo !
Once we were seated and ready to go, Holly the class instructor came up to the stage to introduced herself and explain to us how we would start out paintings off, showed us the different brushes we were using and showed us the painting we were trying to recreate that night. Every day they have a different option to paint, we got to paint "Dancing Trio" with our instructor; she started off nice and slow with some nice tunes playing in the background. During our time there, we had a great time listening to music, painting, chatting with new and old friends all while enjoying a couple of glasses of wine. They have a pretty good variety of drinks to choose from- Anywhere from water, for those who don't drink to bottomless mimosas! They serve some great local beer from the Alameda Island Brewing Company and also offer great local wines from the Bay Area.
Once our time there was up, we took a class photo with everyone who attended that night. Esmeralda and I decided to take a couple of pictures of our masterpieces to show off to you guys. I am really proud of my painting, I am giving my painting to my mother as a Mother's Day present .My mom has 3 daughters, so painting the Dancing trio was great because I got to personalize my dancers with different color dresses and hair to represent my sisters and I. I know she will Love it.
Not only is Pinot's Palette a great place to have fun and relax, but If the weather is right, right across the shopping center, there's the Alameda beach to enjoy with a bike trail right alongside of it. You'll get a beautiful view of San Francisco across the bay and the bike trail leads to a cute little Park (with a dog park) just a few blocks down! Also, just across the street is a bowling alley with indoor fun for the whole family to enjoy. You can make a whole day out of it, Treat Yourself!
Do any of you need a gift for Mother's Day? Give your mom a day of paint and wine or surprise mom with a personalized home accent created by you. It's the most fun and most meaningful way to say "Happy Mother's Day." They have (5) Mother's Day classes from May 12-May 14th -- Every day they have a different option to paint
** Seating is limited, reserve your spot early! **
Get Your TICKETS HERE ~~~~~~ Find a List of DRINKS HERE
Pinot's Palette
It is located inside South Shore Center at 523 South Shore Center West in Alameda.
Address : 2110-D South Shore Center Drive, Alameda, CA 94501
Call them at 510.263.8770 or Email at alameda@pinotspalette.com
Thank you to Pinot's Palette for making this Mama feel relaxed and refreshed. I definitely needed a day of fun for myself and they delivered!
*You must be 21+ for paint and sip classes. Alcohol is NOT included in class fee.*
Please, bring your valid ID.
Meet Your Publisher
publisher
Mayra Romero
Hi Macaroni Kid Readers ! This is THE place to get the 411 on all things Kid & Family friendly here in Oakland,CA~Local Giveaways (as well as some National)~Calendar full of events in our area~Articles with Hands-on crafts, delicious recipes &MOREDon't forget to share this page with Friends, Family or Neighbors who could benefit from this page & all we have to offer~Your Publisher~ Mayra Romero
MORE ABOUT US
Become a Publisher
Enter your contact info and request details below, and we will contact you with details about your private party!