Meet the Artist-Holly
Meet the Artist-Holly Highfield
From Apollo 13 to Disney. Sometimes, it can be easy to forget that the artists leading your favorite Pinot's Palette classes do more than help you paint, drink, and have fun. Our artists are a diverse crowd of talented folks who have a passion for art of all kinds – from sculpture, to drawing, to performance art, to (of course!) painting. We're excited to be featuring each of our artists here on our blog so that you can not only get to know them better, but also have the chance to see and experience some of their unique, beautiful art.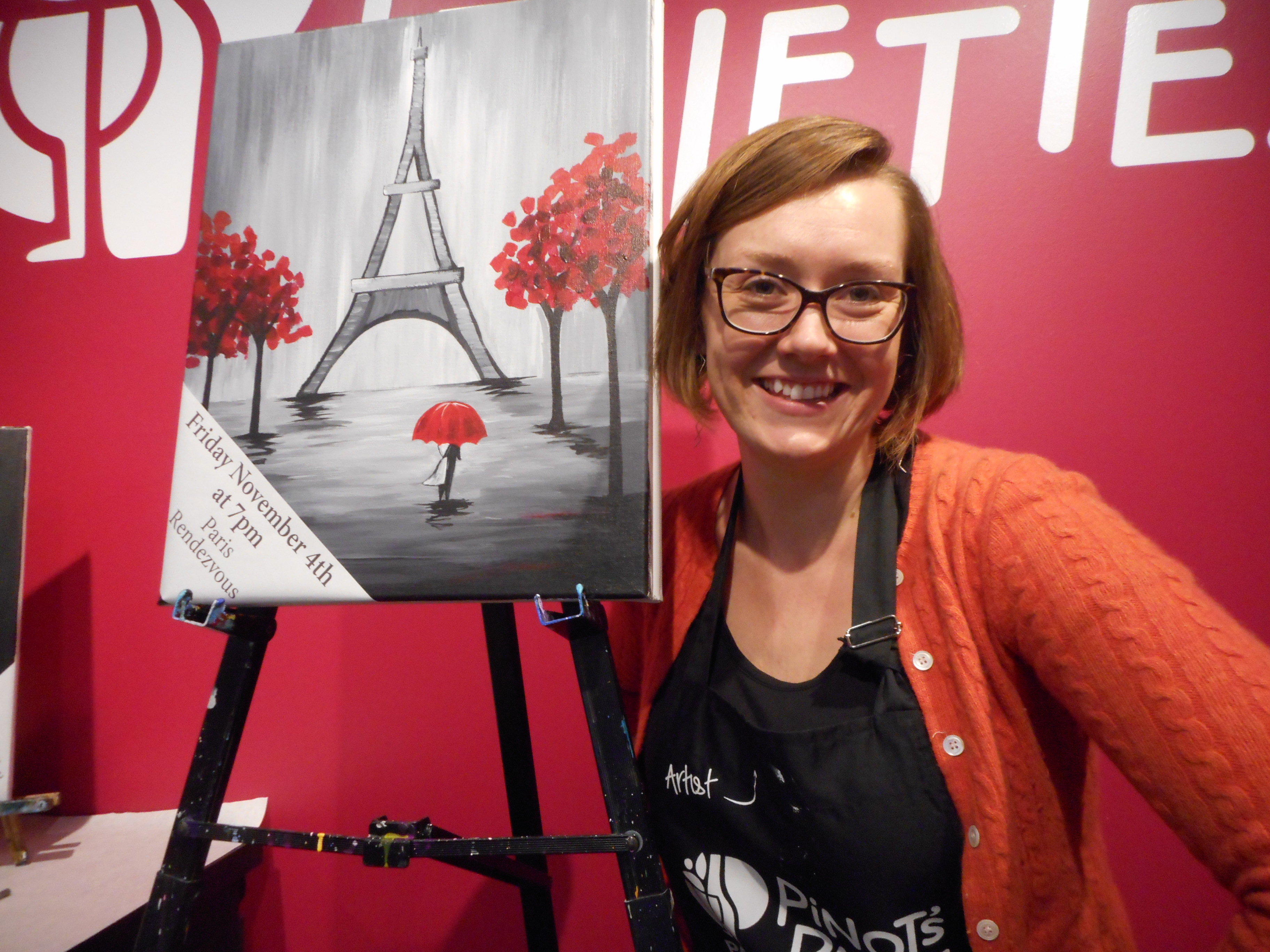 This week we introduce you to the very talented Holly Highfield. She was born and raised in Southern California. To say Holly is from a family of fine artists and illustrators is an understatement. Her grandmother was a fashion illustrator and grandfather an aerospace illustrator. She started drawing at a very young age but like a lot of us, life got busy and she moved to other interests. After graduating college Holly had to make the difficult decision of which college she would attend to pursue her masters. During that time, she pondered the suggestions of a few professors who had told her she had real talent and should pursue a career in art.
Enter Uncle Charles Boyer. Uncle Charles has the unique distinction of having been Disneyland's first full-time artist, and in the 45 years since his hiring has become Disneyland's master illustrator. He has captured in his work the unique and fanciful spirit of Disney characters and theme park environments. He along with his son, Disney artist Bob Boyer encouraged Holly to attend the infamous Watts Atelier of the Arts in Encinitas, CA.
https://www....tsatelier.com
It was there Holly received her real formal art training and her passion was ignited!
What about Apollo 13 you ask? Well Holly's grandfather was an illustrator for NASA. They had no CAD programs back in his day. Every component on every rocket and plane had to be drawn by hand. He worked on the Gemini space program, the Apollo space program and the space shuttle program. Do you remember the Tom Hanks movie about the Apollo 13 mission? True story: explosion and damage on board they didn't know how to bring the crew back to earth. The secret service came to her (grandpa's) door at 3 AM and took him back to draw for the engineers trying to figure out the cause of the explosion and how to fix the issue so they could come back home. Grandpa and his team worked for hours and hours, they were successful and the crew made a safe return to earth. When you stop and think about it, a couple of artists contributed to the success of Apollo 13, how cool is that!
Today, in addition to being one of our stage artists, Holly works as a commissioned fine artist and illustrator. We invite you to visit her works of art on various sites listed below. We had to ask what Holly what she enjoys most about working at Pinot's Palette Alameda: "I love helping guests solve problems in their paintings! If someone makes a mistake it's so fun to show them "all is not lost!" The looks on their faces when they see the solution is so great! I think most of painting is just creative problem solving and this job exercises that part of my brain."
Holly's suggestion for any young artist: Fail fast and often! If you're not failing, you probably aren't learning. I try to focus on creating a high quantity of art made instead of "perfect" art made... the truth is, they're never perfect and you must fail a lot to eventually get a good one! I love the Churchill quote "Success is the ability to go from one failure to another with no loss of enthusiasm." We are so thankful that Holly Highfield shares her talent with our studio and guests. Her enthusiasm and love of art is contagious.
To see more of Holly's art work please visit:
Instagram:
https://www....ollybeatrice/
Website:
https://www....ighfield.com/
Etsy (for my watercolors):
https://www....p/HollyBeaArt
Blog:
https://holl...ordpress.com/
More about Apollo 13:
https://www....apollo13.html
More About Charles Boyer:
https://d23....charles-boyer
Remember to follow Pinot's Palette Alameda on Facebook and Instagram for more pictures and stories!
https://www....alettealameda