Pool Floats for Every Zodiac
Pools and beaches and lakes, oh my! There's no denying that many of summer's pastimes revolve around some sort of body of water. From family trips to Lake Tahoe to friends camping on the beach, the water plays a large part in rejuvenating our summer spirits. So, why not dive in in style?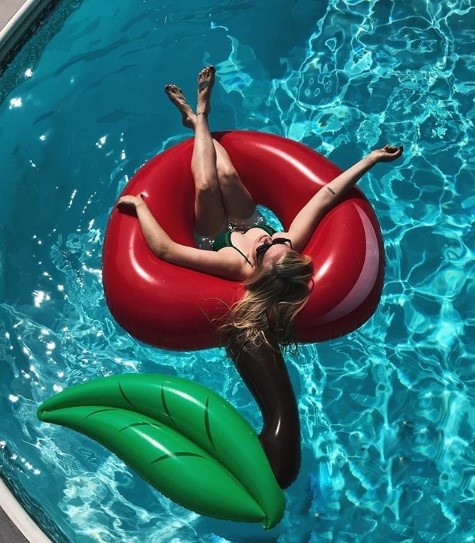 I'm happy to say that with the surge of Instagram users and Pinterest abusers, another industry has skyrocketed: pool floaties. I'm not talking about innertubes. I'm not talking about surfboards. I'm talking about the shiny, colorful, and photo-pleasing inflatables that you can find on Amazon.com. But how do you know which one to choose? Easy, check your horoscope…
Gemini – Rosé (all day)
You're not always the most adventurous among the star signs, but you do love taking a sweet road trip down the coast with your crew. Every year, you look forward to getting your friends together for beach days and finding your spot in the sun. A rosé bottle pool float will show off your social side and surely attract the party to you and your people. Don't be surprised if you have to pass the bottle around a bit.
Cancer – a Popsicle
Lick it up baby! An ooey gooey popsicle is the pool float for you, Cancer. You're a water sign, so summer is really right up your alley, and I'll bet you're itching to fast-forward a few months so you can spend your days by the sea. In your friend crew, you have the wildest imagination. You owe all of your intense thoughts and feelings to your emotional nature, and you can't help but turn everything into a challenge. So picture this – you, spending your day, floating atop an oh, so delicious popsicle.
Leo – Cherries for Two
You have a lot of friends, Leo. And you're planning on spending all your days by the pool, surrounded by your besties and a full-blown squad. There's something about sunshine that brings out the brightest parts of your personality, and your summer-baby soul has long been wondering if winter was ever going to end. The stars have decided that you need a pool float to share with your buddies – with an extra spot available, they can fight over who gets to share it with you. But don't worry, it's safe to say that you'll have someone by your side, all summer long.
Virgo – An Avocado
Summertime is your favorite season because you can get back to nature and feed all the adventurous parts of your soul. You'll want this avocado pool float for all the days of self-care ahead of you this summer. Eating well is so your style, and you love to pay attention to the little things in life that make a big difference. An avocado float speaks to your soul in the best way, and let's be honest…you're probably going to make everyone on the beach hungry AF.
Libra – Angel Wings
Libra, you're all about finding the peace and quiet. The past few months have been all about the stress of living in the real world, full of continuous chaos. You want to spend your summer floating above all the drama and into your daydreams. This set of angel wings will transport you right to that happy place you've been fantasizing about. Relaxation just reached a whole new level, girl.
Scorpio – Ice Cream Cone
You're oh-so-sweet, Scorpio. When it comes to just about anything and everything in life, you're a pretty passionate soul. Summertime, for you, is an opportunity to live life like one of those love stories you see in the movies. Truth is, when the sun is shining, anything seems possible, and I hope you find someone special to float alongside you this summer. In the meantime, the universe believes that you need an ice cream cone pool float to remind you that life is pretty sweet with or without soul mates.
Sagittarius – Palm Trees
This summer, you're probably headed somewhere tropical, Sagittarius. You always have your suitcase packed and your passport ready to be stamped. While some people will be relaxing by the pool in their backyard, or heading down to the beach, you'll be hopping on a plane to travel somewhere exotic — and you need the perfect pool float to match your destination. An inflatable set of palm trees is the perfect travel piece, just right for all of your adventures.
Capricorn – Sparkle Float
Floating has never looked so fashionable, Capricorn. You're all about quality over quantity. So, you could buy a bunch of pool floats for all of your friends — or you could invest a little bit in a shimmery, glitter-tastic float that will surely make your summer one to remember. Nobody will dare to call you "extra" (except maybe on Instagram).
Aquarius – A Dragon
You're one of a kind, Aquarius – ain't no doubt about that! There's nobody else in this world quite like you, and you really wouldn't want it any other way. You're not afraid to go against the group, especially if it's something you believe in. All eyes will be on you this summer with this perfectly fun dragon pool float. Like you, a dragon is really just doing its own thing. Your friends will love how, once again, you've found a way to be different.
Pisces – A Donut
A donut is a classic pool float for those looking to be fun and flirty this summer. The sunny season is definitely the best time to get your much-needed escape from whatever drama is going on in your life. Pack up your beach bag with all the essentials and blow up this pool float that speaks to your side of solitude. This summer is bound to be just as sweet as a donut with rainbow sprinkles.
Aries – A Cactus
You have a looooottttt of confidence, Aries. You're most comfortable when you're following your dreams and leading the pack. A cactus, like you, has its rough edges and stands oh-so-tall in the desert. The universe is sure that this summer will be hot and full of sunshine, so you'll want to channel all of this float's best characteristics and take a few dips, too.
Taurus – Slice of Pizza
Pizza party or pool party, Taurus? This summer, you won't have to decide between the two thanks to this float that combines all the finer things in life. Like pizza, you're known for being the reliable one in all your relationships and let's face it, sharing a slice is always out of the question, so you might want to think about ordering a couple of these pool floats for you and your crew.
I've said it before and I'll say it again… it's amazing what you can find on Amazon these days! Enjoy.